Jeff Sessions Compares Student Protesters to Ku Klux Klan Members at Free Speech Event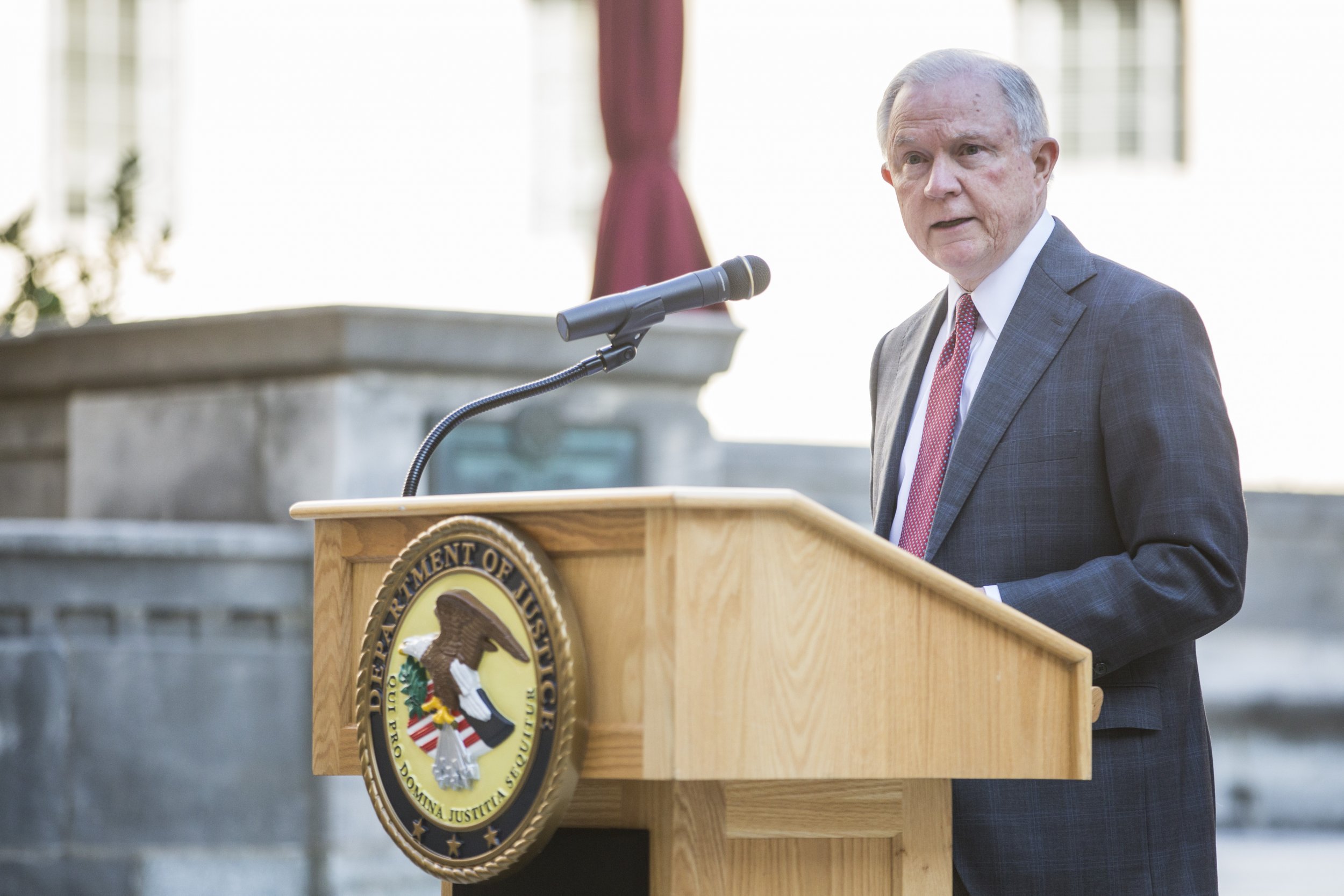 The Department of Justice will begin involving itself in lawsuits regarding the free speech rights of college students, Attorney General Jeff Sessions said Tuesday at the Georgetown University Law Center in Washington.
"Staring today, the Department of Justice will do its part in this work," Sessions said at an event hosted by the Georgetown Center for the Constitution. "We will enforce federal law, defend free speech and protect students' free expression from whatever end of the spectrum it may come. To that end, we are filing a statement of interest in a campus free speech case this week, and we will be filing more, I'm sure, in the weeks to come."
Related: Milo's 'Free Speech Week' lasted about half an hour
The speech came two days after a "Free Speech Week" was supposed to start at the University of California, Berkeley. On Monday, conservative political commentator and media personality Milo Yiannopoulos went to the California university to speak, months after violent protests shut down a previous event that was to feature him. But organizers canceled the week's events.
On Tuesday, Sessions told an anecdote about how young people at a public college in Michigan were jailed for distributing copies of the U.S. Constitution. "Freedom of thought and speech on the American campus are under attack," he said. Campuses are "transforming into an echo chamber of political correctness and homogenous thought, a shelter for fragile egos," he added.
At one point, the attorney general compared mask-wearing activists who were attempting to shut down an event at Middlebury College to members of the Ku Klux Klan, even though it could be argued that they were exercising their First Amendment rights. After activists prevented people who were scheduled to debate from doing so and they tried to move to another location, he said, "the protesters, many wearing masks, a common tactic used by the detestable Ku Klux Klan, pulled fire alarms, surrounded the speakers and began physically assaulting them." (The college said in May it would discipline 74 students for the incident, which occurred in March.)
During a question and answer period following his remarks, Sessions said the case for which the Justice Department will submit a brief involves a Christian group. The Justice Department later said in a statement that the case, Uzuegbunam v. Preczewski, was filed by students at Georgia Gwinnett College. The students alleged that the college restricted their right to practice free speech.
Filing a statement of interest in a lawsuit does not mean that the Justice Department becomes a party in the case. Since President Donald Trump took office, the department has filed briefs in cases opposing workplace protections for people on the basis of sexual orientation and in support of a baker who would not sell a wedding cake to a gay couple.
Some who track free speech have pointed out that it is not only people on the political left who are allegedly infringing on free speech but also people on the right. Since the 2016 presidential election, Republican lawmakers in at least 18 states have introduced or voted on legislation to rein in protests, The Washington Post reported in February.
The event on Tuesday drew its own protests. "We condemn the hypocrisy of Attorney General Sessions speaking about free speech," members of the Georgetown Law Center said in a statement. They noted that Trump has seemed to condemn free speech by criticizing professional athletes for protesting during the national anthem. They also pointed to the ongoing case involving Desiree Fairooz, who was arrested for protesting during the Sessions's confirmation hearing in January. In addition, they brought up the Justice Department's asking a web-hosting platform for information about visitors to an anti-Trump website, part of an ongoing case involving Inauguration Day protests.
"A man who fails to recognize paradigmatic violations of the First Amendment is a poor choice to speak about free speech on campuses," the statement said.
Outside of the Georgetown Law Center, protesters each went down on one knee, a reference to what professional athletes have done during the national anthem, initially because of what athlete Colin Kaepernick once said was "a country that oppresses black people and people of color." Such protests have become more widespread since last Friday, when Trump said at a rally in Alabama that the National Football League should fire those who don't stand for the anthem.
Session responded to a question at Georgetown about the NFL, saying, "It is a big mistake to protest in that fashion.... Of course, the players aren't subject to any prosecution, but if they take a provocative act, they can expect to be condemned."
Georgetown is grappling with its own issues related to free speech on campus. The Foundation for Individual Rights in Education, a nonprofit that defends the rights of people on college and university campuses, has given Georgetown a "red" rating and said it restricts freedom of speech.
Last Friday, protesters interrupted former FBI Director James Comey as he took the podium to speak at Howard University, not far from Georgetown. After about 15 minutes, Comey said, "I love the enthusiasm of the young folks.... I just wish they would understand what a conversation is." He went on to give his prepared remarks, straining over the chanting of the activists, which continued for the duration of his speech.