As the Trump administration continued to struggle to reunite hundreds of migrant children separated from their parents resulting from the president's "zero-tolerance" policy, Attorney General Jeff Sessions told dozens of incoming immigration judges Monday to show no sympathy for those who appear before them in court.
"When we depart from the law and create nebulous legal standards out of a sense of sympathy for the personal circumstances of a respondent in our immigration courts, we do violence to the rule of law and constitutional fabric that bind this great nation," Sessions said. "Your job is to apply the law—even in tough cases."
Sessions, the most powerful attorney in the country as head of the Justice Department, was speaking to 44 new immigration judges in Falls Church, Virginia.
He also took aim at lawyers who represent immigrants who were caught illegally crossing the U.S.-Mexico border, suggesting they try to misconstrue immigration law "like water seeping through an earthen dam." He told the judges it was their responsibility to "restore the rule of law" to the system.
"Good lawyers, using all of their talents and skill, work every day—like water seeping through an earthen dam—to get around the plain words of [immigration law] to advance their clients' interests," Sessions said. "Theirs is not the duty to uphold the integrity of the act. That is our most serious duty."
Sessions also defended the administration's "zero-tolerance" policy, saying, "no great and prosperous nation can have both a generous welfare system and great prosperity, and open borders."
He called the idea of an open borders policy "radical" and "dangerous."
The administration's crackdown on illegal immigration led to the separation of children from their parents. First adopted in early May, it quickly resulted in a self-inflicted crisis that caused more than 2,500 families to be separated. President Donald Trump and those within the administration falsely repeated the claim that it was the fault of Congress and Democrats.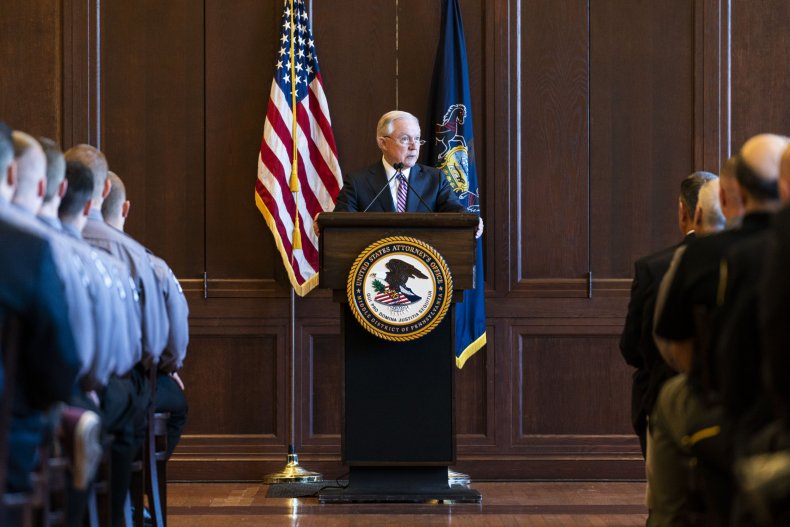 No previous administration separated families in such a way. Instead, families who crossed the border illegally were kept together as they awaited court appearances.
The government has yet to reunite all separated migrant children with their parents, missing court-ordered deadlines to do so.
As of September 4, more than 400 migrant children were still in the government's custody. For many, it's unclear how they will be reunited after the government deported most of the parents and have largely lost contact with them.
Unions and organizations representing judges were quick to criticize Sessions's comments on Monday.
"We possess brains and hearts, not just one or the other," said Jeffrey Chase, a former immigration judge turned immigration lawyer. He spoke to BuzzFeed News, which was first to report on Sessions's comments.
"It is sympathy that often spurs legal theories that advance the law in asylum law, civil rights, and criminal law," Chase said. "Sessions is characterizing decisions he personally disagrees with as being based on sympathy alone, when in fact, those decisions were driven by sympathy but based on solid legal reasoning."
Dana Marks, a spokesperson for the National Association of Immigration Judges and an immigration judge in San Francisco, told BuzzFeed that Sessions's speech appeared to be more of a political statement that did not "articulate a legal concept that judges are required to be aware of and follow."