Jeff Sessions Is Losing By Double Digits To Former College Football Coach In GOP Senate Runoff, Poll Shows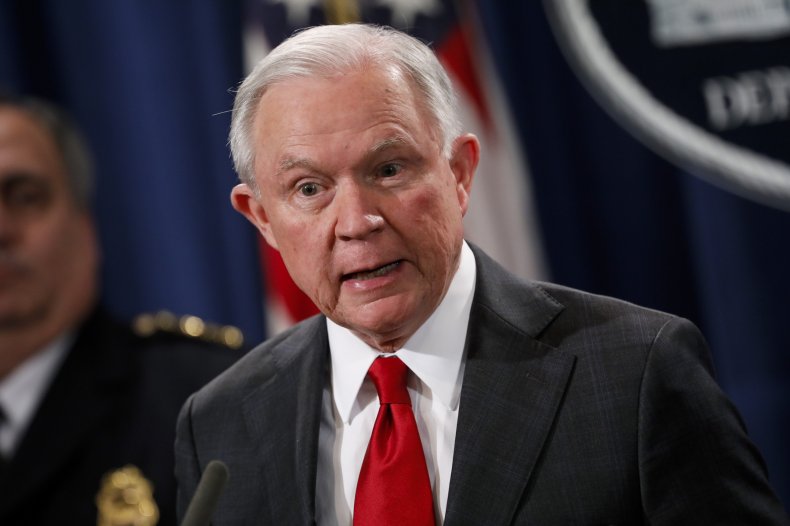 Former U.S. Attorney General Jeff Sessions trails retired football coach Tommy Tuberville by double digits in the runoff for the Republican Senate nomination in Alabama, according to a new poll.
The Cygnal poll found that 39.5 percent of likely Alabama voters would either "definitely" or "probably" vote for Sessions in the runoff, while 51.5 percent said they would vote for Tuberville.
The Alabama Senate runoff is scheduled for March 31 after both Republican candidates failed to meet the 50 percent threshold to become the party nominee on Super Tuesday. Tuberville edged out Sessions in the March 3 primary by less than 2 percentage points with 33.39 percent of the vote. Sessions received 31.65 percent of votes.
Following the Super Tuesday results, President Donald Trump sent out a tweet where he indicated Sessions' poor showing was due to his recusal from the Mueller investigation: "This is what happens to someone who loyally gets appointed Attorney General of the United States & then doesn't have the wisdom or courage to stare down & end the phony Russia Witch Hunt. Recuses himself on FIRST DAY in office, and the Mueller Scam begins!
The Cygnal poll found that 45 percent of likely Alabama voters agreed that Trump opposes Sessions in the race. The survey also showed that 38.3 percent of voters have an unfavorable opinion of Sessions, compared to 26.1 percent for Tuberville. Nearly 63 percent of voters said they had a favorable opinion of Tuberville, while about 58 percent said they had a favorable opinion of Sessions.
Sessions held his senate seat in Alabama for 20 years, from 1997 to 2017. After Sessions was named Attorney General in 2017, his seat was ultimately won by Democrat Doug Jones in a special election. Trump asked Sessions to resign from his post in 2018 after clashing with the former attorney general multiple times, including Sessions recused himself from the Mueller investigation soon after taking office.
Sessions subsequently decided to run for his old Senate seat in 2019.
Tuberville coached at Auburn University from 1999 to 2008, amassing an 85–40 record, including an 13-0 season in 2004 when the Tigers won the Southeastern Conference title and defeated Virginia Tech in the Sugar Bowl. That year, Tuberville was awarded Coach of the Year by the Associated Press. During Tuberville's tenure, Auburn appeared in four other bowl games and defeated in-state rival Alabama on seven different occasions. Tuberville's coaching career also included stops at Texas Tech, University of Cincinnati, and the University of Mississippi. He announced his run for the senate with a tweet in 2019.
Whoever is chosen to be the Republican nominee will face off against Jones for the senate seat on November 3.
The Cygnal poll was conducted March 6–8 and surveyed 645 likely Alabama voters, including 576 people who voted in the Republican primary on Super Tuesday. It has a margin of error of plus or minus 3.86 percent.