Jeff Sessions on Marijuana: Drug is 'Only Slightly Less Awful' than Heroin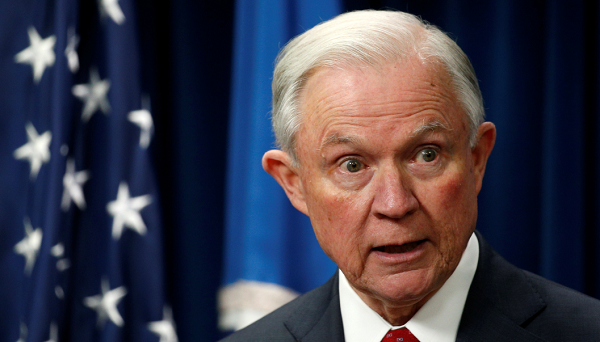 Attorney General Jeff Sessions has a prescription for opioid and heroin addicts—and it's not marijuana. Sessions said in a statement that he was "astonished" by suggestions that medical marijuana could be a cure for the epidemic that's ravaging the U.S,, telling reporters in Richmond that medical use of the drug has "been hyped, maybe too much."
While speaking before federal, state and local law enforcement Wednesday, the former Alabama senator addressed the surge of illegal drugs flooding the country and said the only way to end the opioid and heroin crisis was through tactical criminal enforcement, better treatment options and stronger prevention efforts, not by offering addicts something that's "only slightly less awful," like legal marijuana.
"I realize this may be an unfashionable belief in a time of growing tolerance of drug use. But too many lives are at stake to worry about being fashionable. I reject the idea that America will be a better place if marijuana is sold in every corner store. And I am astonished to hear people suggest that we can solve our heroin crisis by legalizing marijuana—so people can trade one life-wrecking dependency for another that's only slightly less awful," Sessions said. "Our nation needs to say clearly once again that using drugs will destroy your life."
Research has linked medical marijuana to a reduction in overdose-related deaths. A 2014 report in the journal JAMA Internal Medicine found states that offered legal medical marijuana programs had a 24.8 percent lower opioid overdose mortality rate compared to states that had not legalized some form of cannabis.
The study also suggested the declining number of overdose deaths could be due to more people choosing to use medical marijuana instead of opioids as a form of treatment for chronic pain and illness.
Although marijuana is still federally listed as a Schedule I drug, there have been no records of people fatally overdosing from only marijuana. Meanwhile, more than 33,000 Americans overdosed and died from prescription painkillers in 2015, while 13,000 heroin-related overdoses killed people in 2015, according to the Centers for Disease Control.