Today in Trump's Transition: Jeff Sessions Offered Attorney General Post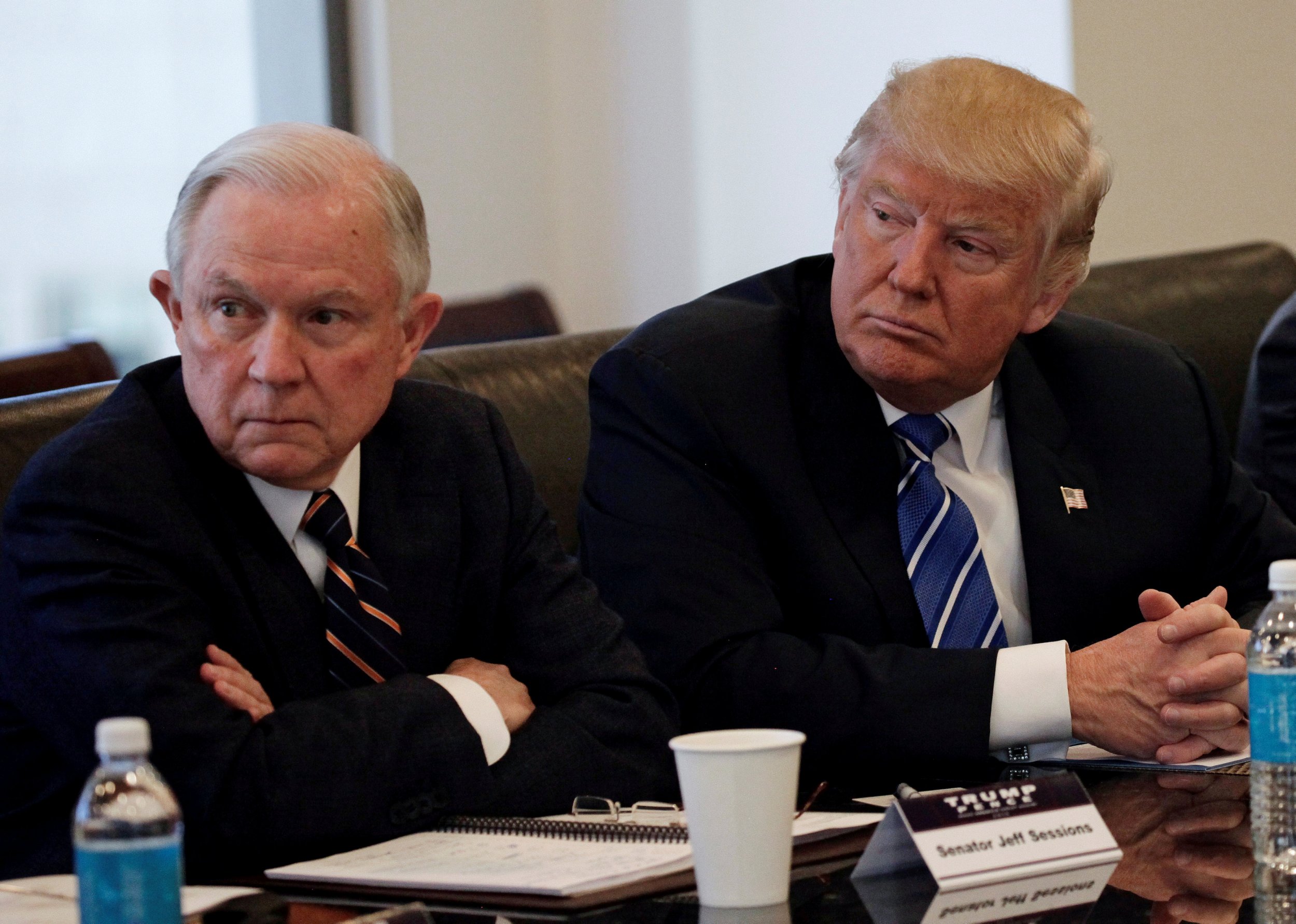 Welcome to Newsweek's daily rundown of President-elect Donald Trump's transition process. There are about 4,000 positions to fill, and we'll be keeping track of appointees through the January 20 inauguration.
Cabinet nominee tally: 2
Attorney General
CIA Director
White House staff tally: 2
Chief of Staff
National Security Advisor
Updated | Friday morning began with some big transition developments. Trump's transition team confirmed that Alabama Senator Jeff Sessions has been offered the position of attorney general. Sessions, who was seen taking the trip up to Trump HQ via Trump Tower's gilded elevators this week, is a conservative who once accused the NAACP of being "un-American" for "trying to force civil rights down the throats of people."
On Thursday, Trump's transition team published a glowing review of Sessions's meeting with the president-elect, saying Trump was "unbelievably impressed" with his "phenomenal record as Alabama's Attorney General."
Sessions in 1986 saw his federal judgeship nomination rejected based on racist comments and actions attributed to him, including saying the Ku Klux Klan was fine "until I found out they smoke pot." He later called the comment a joke. He was also accused of referring to a black federal prosecutor as "boy." He denied doing so.
Jason Miller, communications director for the transition team, responded to questions about Sessions being rejected by saying: "We feel very confident that Senator Sessions has the background and support to receive confirmation." Miller also touted examples of Sessions's pro-black political moves, including his voting to confirm Eric Holder as attorney general and filing a number of desegregation lawsuits.
Trump also offered the position of CIA director to Representative Mike Pompeo of Kansas, who is said to have accepted. Pompeo, another conservative choice who could face a contentious path to confirmation, said last year that the investigation into the attack on the U.S. embassy in Benghazi, Libya is "worse in some ways" than the Watergate investigation.
The role of national security adviser has been offered to Michael Flynn, who was considered a favorite. Flynn, a retired U.S. Army lieutenant general who served in both Iraq and Afghanistan, led "Lock her up" chants during Trump campaign rallies—referring to the idea of imprisoning the Democratic presidential nominee, Hillary Clinton—and tweeted in February that, "Fear of Muslims is RATIONAL."
Flynn's son, Michael G. Flynn, who serves as his father's chief of staff, has published inflammatory and racist tweets, including suggesting that minorities only voted for President Barack Obama because of his skin color. The younger Flynn also helped to spread an unfounded rumor that Florida Senator Marco Rubio, who ran against Trump in the election, is gay, took cocaine and attended foam parties where "mutual masturbation is an occasional component, generally beneath the cover of foam."
In a statement released by his transition team on Friday, Trump said: "I am pleased that Lieutenant General Michael Flynn will be by my side as we work to defeat radical Islamic terrorism, navigate geopolitical challenges and keep Americans safe at home and abroad."
Reaction from some lawmakers has been less flattering. Democratic Representative Adam Schiff, ranking member of the House Permanent Select Committee on Intelligence, said he is "deeply concerned about [Flynn's] views on Russia, which over the last twelve months have demonstrated the same fondness for the autocratic and belligerent Kremlin which animate President-elect Trump's praise of Vladimir Putin." Schiff also pointed to Flynn's "inflammatory remarks regarding Islam" and his "uncritical acceptance of the Turkish crackdown on dissent."
When asked about Flynn's comments toward Muslims, Miller said Trump is "very supportive" of his pick and that "Flynn will share the president-elect's viewpoints on exactly how we should keep America safe."
All three of Trump's picked were supported by David Duke, former grand wizard of the Ku Klux Klan, who tweeted on Friday that the Senate "must demand that Sessions as AG stop the massive institutional race discrimination against whites."
Other key positions are still being mulled, including secretaries of state, defense and education. Among the names said being considered for secretary of state are Mitt Romney, South Carolina Governor Nikki Haley, Rudy Giuliani and John Bolton.
Meanwhile, Trump has not addressed comments by a surrogate, Carl Higbie, referring to Japanese internment camps in the U.S. as an example of a "precedent" for a proposed registry of Muslim immigrants. On Thursday, California Representative Mark Takano, who is of Japanese descent, tweeted : "These comments confirm many Americans' worst fears about the Trump Administration, and they reflect an alarming resurgence of racism and xenophobia in our political discourse."
At 2 p.m. Friday, Trump is scheduled to meet with former Arkansas Governor Mike Huckabee, and he will later head to Bedminster, New Jersey, where he will hold weekend meetings at his golf course. Trump is due to meet with Michelle Rhee, a possible pick for secretary of education, and with Romney.
During its daily media call, Trump's transition team told reporters former Secretary of State Henry Kissinger and Jerry Falwell, Jr., president of Liberty University, were among the figures the president-elect met with Thursday. The purpose of Falwell's meeting was to discuss the Department of Education, he said.
Miller said 51,000 resumes have been submitted through the online job application form for spots in a Trump administration.
This article has been updated to include additional information from the Trump transition team.