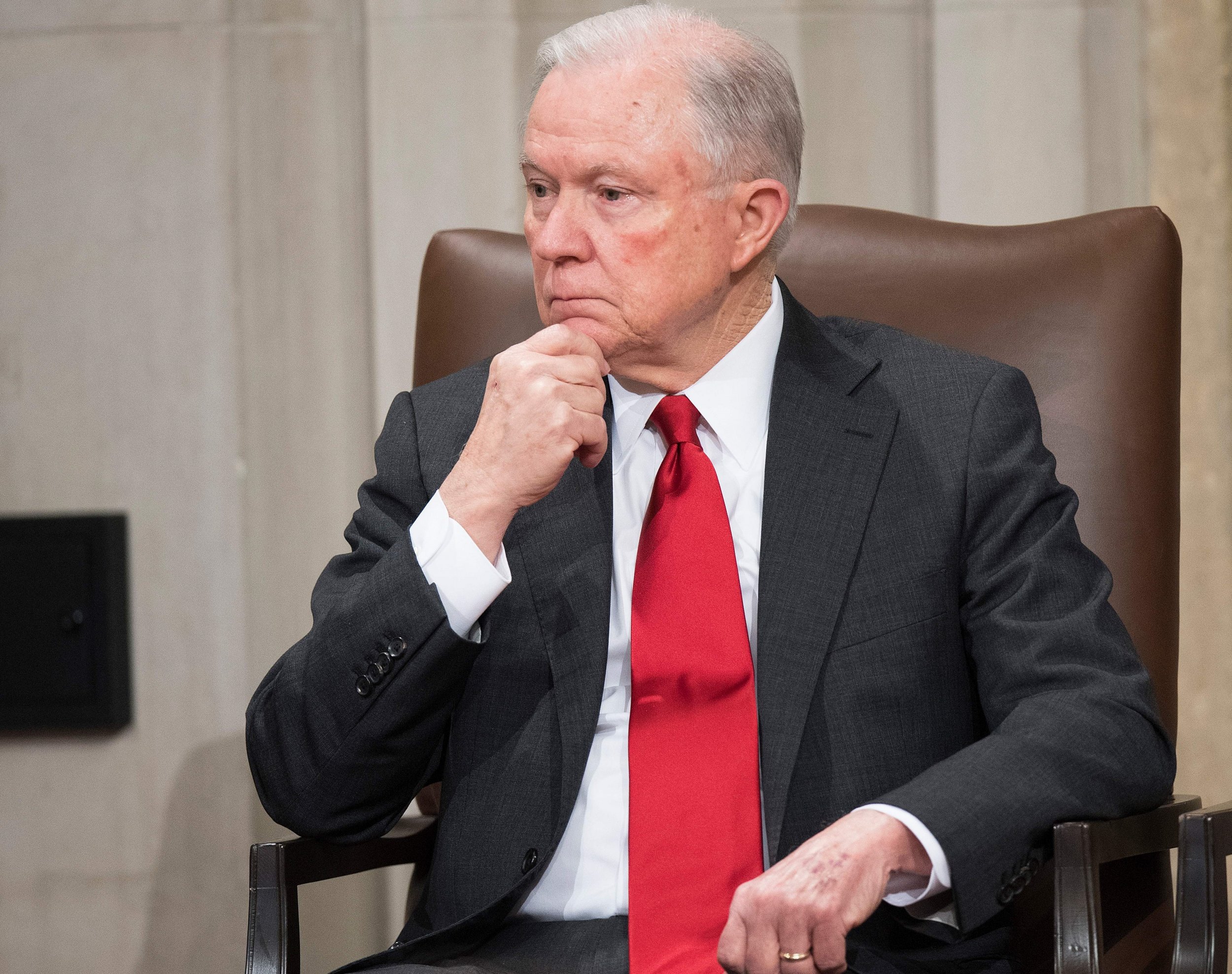 As attorney general, Jeff Sessions served as one of the strongest enforcers of the Trump administration's conservative social policies, bringing sweeping changes to the Justice Department's stance on critical issues, including immigration and civil rights.
But the one way he fell short in President Donald Trump's view proved fatal for his role in the White House, with the attorney general facing constant criticism from the U.S. leader over his decision to recuse himself from the ongoing investigation into Russian meddling in the 2016 election. He was finally shown the door last month.
Now, the former attorney general and Alabama senator has suggested that he's in no rush to make a political comeback.
Speaking to Politico shortly after attending the state funeral for the former President George H.W. Bush on Wednesday, Sessions said he had yet to make a decision on whether to run for his old Senate seat in 2020.
"I've been clearing my brain," the 71-year-old said during the ride on the Senate subway following the ceremony, which was held at Washington National Cathedral. "I think that's a fair statement."
Sessions said he planned to "go to Alabama, do some things and then that will clarify things a little more before I worry about making a statement."
If Sessions did decide to run in 2020, he would be a strong contender against Democratic Senator Doug Jones. Jones managed a stunning upset victory last December, becoming the first Democrat to win a U.S. Senate seat in Alabama in 25 years after narrowly defeating Republican Roy Moore, whose campaign was dogged by allegations of sexual misconduct.
Pressed on whether he missed the chamber he served in for two decades, Sessions said: "No. I mean, no."
"I could go back and spend time in the woods," he said, before adding: "I've got 10 grandchildren, oldest is 11."
While the former attorney general would not say whether he plans to make his return to politics in time for the 2020 election, his head still appears to be squarely in the game.
Politico described Sessions as being "chatty as ever" when it came to matters in the White House, with the 71-year-old expressing doubts about the Senate's efforts towards criminal justice reform.
He also took the time to defend his current successor, acting attorney general Matt Whitaker, who has faced widespread criticism from Democrats and protesters over being appointed despite not being a Senate-confirmed official.
Following Whitaker's appointment, the White House saw protesters gather outside its doors over fears that special counsel Robert Mueller's ongoing Russia probe could be put in peril, with the acting attorney general assuming oversight of the investigation.