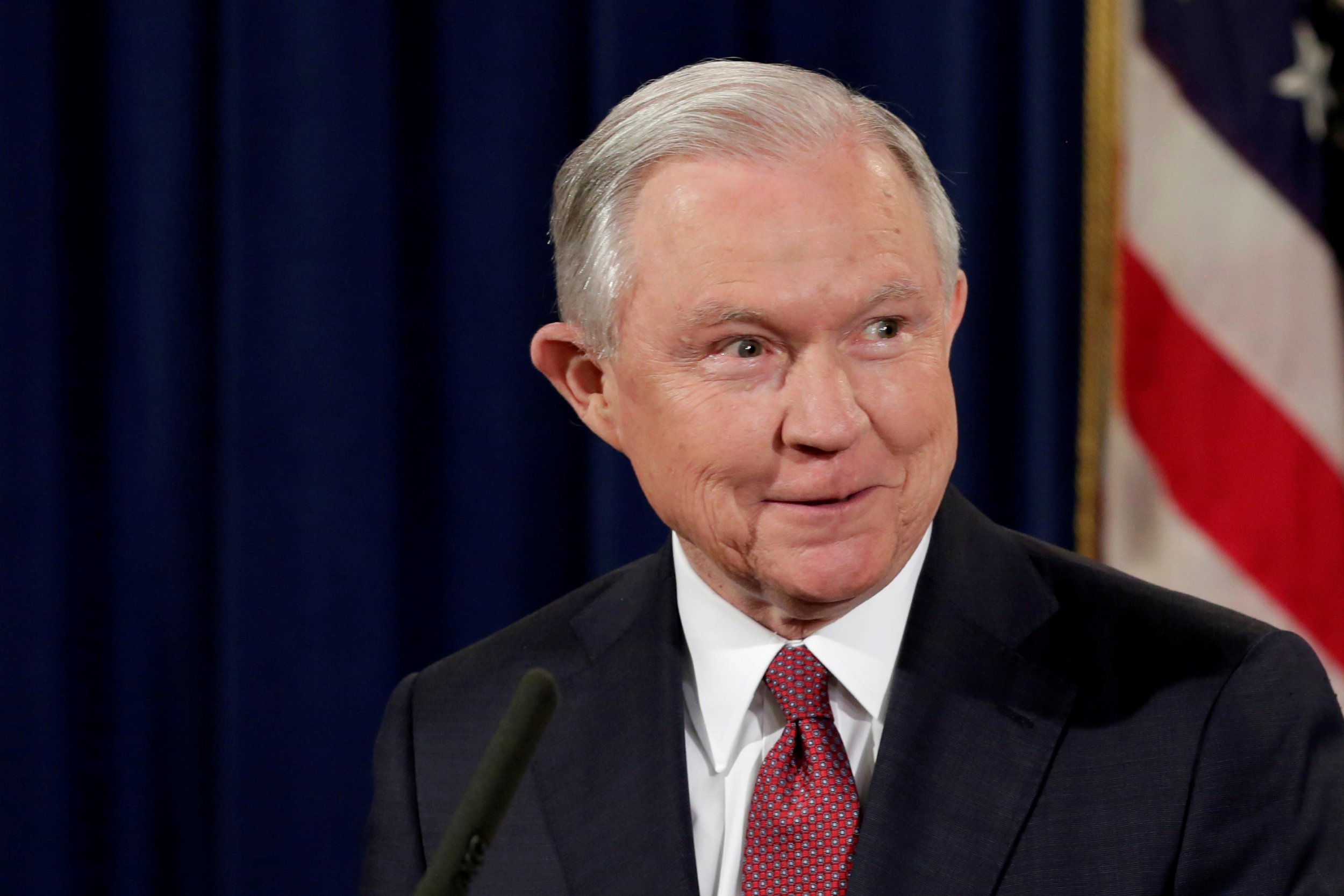 A new lawsuit has challenged the FBI to release advice it gave Attorney General Jeff Sessions about whether his contacts with Russia's ambassador to the U.S. during the 2016 election should have been included on his security clearance application.
After CNN revealed Sessions had at least two meetings with Russian ambassador Sergey Kislyak in May, the attorney general said he left contacts with the dignitary off his application because he was told to by the FBI.
Later it was revealed Sessions met with Kislyak as many as three times after he testified: "I did not have communications with the Russians" during his Senate confirmation hearing. Sessions released a redacted copy of his application form in July.
"If Jeff Sessions wants us to believe his excuse, he should prove it," said Austin Evers, executive director of the government watchdog group American Oversight in a statement about the new lawsuit Tuesday.
Sessions heads the Department of Justice (DOJ), which oversees the FBI. When his contacts with Russia's ambassador were first revealed, Ian Prior, a spokesman for the DOJ said the FBI investigator handling the background check told Sessions "not to list meetings with foreign dignitaries and their staff connected with his Senate activities."
Leaked intelligence intercepts reported in The Washington Post later revealed two of Sessions conversations with Kislyak concerned campaign matters.
"American Oversight is joining People For the American Way in suing for the release of documents corroborating—or disproving—Sessions' latest excuse," said Evers after the FBI failed to respond to their freedom of information request after the agency said it would process it in 20 days after July 25. The FBI's response is nearly a month overdue.
Read more: Jeff Sessions Refusal To Learn About Russian Hacking Puts U.S. In Danger, Obama Official Says
Sessions served on the Trump campaign and meetings with Russian officials are especially sensitive after American intelligence agencies concluded early this year that the Kremlin directed a campaign to help President Donald Trump win the election. Whether members of the Trump campaign aided Russia is being investigated in Congress and by special counsel Robert Mueller.
Last November Trump spokesperson Hope Hicks denied claims from Moscow that campaign members met with Russian officials. "It never happened," she said, adding that "there was no communication between the campaign and any foreign entity during the campaign." Hicks, who was named white House Director of Communications Tuesday, is reportedly wanted for questioning in the Russia investigation led by Mueller.
At a White House press conference on February 16 Trump said "I have nothing to do with Russia. To the best of my knowledge no person that I deal with does."
In July The New York Times revealed that his son Donald Trump Jr. met with a Russian lawyer and suspected spy at Trump Tower after being promised dirt on his father's campaign rival, Hillary Clinton.
The new lawsuit is calling for the FBI to produce all written or oral instructions of advice they gave Sessions or his staff to back up the attorney general's claims.
"At a time when the president and his allies are under investigation for possible improper contacts with representatives of Russia's government," said Michael Keegan, President of People For the American Way which is leading the suit, "it is imperative for the American people to know whether the attorney general is speaking accurately about omissions in his security clearance form."
"These documents should be easy to produce," Keegan said. "We look forward to receiving them promptly from the FBI."