The Anti-LGBT Group Jeff Sessions Spoke To Says Being Gay is as Sinful as Bestiality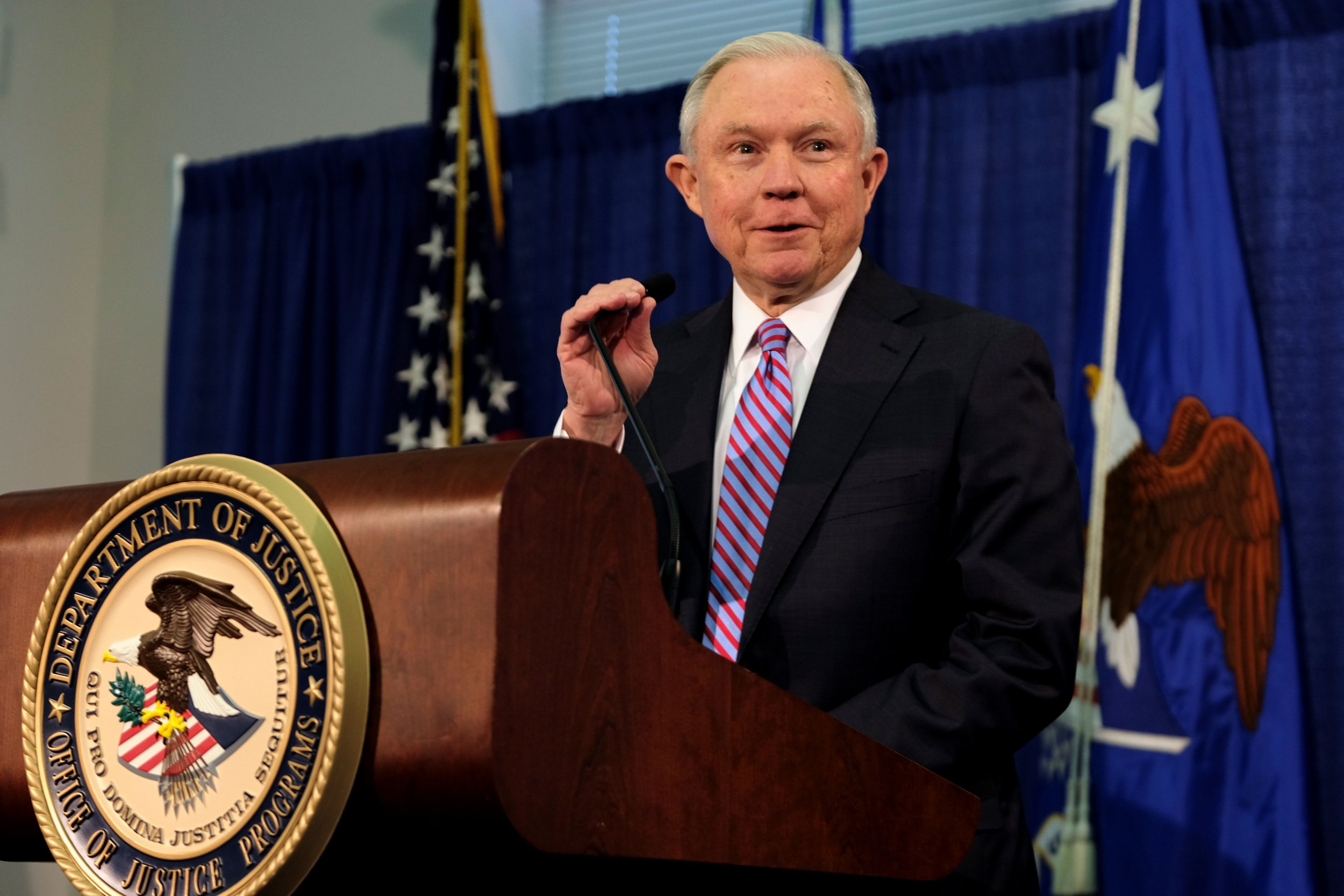 Rights groups are criticizing Attorney General Jeff Sessions' support for a Christian group fighting for an Evangelical cake baker's right to discriminate against gay couples.
In an off-camera, closed-door speech Tuesday Sessions addressed the Alliance Defending Freedom's Summit on Religious Liberty in Orange County, California. Sessions speech has not been made public by the Department of Justice, which did not respond to a Newsweek request for a transcript.
The ADF is listed as a "hate group" by the Southern Poverty Law Center, a legal nonprofit specializing in civil rights.
"The nation's top lawyer rallying with an anti-LGBTQ hate group? Outrageous," wrote the Human Rights Campaign, a civil rights advocacy group, on their website Wednesday.
"Shame on Sessions & the Trump admin. for supporting this hateful org," the group wrote on Twitter the day of Sessions' speech.
"You can judge a person by the company they keep and tonight — Attorney General Jeff Sessions is choosing to spend his time speaking in front of one of the country's leading anti-LGBTQ hate groups," wrote Joel Kasnetz, a spokesman for the Democratic National Committee in a statement Tuesday.
Read more: Trump doesn't recognize LGBT Pride Month on Twitter
With a $50 million annual budget, the group works to oppose laws allowing gay couples to marry. It also backs laws that allow discrimination against the LGBT community and its members. In 2015 the group equated being gay with bestiality and incest in a handbook it created to help religious groups discriminate against the LGBT community without being taken to court.
Currently the ADF is backing Masterpiece Cakeshop owner Jack Phillips' fight against the state of Colorado's laws blocking businesses from refusing customers service based on race, sex, marital status or sexual orientation. The U.S. Supreme Court announced in late June that it will hear Phillips' case.
The ADF also opposes same-sex couples being able to adopt children and supports parents being able to opt their children out of sexual education in schools.
The group has also filed lawsuits against schools that support transgender students and drafted the Student Physical Privacy Act which has become a model for "bathroom bills" across the country. These pieces of legislation seek to restrict transgendered students' access to rest facilities.
Sessions speech "sends a very troubling message that our Attorney General, America's top law enforcement official, is not committed to standing up to anti-LGBT hate," Wisconsin Senator Tammy Baldwin told ABC News Wednesday. Baldwin was America's first openly gay person to be elected to the Senate.
The DOJ regularly releases speeches that Sessions gives and released transcripts of addresses he gave the day of the ADF speech, but a transcript of what he told the ADF has not been forthcoming.