Jeff Sessions Says Russia Investigator Robert Mueller Has Not Interviewed Him; Discusses Comey, Immigration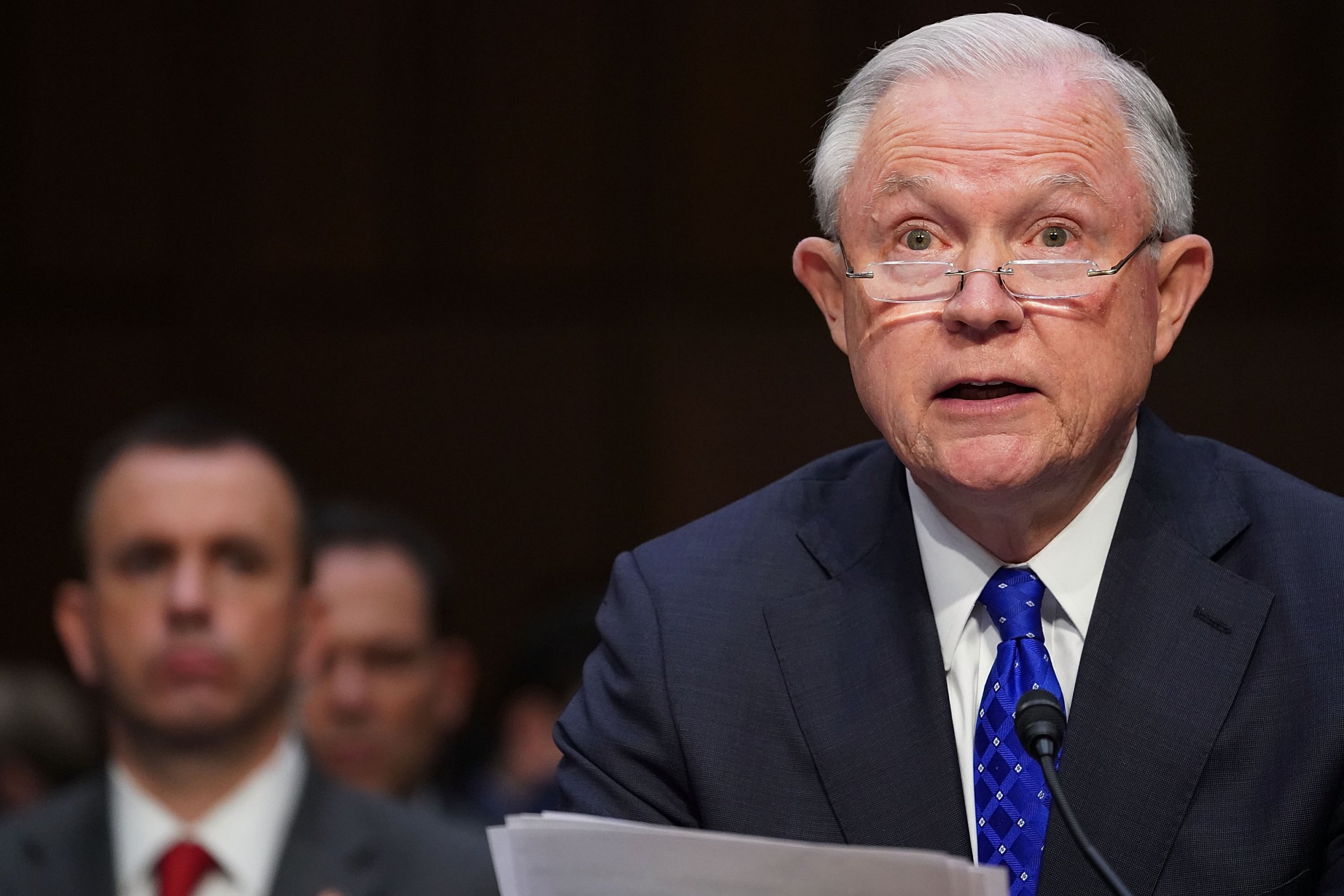 In his first appearance before the Senate Judiciary Committee since his confirmation, Attorney General Jeff Sessions responded to questions on Wednesday about the investigation into Russia's election meddling, the firing of former FBI Director James Comey and other topics. The focus of the hearing was general oversight of the Department of Justice.
Since his confirmation in January, Sessions has been involved in ousting Comey, and the Justice Department has appointed Special Counsel Robert Mueller to oversee the FBI investigation into Russian interference in the 2016 presidential election and possible coordination with the campaign of President Donald Trump. Sessions recused himself from overseeing the special counsel, citing his involvement in the Trump campaign.
Related: Comey drafted Clinton statement, FBI confirms
Asked on Wednesday whether Mueller had requested an interview with him, Sessions initially responded, "You'll have to ask the special counsel." Moments later, he said Mueller had not interviewed him. That sets him apart from some high-level players close to the administration, including former White House Press Secretary Sean Spicer and Reince Priebus, Trump's former chief of staff. Responding to questions from another committee member, Sessions said that he would cooperate with the investigation if asked, and that he would "absolutely" agree to meet with Mueller if requested.
He later added, "I've known Special Counsel Mueller for many, many years, before he became even FBI director, so I think he will produce the work in a way he thinks is correct and history will judge." He said that any request from Trump to remove Mueller should go to Deputy Attorney General Rod Rosenstein. He declined to say whether he would resign over such a request.
Also on the subject of Russia, several committee members pressed Sessions about his not having disclosed during his confirmation hearing communications he had with then-Russian Ambassador Sergey Kislyak. "I believe my answer was correct," Sessions said, referring to his January comments.
At one point, in a heated exchange with Senator Al Franken, a Democrat, Sessions said, "I conducted no improper conversations with Russians at any time regarding a campaign or any other item facing this country." Moments later, he and Franken spoke over one another, and Sessions said, "I don't have to sit in here and listen to [inaudible] without having a chance to respond. Give me a break."
Sessions also faced questions about his role in the firing of Comey in May. Responding to Senator Dianne Feinstein, the ranking member of the committee, the attorney general testified that Trump had asked him and Deputy Attorney General Rosenstein to make recommendations about the FBI director. "I don't think it's been fully understood the significance of the error that Mr. Comey made on the Clinton matter," he said, referring to the FBI investigation into Hillary Clinton's use of a private email system. He said that Comey broke with tradition by making public disclosures about the investigation, but that Comey testified that "he thought he did the right thing and would do it again."
Sessions declined to elaborate about conversations he had with Trump on topics such as the Russia investigation and the president's pardoning of former Sheriff Joe Arpaio, which the attorney general said were confidential.
Another intense exchange happened with Senator Dick Durbin, a Democrat from Illinois, who challenged the Trump administration's policy on sanctuary cities. Sessions defended the policy, which threatens to withhold funds from cities where local law enforcement does not cooperate with federal immigration authorities. "It's amazing to me that some of the mayors are so reluctant and so hostile to that simple request," Sessions said, "and I don't think it's my duty to give out grants to cities who are failing in a most fundamental relationship between federal and state jurisidictions."
The Senate Judiciary Committee, besides conducting oversight of the Justice Department, is one of three congressional committees investigating Russian meddling. The committee is also looking into the firing of Comey. The committee has clashed with the Justice Department in trying to interview officials close to Comey, which several of the lawmakers mentioned on Wednesday.