United Methodist Church Slams Family Separations, Calls Trump Policy "Antithetical to the Teachings of Christ"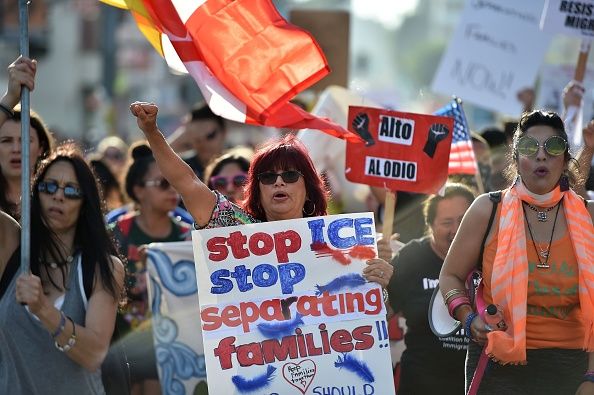 The United Methodist Church has joined the fight against Attorney General Jeff Sessions "zero tolerance" policy that forces families to be separated at the border, calling it "antithetical to the teachings of Christ."
"To argue that these policies are consistent with Christian teaching is unsound, a flawed interpretation, and a shocking violation of the spirit of the Gospel," Reverend Susan Henry-Crowe wrote in a statement released on Friday.
Earlier this week, Sessions, a United Methodist himself, defended the policy to faith leaders in a speech in Fort Wayne, Indiana by pointing to several passages from the Bible to justify their actions.
"I do not believe scripture or church history or reason condemns a secular nation state for having reasonable immigration laws," Sessions said to the crowd. He then went on to quote the scripture Romans 13, which he said commanded that people obey the law because God has "ordained the government for his purposes."
The White House also agreed with Sessions and Sarah Huckabee-Sanders said during a press briefing that "it is very Biblical to enforce the law."
The United Methodist Church reminded Sessions that in the teaching of Romans, the chapters surrounding passage 13 are focused on love and hospitality and urge followers to "extend hospitality to strangers."
The Catholic Church has also criticized President Donald Trump and his administration's immigration policies. In a statement, Cardinal Daniel Nicholas DiNardo said that "while protecting our borders is important, we can and must do better as a government, and as a society, to find other ways to ensure that safety."
Cardinal Timothy Dolan, the current Archbishop of New York, also debunked the idea that family separation is supported by the Bible.
"I mean, that's just unjust. That's unbiblical. That's un-American. There could be no Bible passage that would justify that," Dolan told CNN's Chris Cuomo during an interview on Friday.
The Department of Homeland Security confirmed new numbers that estimate that over 2,000 children have been separated from their parents or caretakers at the U.S.-Mexico border. Children are often sent to detention centers while their parents are in jail awaiting trial.