Jeff Sessions Was One of Alabama's Most Popular Senators—Now He Might Lose the Primary to Football Coach Tuberville
Jeff Sessions used to be one of the most popular lawmakers in Alabama, but he's now in danger of losing a Republican primary to a political novice in a race to reclaim the Senate seat he once held for decades.
On July 14, Sessions will face former Auburn University football coach Tommy Tuberville in a runoff for the party's nomination. The winner will be the presumed front-runner against vulnerable Democrat Doug Jones in November's election.
"Unless there is some dramatic change, a week from today Tommy Tuberville is soon to be the junior senator from Alabama," said Jonathan Gray, a Republican political consultant based in Mobile.
Tuberville, 65, bested six other conservative candidates during the state's primary in March but didn't pass the 50 percent mark needed to clinch the nomination. Now, he and Sessions, who came in a close second by roughly 2 percentage points, will go head-to-head in Tuesday's contest.
Polling before the runoff has also shown Sessions behind. A Cygnal survey conducted in May found 55 percent of likely voters probably or definitely favored Tuberville, compared with 32 percent who favored Sessions.
"Sessions, whether he realizes it or likes it or not, is the quasi-incumbent. When you think of the long tenure he had, and yet he could only get 32 percent of the vote and run second in the primary, that to me is not an indication of strength," said John Couvillon, a pollster in the Deep South.
Sessions, a 73-year-old Selma native, was first elected to the Senate in 1996 and was re-elected three straight times. In 2014, he was so popular that he was the only incumbent senator in history to run unopposed in both the primary and the general election.
Then Donald Trump was elected president.
"I really don't know anybody that is a Republican or an active conservative that was disappointed or unappreciative of Jeff's service as a United States senator for the 20 years and one month that he was in office," said Alabama Secretary of State John Merrill. "A number of things changed after he became attorney general."
Sessions left his Senate seat in 2017 to serve as the nation's top prosecutor. But his time in the Trump administration was short-lived after he recused himself from overseeing the FBI's probe into potential connections between the president's campaign and Russia—a move that prompted both Trump and Alabamians to turn on him.
Before Sessions resigned in the fall of 2018, Trump deemed him as "not mentally qualified" and a "disaster." The attacks only increased after his departure, culminating in the president's endorsement of Tuberville in this election. Trump tweeted that the former football coach was a "REAL LEADER" who wouldn't let the nation down. He later wrote that Sessions "had your chance & you blew it."
Merrill said Trump's attacks have been the biggest contributor to Sessions' downfall. "That is the only thing. People might say there is something else, but look, there is nothing that you can point to," he said.
David Mowery, a Montgomery political consultant who has worked on Democratic and Republican campaigns, said Tuberville has "the upper hand strictly because of the Trump endorsement." The president won Alabama by nearly 30 points in 2016 and is still extremely well-liked among Republicans in the state.
That's not to say Tuberville's record is spotless. The New York Times recently reported that he was a co-owner of a hedge fund that committed financial fraud. His business partner was sentenced to 10 years in prison, and Tuberville was sued by investors. In 2013, he reached a private settlement.
While Sessions has tried to hammer Tuberville on this issue, Mowery said the information hasn't derailed the former coach all that much when it comes to voters: "Tuberville got the benefit of the doubt because he's seen as Trump's guy."
But experts are skeptical of how much true enthusiasm there is for Tuberville's campaign. So far, his built-in base from his time as a coach has served him well, but he has no voting record and it's unclear where he stands on a number of issues. Sessions invited Tuberville to participate in five debates before the runoff, but Tuberville declined.
"My opponent is hiding out. He won't debate. He won't even talk to the press," Sessions told Fox News host Tucker Carlson during an interview earlier this week. "And, you know, if he won't debate me or defend your values, then something is dangerous here. So that's the message I'm trying to take to the people of Alabama."
Voter turnout in the runoff is expected to be lower than it was in the March primary, during which the presidential primaries were also on the ballot. Higher turnout would favor Tuberville, analysts say, while lower turnout would benefit Sessions.
Newsweek reached out to the Tuberville and Sessions campaigns for comment but did not hear back in time for publication.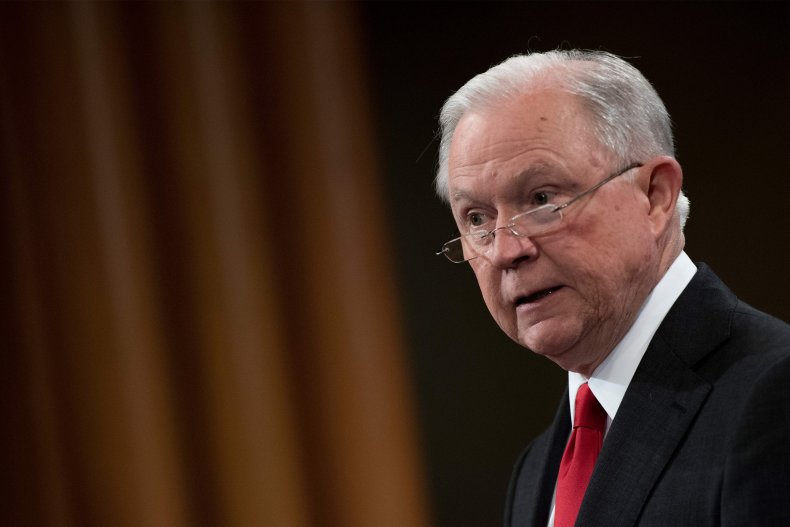 Regardless of next Tuesday's outcome, the Republican nominee is expected to emerge as the clear front-runner against Jones. In the 2017 special election, the senator was the first Democrat to win in the deep-red state in decades. He ran against former Alabama Judge Roy Moore, whose campaign was derailed when he was accused of sexual assault and misconduct against teenage girls.
Now, Jones is considered one of the most vulnerable senators up for re-election this year. Election forecasters like the Cook Political Report and Sabato's Crystal Ball rate the race as leaning Republican.
Referring to Tuberville, Merrill said, "It's a real possibility that he can win the nomination, a very real possibility. And I believe that he would be a formidable candidate against Senator Jones."
Newsweek reached out to the Jones campaign for comment but did not receive a response in time for publication.