Jeff Sessions Will Do What Donald Trump Asks, Investigate Leaks: Report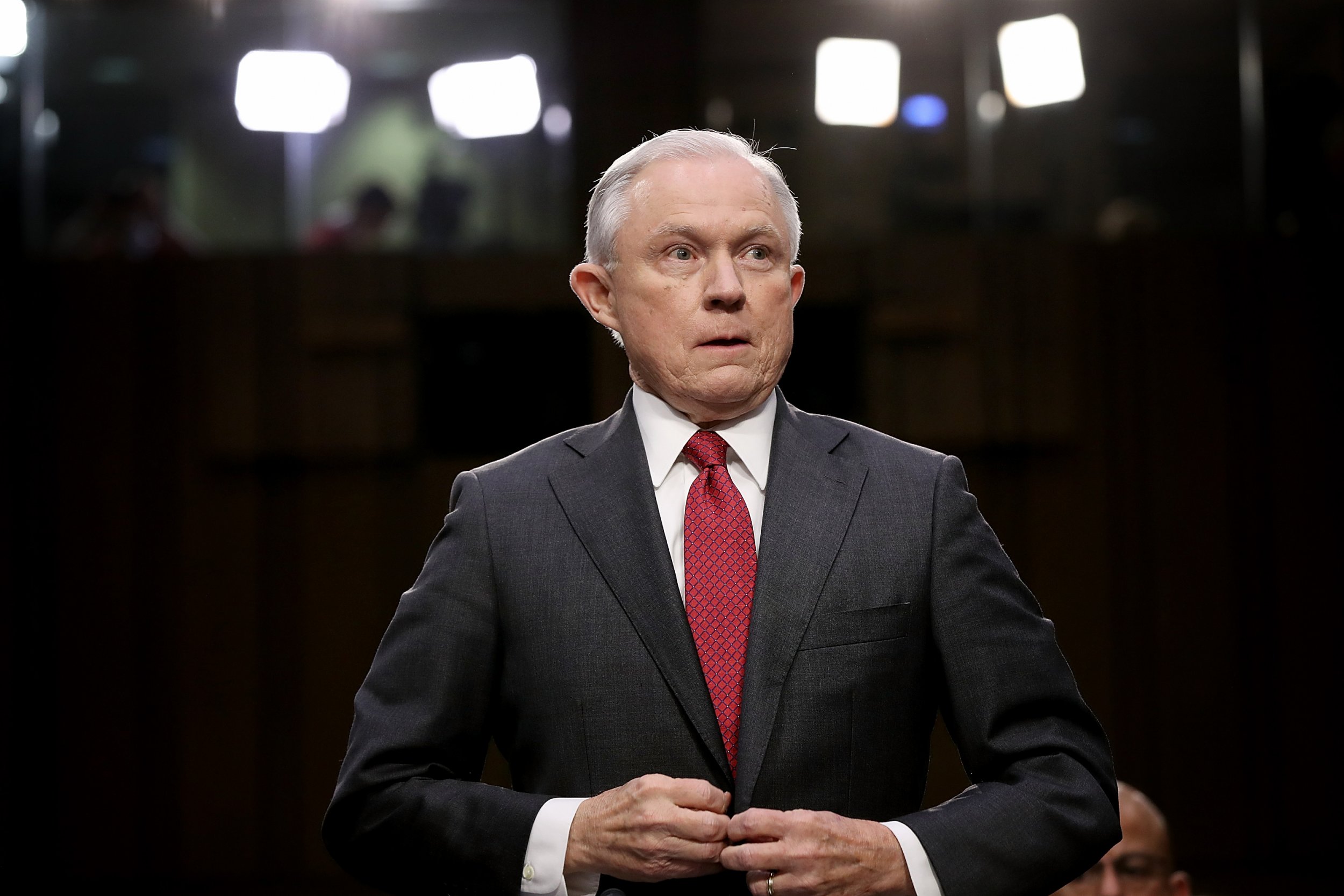 After a week of being goaded by President Donald Trump, Attorney General Jeff Sessions is preparing to launch additional investigations into a series of intelligence leaks, according to a report.
U.S. officials told The Washington Post Tuesday that Sessions and the Justice Department are preparing to announce more criminal investigations into leaks of sensitive intelligence that have appeared in media reports.
The Department of Justice did not immediately respond to Newsweek's request for details of the potential investigations.
On Twitter early Tuesday, Trump called Sessions "VERY weak" for his failure to investigate election campaign rival Hillary Clinton, and the president demanded the attorney general find "Intel leakers!"
During a press conference in the White House Rose Garden late Tuesday, Trump said he wanted Sessions "to be much tougher on leaks in the intelligence agencies that are leaking like they never have before." Trump has reportedly indicated to Sessions that his job could hang in the balance.
The White House's new communications director, Anthony Scaramucci, echoed that line, telling reporters he would "fire everybody" in the White House in an effort to stop the leaks.
Since Trump's inauguration in January, leaks of sensitive information from current and former U.S. officials have embarrassed the Trump administration and in some cases could possibly lead to criminal charges.
The leaks have revealed a series of contacts and communications between the Trump campaign and Russian officials—after Trump and other White House officials flatly denied any such contacts.
Related: Donald Trump pressures 'weak' Jeff Sessions to investigate 'Hillary Clinton crimes'
On July 8, The New York Times reported that Donald Trump Jr. met with a Russian lawyer during the campaign in an effort to obtain damaging information about Hillary Clinton. Also attending that meeting were the Trump campaign chairman at the time, Paul Manafort, and Trump's son-in-law, Jared Kushner, now a White House senior adviser.
The report prompted Trump Jr. to release emails that show him setting up the meeting after being told the lawyer was part of a Kremlin plot to influence the election in favor of his father.
This and other reports have added fuel to the investigations in Congress—and another led by special counsel Robert Mueller—into whether the Trump campaign helped Moscow interfere in the election.
Key U.S. intelligence agencies issued a rare report early this year that determined Russia did interfere in the election.
Last week, another intelligence leak led to a report in The Washington Post that Sessions, contrary to testimony he gave to the Senate, spoke during the campaign about candidate Trump's positions on U.S.-Russia relations with the Russian ambassador to the U.S. at the time, Sergey Kislyak.
Such leaks have infuriated Trump and led him to claim in March that New York's Trump Tower was wiretapped by the Obama administration during the campaign. Trump's assertions have been refuted by a number of senior U.S. officials, including the former director of national intelligence, James Clapper.
Other leaks have detailed that Trump called his former national security adviser, Michael Flynn, at 3 a.m. to ask if a strong or weak U.S. dollar was better for the economy, and that he conducted a raid in Yemen that destroyed an expensive helicopter and killed more than a dozen civilians after being told Barack Obama wouldn't do it.
In an interview with The New Yorker's editor-in-chief last week, New York Times White House reporter Maggie Haberman said the Trump administration's staff feel "hunted" because of the president's obsession with stopping the leaks.
Any new criminal investigation into leaks could be an olive branch from Sessions to Trump. During Senate testimony in June, Sessions said investigations into the leaks seen as most damaging to national security are already underway.
During the press conference Tuesday, Trump repeated his claims that he never would have hired Sessions as his top law enforcement official if he had known he would step aside from heading the Russia investigation.
"If he was going to recuse himself, he should have told me prior to taking office, and I would have picked somebody else," Trump said. "It's a bad thing not just for the president but also for the presidency. I think it's unfair to the presidency."
Asked if he was going to fire Sessions, after describing him as "beleaguered" on Monday, Trump said, "We'll see what happens."