Jeff Van Drew, Rep Who Switched Parties for Trump, Says Columnist Threatened to 'Execute' Family
New Jersey Representative Jeff Van Drew, who switched from the Democratic to Republican party in 2019, condemned an Ocean City Sentinel newspaper columnist who he says "vividly described" sexually assaulting his wife and family.
Van Drew spoke Monday at a news conference outside the Cape May, New Jersey, courthouse alongside Cape May County Sheriff Bob Nolan, where he accused local newspaper columnist John McCall of writing a "threatening" column. Van Drew said the column, which the Ocean City Sentinel newspaper has since retracted and apologized for, went far beyond political criticism. McCall also left a voicemail on Van Drew's congressional office phone on February 28, which Van Drew described as a "death threat" during Monday's press conference.
McCall wrote a guest column and is not a staff reporter or a paid contributor for the Ocean City Sentinel, the newspaper's editor told the Daily Journal.
"For far too long, calls for violence have gone unchallenged, but today, right here in Cape May County we are drawing a line in the sand. You can come after me with loud words and threats, but if anyone, let alone a member of the press, thinks they can threaten my wife and my family they've got another thing coming," Van Drew said.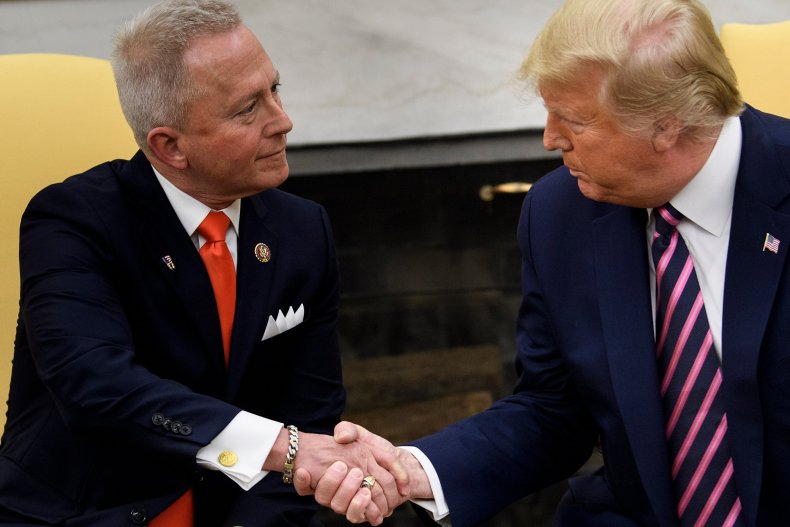 Van Drew ridiculed McCall's follow-up column on March 10, which addressed Ocean City police officers "showing up" at his door at Van Drew's request. Van Drew said it "vividly describes invading and his destroying his home, and graphically ponders what it would be like to sexually assault his wife over the hood of her car."
McCall's initial inflammatory January 13 column, since retracted, reads in part: "Like all Trump loyalists, Van Drew and DeVlieger are guilty of subverting the peaceful and equitable functioning of our government. This is not just a moral failing. This is treason. And the penalty for treason is execution. That applies to the great and the small, to presidents, congressmen and smalltown councilmen. It's the trickle down theory of responsibility."
The editor and the publisher of the McCall opinion column told the Press of Atlantic City Monday they were wrong to have printed the controversial column. They printed an apology this week.
"Because you felt threatened and felt your wife was threatened, I am sorry," the publisher David Nahan wrote to Van Drew in the statement. "I don't have a problem with giving readers space to put their names to criticism of any elected official. However, in this instance, I have let the readers down."
Van Drew said Monday he's considering any and all legal action if the New Jersey Press Association and the newspaper owners don't "forcefully denounce" the piece. The congressman said the voicemail left at his office overheard McCall vowing to "do everything in my power to make sure you are deposed if not dead."
McCall's latest column described the now-GOP congressman as a fanatical President Donald Trump supporter.
"In fact, mini-Trump and his GOP colleagues have made direct confrontation a necessity because you can't believe anything they say. They lie habitually," McCall said.