Congressman Jeff Van Drew may be paying the price for his defection to the Republican Party in his run for a second term against Democrat Amy Kennedy in New Jersey.
Van Drew was the first Democrat to represent the state's 2nd District in Congress in 24 years. But the blue wave was short-lived. He was one of just two Democrats to oppose President Donald Trump's impeachment in 2019. Shortly after, Van Drew pledged his "undying support" for the president during a meeting at the Oval Office.
The move earned him the scorn of the liberal establishment, as many labeled him a traitor, though it seemed to bode well for his chances of winning re-election in a district that went for Trump by roughly 5 points in 2016.
But the latest developments don't show Van Drew with a big advantage in the contest.
Two recent internal Democratic polls have found Kennedy, a mental health advocate married to former congressman Patrick Kennedy, slightly ahead. She was up by 5 points against Van Drew, 51 percent to 46 percent, in a survey from the Democratic Congressional Campaign Committee (DCCC). Another poll by the Democratic-backed House Majority PAC showed a closer gap, with Kennedy only up 1 point.
Then on Friday, the nonpartisan election forecaster Cook Political Report officially moved the race into "toss-up" territory after it had been previously leaning Republican. The report told the New Jersey Globe that Kennedy is "building a head of steam in South Jersey," while Van Drew could be seeing the negative side effects of Trump's sinking poll numbers.
Both internal Democratic polls commissioned earlier this month found Trump and former Vice President Joe Biden statistically tied in the district despite Trump carrying it easily in the last election cycle. Statewide, Trump's standing is in even worse shape. The latest survey found him 18 points behind Biden.
"He's got to keep an eye over his shoulder and look at how Trump is doing. As Trump goes, so goes the district," Micah Rasmussen, the director of the Rebovich Institute for New Jersey Politics at Rider University, told Newsweek. Rasmussen managed some of Van Drew's political races in the late 1990s.
In another election, Van Drew may have been able to make up for Trump's declining numbers by leaning into his past Democratic voters. But in such a polarized and partisan climate, strategists say he's not likely to get that support.
"What you've seen is that Jeff Van Drew has successfully remade himself as a Republican, but perhaps did so under the assumption that Donald Trump was going to carry the district again. Now that that is in doubt, that really imperils Van Drew's re-election because in this highly partisanized environment even someone who used to be a Democrat like Van Drew probably isn't holding onto too many Democratic voters at this point," J.J. Balaban, a Democratic strategist, told Newsweek.
Michael DuHaime, a longtime New Jersey political operative who advised former Governor Chris Christie's presidential run in 2016, said Van Drew's party switch has added a level of complexity to the race. Republicans have been voting against him for years, Democrats feel betrayed and independent voters may be turned off due to his relationship with Trump.
"It's the most complicated race of his life, but I still think he'll get through it," DuHaime told Newsweek. "If the president wins that district by a similar amount [as 2016] I think Van Drew is going to be fine."
But he didn't discount that Kennedy is a "strong candidate," adding that "Kennedy's have a way of winning elections in America, so I think everybody is quite aware that this is going to be a real tough race."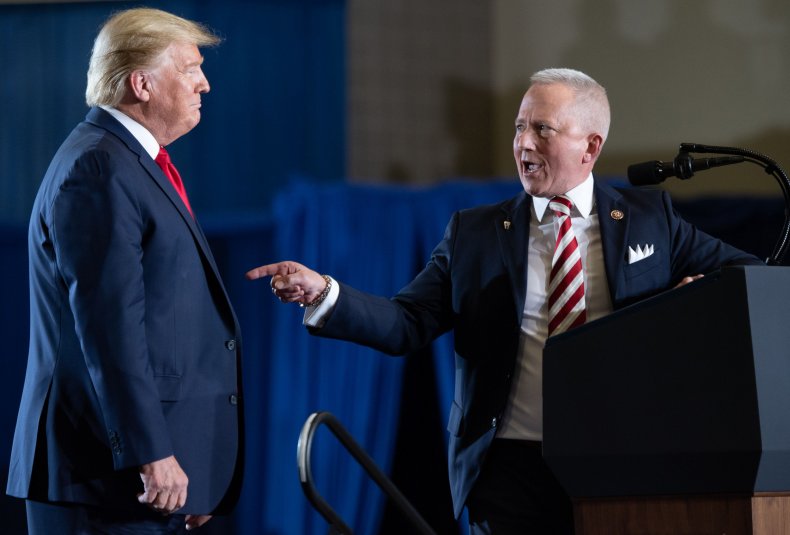 Kennedy's campaign manager Josh Roesch told Newsweek that the latest polling showing her ahead in the race "confirms what we have been hearing from people across the district."
He added, "The people of South Jersey are sick of politicians who care more about their own careers than serving their community. Voters want a new kind of leadership based on integrity, service and compassion—and they are finding it in Amy Kennedy."
Newsweek reached out to Van Drew's campaign for comment but did not receive a response prior to publication.
Van Drew has been leading the money race, however. So far he has outraised Kennedy by about $1 million, and he has more than $1 million in the bank heading into the final months before the election. Kennedy, on the other hand, only has $137,000 cash on hand.
Both candidates have the backing of the national political parties. The DCCC added Kennedy to its "Red to Blue" program after she won her primary last month, which gives candidates additional access to resources and training. After the latest polling showed her ahead, the DCCC released a statement that she is in a strong position to flip the seat in November.
The New Jersey Republican Party said it has welcomed Van Drew with "open arms" and will support him in the general election as much as it can.
"His rejection of the Democrat Party is a product of their sharp and dangerous turn to the left in recent years," chairman Doug Steinhardt told Newsweek. "Amy Kennedy represents a party that wants to defund our police and put South Jersey families at risk. The NJGOP will be putting every resource available into re-electing Congressman Van Drew."