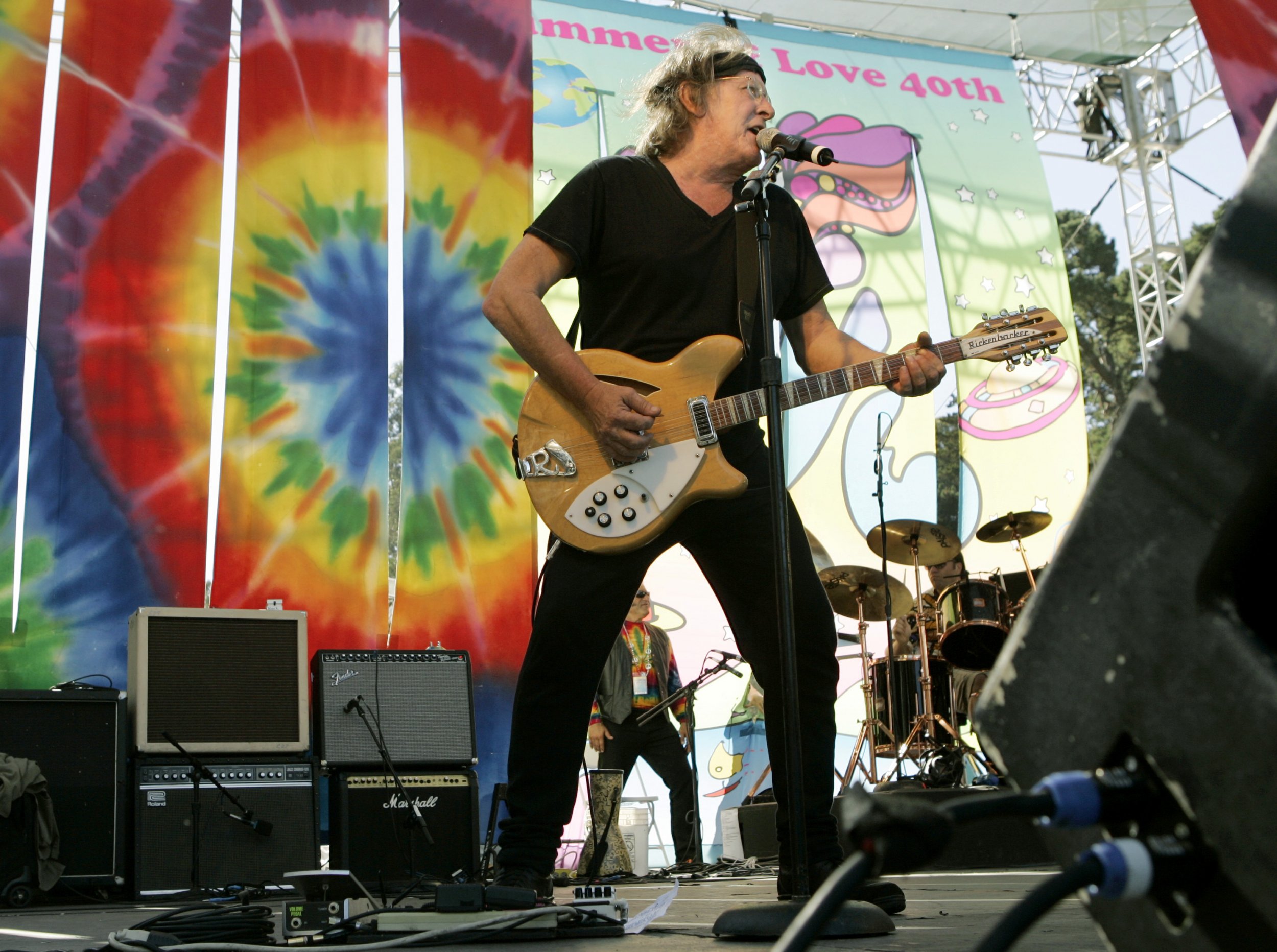 Paul Kantner, the bespectacled force behind Jefferson Airplane's roaring sound and one of the pioneers of San Francisco's characteristic lysergic sound, died at age 74 on Thursday night. His publicist, Cynthia Bowman, said in a statement to the San Francisco Chronicle that the cause was septic shock and multiple organ failure. The paper notes that Kantner suffered a heart attack last year and had several health problems before then.
Prior to co-founding the jangly Jefferson Airplane (and later Jefferson Starship), Kantner was a folksinger who'd learned the banjo by poring over a book by Pete Seeger. As he circled around San Francisco's burgeoning folk scene in the early 1960s, he famously met Marty Balin, soon-to-be co-founder of Jefferson Airplane, while performing at a bar, the Drinking Gourd.
The two riffed on the possibility of creating a folk-rock band. The group was forged shortly afterward with vocalist Grace Slick, bassist Jack Casady and guitarist Jorma Kaukonen, who provided the name for the band, drawn from a blues name he'd been given by a friend (Blind Lemon Jefferson Airplane).
They quickly amassed a following of fellow love children, and their fame grew when Bill Graham had them perform as the first headliner for his Fillmore Auditorium. Jefferson Airplane went on to appear at the groundbreaking Monterey Pop Festival, and at Woodstock they performed a near-flawless set despite being scheduled for the wee hours of the morning.
After Jefferson Airplane broke up, Kantner and Slick regrouped and formed Jefferson Starship in 1974. He remained in the band until 1985, when he left and took an $80,000 settlement for agreeing not to use the name or likeness of the band's original incarnation.
The New York Times notes that Kantner's penchant for hallucinatory drugs, distrust of authority and anarchist-leaning politics cropped up in the group's songs, and he became something of a spiritual leader for the band in its golden years, from Surrealistic Pillow forward. Kantner is remembered as having a dry sense of humor and occasionally ruffling his bandmates' feathers. (He was sued by his former collaborators for trademark infringement after he launched his own Jefferson Starship in the '90s, and he ended up settling.)
Kantner remained in San Francisco until the end of his days—the only former Airplaner to do so—and regularly toured with former bandmates and friends. He is survived by his three children, China, Gareth and Alexander.