Jeffree Star Accuses Britney Spears' Fans of Bullying Her Over Instagram Post
Jeffree Star has accused Britney Spears' fans of "bullying" her into deleting an Instagram post in which she had praised the controversial makeup mogul.
Last week, the "Toxic" singer took to her Instagram account to excitedly reveal that makeup mogul Jeffree Star had sent her a care package filled with his own brand of cosmetics.
In the midst of praising the influencer in her caption, she wrote of one of his products: "Sorry I had to share cause if I didn't know I would wish somebody would tell me about it!!! Jeffree Star, you're a genius!!!!"
However, part of her army of followers soon swooped in to voice their objection, urging the star not to associate herself with Star, whose past controversies include using violent and racial slurs.
Fans took their disapproval to Twitter, where Star's negative comments about Spears back in 2007 were dredged up to reinforce their case against him.
The video in question showed Star standing alongside Perez Hilton, who said during an impromptu interview with TMZ: "Boycott Britney Spears."
"Immediately," replied Star, before blogger Hilton added in his address to the camera: "Do not enable Britney Spears. She is a drug addict."
"Don't support her habit," said Star in the video, which was recorded in the months leading up to Spears' involuntary psychiatric hold in January 2008. That same year, she was placed up a conservatorship that she was released from this month.
After Spears deleted her post praising Star—without giving an explanation—the beauty guru took to social media to lash out at her supporters, whom she accused of trying to control her life in the same vein as the conservatorship she was just released from.
Sharing a video on his Instagram Story on Saturday, Star said: "Britney Spears supported me a few days ago and ooh, it really made some of the girls mad! She called me a genius, oh baby, it got so many motherf****** really angry. A little shook, huh?
"It's crazy that someone who has been in a mental prison for 13 years finds joy in something and y'all gotta bully her into deleting her post. That is so sad. But it's OK, a lot of y'all have a lot of self-reflecting to do. I've been there."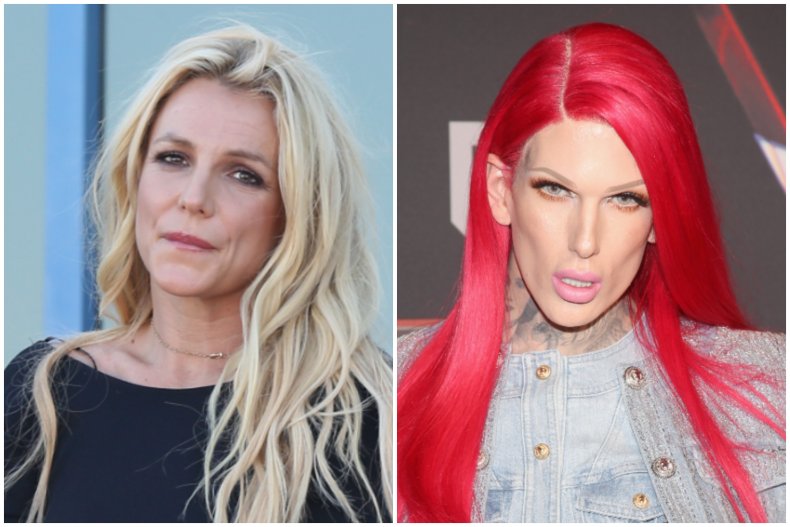 Star went on to say that in light of the events, he has contacted Spears' assistant as he "just wanted to do my own investigating."
"You guys know I never touch on these types of subjects anymore," he went on. "I'm so past drama and tea. But this isn't drama. This is mental health. This is literally a woman that was locked in her house and has been through hell. And she was bullied for liking a makeup product. Isn't that crazy?
"Because some of you motherf****** can't let go [of] what happened 20 years ago in my past. Like girl, some of y'all live in my past so much it's crazy. But I'm used to it... It's sad that she's even harassed for liking a product because you don't agree with it.
"I'm like, so now that she's free you still don't want her to make her own decisions. It's really hard to fathom. Some of you people really need to look inside. What is wrong with y'all? It's crazy."
Addressing Spears in person, Star added: "But shout out to Britney Spears. I f****** love you. You're a legend. And everyone bringing up an old clip from when I was 19 years old, b**** I'm in my 30s—get over it.
"I said a dumb comment about Britney Spears in like 2007. I have every single f****** album, I know every lyric, she's a f****** superstar and she's an icon. And I'm so glad she's free and you can't take that away from her and you ain't gonna drag me into it. So Britney, thank you for loving my brand. I love you so much."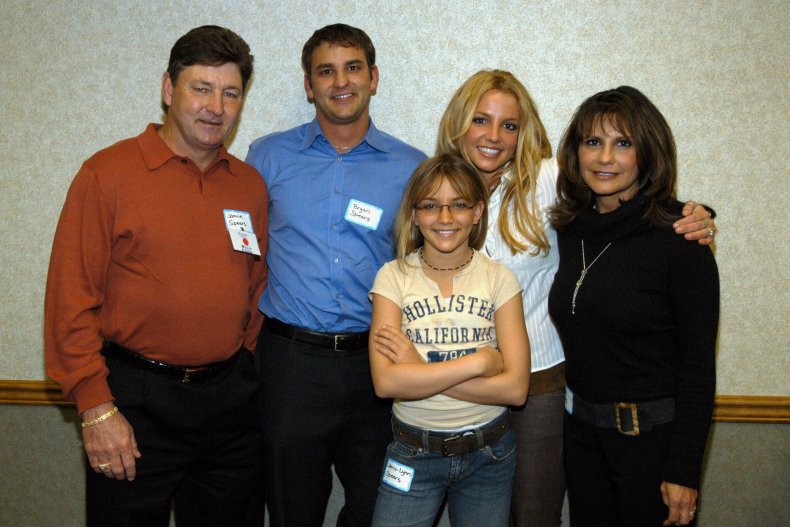 Over the years, Perez Hilton—real name Mario Lavandeira Jr.—has also publicly spoken out in support of Spears after criticizing her on his website.
In June, as Spears' conservatorship battle gathered pace, it was revealed that Hilton's site continued to host posts from 2007, in which he scrawled "I miss rehab" and "loser" on her face.
In a statement to Newsweek at the time the historic posts became a talking point, Hilton said that he opted to leave the posts online as a "reminder and a warning" to others.
He explained: "I have removed posts before that celebrities have reached out and said, 'That article caused me pain.' Or their reps have reached out.
"But, typically, I have left my past awfulness up to speak for itself and serve as a reminder and a warning. I am ashamed of my past but I'm not trying to scrub it from the internet or pretend it never existed.
"If I keep all my old posts up, I'm criticized. If I take them down, I'm criticized. I'm genuinely sorry for my behavior over a decade ago and I think my change and growth is obvious. I know I'm a different and better person today."