Jeffrey Epstein Abuse Scandal: Trump Labor Secretary Acosta Reportedly Knew Prosecutor Had 'Serious Lapse in Judgment' in Past Child Sex Case
President Donald Trump's Labor Secretary Alexander Acosta, knew that the lead prosecutor in a child sex case against politically connected billionaire Jeffrey Epstein had previously withheld relevant information in a suit involving underage sex crimes, The Miami Herald reported on Thursday.
Government prosecutor A. Marie Villafaña had failed to inform a judge that a defendant in a sex crimes case had a "history of predatory behavior with minors," the newspaper reported. A judge rebuked Villafaña for "intentional and/or serious lapse in judgment," in the case, which involved a 19-year-old man traveling from out of state to have sex with a 14-year-old girl.
Months later, in October 2007, Villafaña helped negotiate a plea deal for Jeffrey Epstein, who had been accused of sex crimes with underage victims.
Acosta was serving as the U.S. attorney in Miami—and therefore Villafaña's boss—at the time, and he backed her conduct in the case. The Herald reported that Acosta had a prosecutor write to the judge, trying to convince the court to alter the language of the criticism.
The Department of Labor and the U.S. Attorney's Office for the Southern District of Florida did not immediately respond when contacted by Newsweek. Villafaña did not respond when contacted on LinkedIn. Her lawyer told the Herald, "AUSA Villafaña has spent her 18-year career advocating tirelessly on behalf of victims of some of the most serious crimes in Florida, and has received numerous awards for her successful prosecution of major cases."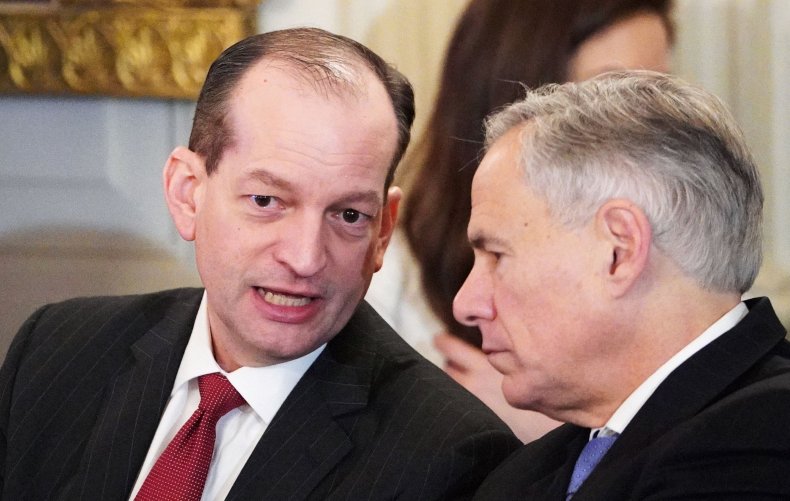 Acosta has faced scrutiny since November, when the Herald published an investigation about the plea deal arranged by government lawyers and Epstein. Epstein, a hedge fund manager, was suspected of bringing underage girls to his estate and then molesting them.
In the nonprosecution agreement arranged by his lawyers, Epstein agreed to plead guilty to two prostitution charges in state court. He served 13 months in country jail, registered as a sex offender and paid restitution to victims identified by the FBI, but was given immunity from federal charges, which could have led to imprisonment for the rest of his life.
The nonprosecution agreement also granted immunity to four other people and "any potential co-conspirators."
Last month, a federal judge ruled that the nonprosecution agreement was illegal.
"Particularly problematic was the government's decision to conceal the existence of the [nonprosecution agreement] and mislead the victims to believe that federal prosecution was still a possibility," U.S. District Judge Kenneth A. Marra wrote in his ruling. "When the government gives information to victims, it cannot be misleading."
The Justice Department also opened an investigation last month into the conduct of government lawyers when arranging the plea deal, according to The New York Times.