Jeffrey Epstein: How Donald Trump is Linked to Financier Arrested for Sex Trafficking Minors
A multimillionaire with political connections that run deep and reach back several decades was charged Monday in New York with sex trafficking charges involving minors, according to an unsealed indictment.
Jeffrey Epstein, a 66-year-old registered sex offender, was arrested over the weekend for sex trafficking crimes—which involved "dozens of minor girls," according to the indictment—from 2002 to 2005 in New York and Florida.
"In order to maintain and increase his supply of victims, Epstein also paid certain of his victims to recruit additional girls to be similarly abused by Epstein," the indictment continued. "In this way, Epstein created a vast network of underage victims for him to sexually exploit."
The new criminal charges against Epstein, which include offering "hundreds of dollars in cash" to women and minors in exchange for massages and sexual acts, now have the potential to expose damning information about high-profile political figures from both parties with whom Epstein once reportedly had ties to.
In recent months, Epstein and the Trump administration have come under scrutiny after the Miami Herald revealed he received a controversial and secret plea deal from federal prosecutors in 2007 involving similar sexual crimes with minors. Trump's current Labor Department Secretary, Alex Acosta, at the time was the U.S. Attorney for the Southern District of Florida and was reportedly involved in negotiating the deal.
But his accrual of wealth throughout the past decades has led Epstein to interact with the likes of public and political figures such as President Donald Trump, former President Bill Clinton, Harvard professor and attorney Alan Dershowitz and Prince Andrew, Duke of York. They have been alleged to be connected to either Epstein or his victims in some fashion.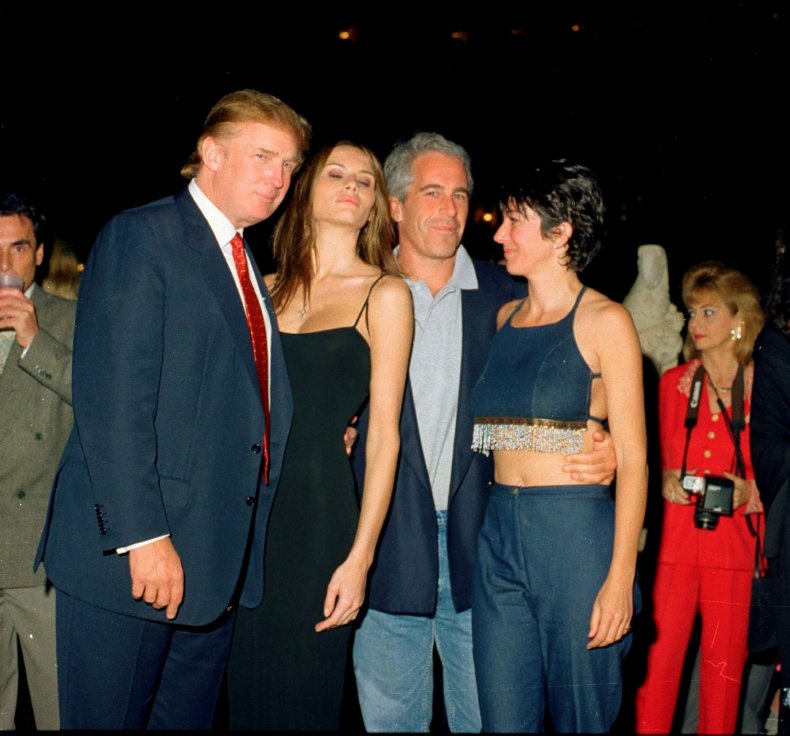 "I've known Jeff for fifteen years. Terrific guy," Trump told New York magazine in 2002. "He's a lot of fun to be with. It is even said that he likes beautiful women as much as I do, and many of them are on the younger side. No doubt about it – Jeffrey enjoys his social life."
According to court documents that were part of lawsuits, Epstein was once a member of Trump's Mar-a-Lago resort in South Florida—but was later barred by Trump for allegedly sexually assaulting an underage girl at the exclusive club. The two men ate dinner at one another's homes and Trump flew on Epstein's private airplane.
Despite the praise of Epstein by Trump and the social interactions, a Trump attorney has denied the two men were friends or had a relationship. He told reporters over the weekend that he did not "know anything about" Epstein's alleged arrest.
Federal prosecutors reportedly shelved a 53-page indictment against Epstein and the deal offered under Acosta's leadership resulted in him avoiding federal charges. Epstein instead pleaded guilty to the state charge of soliciting a minor for prostitution, a deal which shielded any co-conspirators from prosecution. He served 13 months in a Florida prison with reportedly wide-ranging discretion to come and go for work each day.

It was a non-prosecution deal that Geoffrey Berman, U.S. attorney for the Southern District of New York, said on Monday does not apply to the federal charges that his office has brought against Epstein. He described the new allegations against Epstein as conduct that "shocks the conscience."
"While the charged conduct is from a number of years ago, it is still profoundly important to the many alleged victims now young women," Berman said during a news conference. "They deserve their day in court."
The Justice Department in February told Republican Senator Ben Sasse in a letter that it had opened an investigation into "allegations that Department attorneys may have committed professional misconduct in the manner in which the Epstein criminal matter was resolved" in Florida.
A federal judge then ruled later that month that Acosta and his prosecutors broke the law by offering such a deal without notifying the dozens of underage victims that Epstein allegedly molested.
"This weekend's arrest is one step closer to justice for #JeffreyEpstein's victims," said Democratic Representative Katherine Clark on Twitter on Monday. "Next step: getting rid of @SecretaryAcosta, who let Epstein get away with these horrendous crimes."
Correction (07/08/19, 12:57 p.m. ET): The non-prosecution plea deal was entered into in 2007, not 2008. Newsweek regrets the error.