Jeffrey Epstein Found in Fetal Position in Jail Cell With Marks Around His Neck: Report
Billionaire Jeffrey Epstein, who is being held in a New York City jail for sex trafficking charges, was found in his cell slumped over in a fetal position late Wednesday night.
The financier was found in the Manhattan's Metropolitan Correctional Center with marks around his neck and somewhat conscious, according to NBC News.
Sources told NBC that Epstein perhaps tried to hang himself, and that his injuries are not serious. The report further states Epstein could have staged the attack in order to get a transfer to another facility.
NBC also learned that another inmate, Nicholas Tartaglione, might have assaulted Epstein. Tartaglione is a 49-year-old former police officer accused of killing four men during a drug conspiracy and burying their bodies in his yard.
However, the report states Tartaglione claims that he never saw anything, nor had he touched Epstein's body.
Epstein was arrested on July 6 on one count of sex trafficking of minors and one count of conspiracy to engage in sex trafficking of minors. Epstein could face up to 45 years in prison on the latter charge.
The billionaire who has reportedly had close ties with both President Donald Trump and former President Bill Clinton has allegedly sexually assaulted more than 30 girls at his mansion in Palm Beach, Florida, from 1999 to 2006.
Some of the victims were reportedly taken to his ranch in New Mexico, some to Little St. James Island in the Caribbean and some to his home in New York City.
"The victims, who were as young as 14 years of age, were told by Epstein or other individuals to partially or fully undress before beginning the 'massage,'" prosecutors said in this report. "During the encounter, Epstein would escalate the nature and scope of physical contact with his victims to include, among other things, sex acts such as groping and direct and indirect contact with the victim's genitals."
Trump reportedly had close ties with Epstein in the past, calling him a "terrific guy" who "enjoys his social life" in a 2002 interview with New York magazine.
"I've known Jeff for fifteen years," Trump said in 2002. "Terrific guy. He's a lot of fun to be with. It is even said that he likes beautiful women as much as I do, and many of them are on the younger side."
Epstein became a registered sex offender after he made a plea bargain in 2008 for two state prostitution charges in Florida. Epstein received a sentence of 13 months in the Palm Beach County Jail and financial settlements with his victims, and it helped him avoid any federal charges at the time.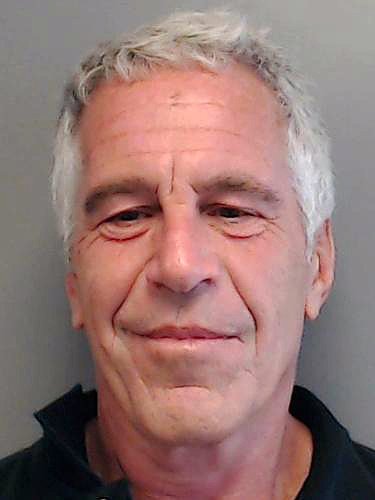 In this handout provided by the Florida Department of Law Enforcement, Jeffrey Epstein poses for a sex offender mugshot after being charged with procuring a minor for prostitution on July 25, 2013 in Florida.
Photo by Florida Department of Law Enforcement via Getty Images