Jeffrey Marsh Controversy Explained—Nonbinary Activist Videos Spark Concern
"Gender-critical" and conservative social media users have rallied behind TikToker Shamirun Nessa for her videos criticizing nonbinary TikToker Jeffrey Marsh.
United Kingdom-based Nessa "stitched" a video of her fellow TikToker where she accused them of encouraging children to privately message them on their account on Patreon—another platform for content creators.
It comes amid a clash between conservatives and defenders of LGBTQ rights in the United States. Around 26 states are seeking to outlaw so-called gender-affirming care for minors and to redefine drag performers as "adult-oriented entertainment", with conservatives saying that such measures are intended to protect children. Rights defenders reject conservative accusations of "grooming" children and say LGBTQ people are being unfairly attacked and deprived of their rights.
The February 22 video begins with Marsh saying through gritted teeth in one of their TikToks, "stop telling trans people that we're inspirational." Nessa "stitched" the video—a TikTok feature where users can combine their video with another user's—and mimicked Marsh's style of speaking.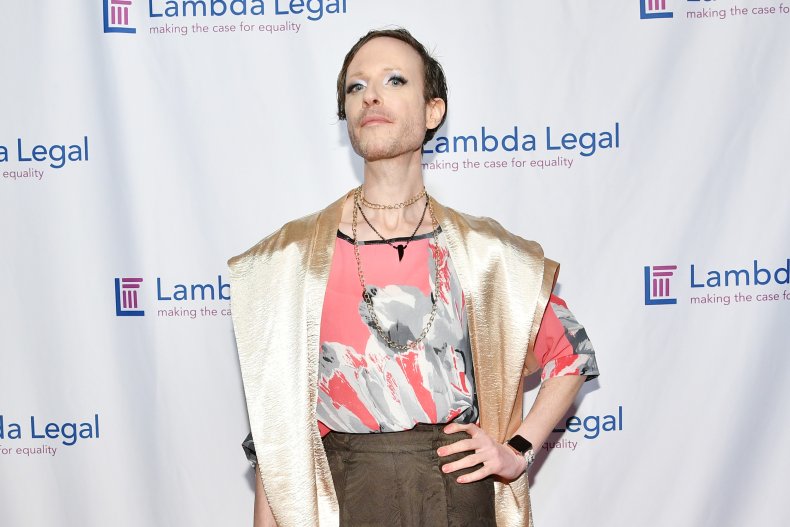 "Stop telling kids to go on your Patreon and chat to you privately without their parents knowing," Nessa said in the video, which had 4.6 million views at the time of writing.
She captioned the post: "TO ALL PARENTS AND GUARDIANS PLEASE BE CAREFUL AND KEEP YOUR MUNCHKINS SAFE!"
Newsweek did not see a video in which Marsh specifically addresses minors and tells them to get in touch, but in one video they do say "your parents screwed up" before going on to explain "that's why I made a Patreon so that we could talk about it, so that we could connect in a way that has more privacy, so that we can talk to each other in a way that's more open..."
Neither Marsh nor Nessa responded to requests for comment from Newsweek.
Marsh, who is nonbinary and uses they/them pronouns, is an LGBTQ advocate who runs a social media brand.
"Jeffrey is a bestselling author, viral TikTok and Instagram star, nonbinary activist, and LGBTQ keynote speaker," their website says. "Jeffrey is a highly sought-after Breakthrough and Gender Counseling Coach, helping straight and LGBTQ people attain a lasting sense of peace and self-compassion."
They also provide exclusive content on their Patreon, a subscription-model website for content creators. Subscribers must say they are 18+ to access Marsh's Patreon or subscribe to it, but it was not clear whether that was changed after Nessa's viral video about them.
Nessa followed up her original video with a TikTok saying that she was not transphobic and that she had received Islamophobic hate since posting it. She is Muslim and wears a hijab in her videos.
"I HOPE THIS CLEARS SOME THINGS! Also I made this video NOT because they are trans, I would have created the same video for anyone who is trying to harm kids! PERIOD!" she captioned her follow-up video.
In her second video, Nessa addressed some of the backlash that Marsh's content does not target children by editing a series of their videos that start with them saying "hi kids."
She also added the clip from February 10 in which Marsh encourages those whose "parents screwed up" to get in touch on Patreon. Marsh does not single out children in the video and never mentions people of a certain age.
Nessa then shared images of some of the content on Marsh's Patreon. In one video, they give advice on how to go "non-contact" with unsupportive family members and in another video they discuss the topic of sex.
Nessa then brought up a list of what she said were the tell-tale signs of a person being "groomed", which included "isolating" them from family. "Groomer" has often been used as a slur to target LGBTQ people.
Nessa wrapped up her TikTok with another of Marsh's videos where they invited people who are not able to spend the holidays with their family to join them over the festive period, saying, "I'm going to be your family." Again in the video, Marsh does not single out children or direct the invitation to minors.
"No, you can't. You're a stranger on the internet, you are not their family," Nessa said.
People in the LGBTQ community sometimes refer to the concept of "chosen or found family" and lean on each other for support after experiencing family or social rejection, according to the media advocacy organization GLAAD. Researchers at the Pew Center found 4 in 10 LGBTQ people had been rejected by a family member or friend because of their sexuality or gender identity.
Support for Nessa came through quickly from her defenders on social media where "gender-critical" people said she was "protecting children". Those who are gender-critical believe sex is biological and cannot be conflated with gender identity. Feminists who express such views are often referred to as trans-exclusionary radical feminists, or TERFs by their opponents.
"SHE STOOD HER GROUND! She got an unfathomable amount of hate, and she stood her ground. This is what protecting children looks like. A million props to this brave lady" wrote one person on Twitter.
Another person tweeted: "Question: Does anyone know if Jeffrey Marsh has any professional qualifications in either psychiatry or psychotherapy! What is the framework / safeguarding, on the advise he is giving vulnerable children? Has his 'work' been authorised / recognised by any professional bodies?"
Just days after Nessa went viral, a school in the United Kingdom reportedly sent an email to parents warning them to shield their children from Marsh's content. The letter was shared on TikTok by a woman who said she was the mother of a child at the school from which the email was sent.
According to her, it tells parents to "please be aware" of Marsh and "the content he is creating [sic]." Newsweek was unable to authenticate the letter.
"Whilst the internet and social media can be a wonderful thing, it does pose a huge risk to young children. Can I take this opportunity to remind you all to ensure that you have the correct 'internet restrictions' on your child's devices and to ensure they are supervised whilst online," the email from the school's "designated safeguarding lead" purportedly read.
BBC journalist Dominique Samuels shared the woman's video on Twitter and said that it had been removed by TikTok before being reinstated. Newsweek was not able to independently verify whether that had been the case.
"Many have expressed concerns about 'non-binary' tiktoker Jeffrey Marsh for his creepy videos encouraging young children to cut contact with their family," Samuels tweeted.
"This mother reveals an email she received from her child's school warning of the risk he poses to young children, advising them to have parental controls in place!"
Samuels added: "Unsurprisingly, TikTok saw fit to remove the post and penalise her account. They eventually reinstated it once she sent them proof of the letter being real. Absolutely vile that apps like this actively promote people like Marsh that prey on confused children."
Updated on 03/07/23 at 12 p.m. ET with additional content