President Donald Trump will nominate attorney Jeffrey Rosen to replace Rod Rosenstein as deputy attorney general, the White House said Tuesday night.
Rosen is the current deputy transportation secretary, and if confirmed he would replace Rosenstein, who a Justice Department official told Newsweek Tuesday would be stepping down in mid-March.
In May 2017, Rosenstein appointed special counsel Robert Mueller to oversee the investigation into allegations of Russian interference in the 2016 presidential election.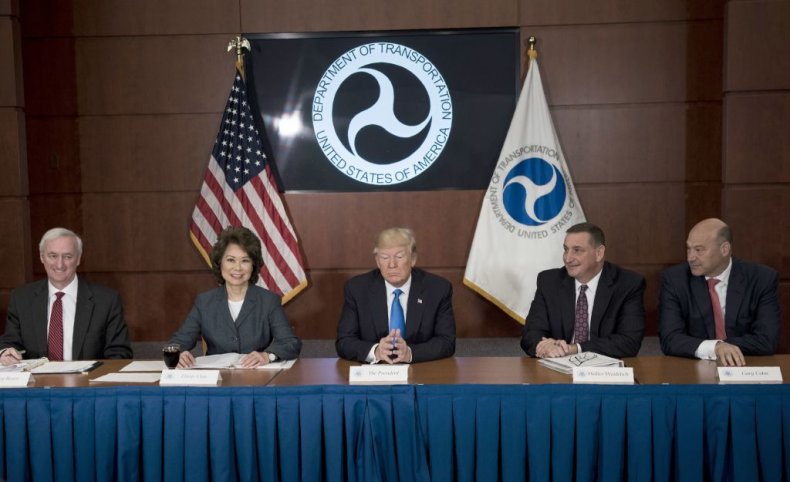 In recent days, Rosenstein has faced a barrage of attacks from Trump after former Acting FBI Director Andrew McCabe said that he and Rosenstein had discussed secretly taping the president, and lobbying Cabinet members to invoke the 25th Amendment to remove the president from office.
Trump tweeted that Rosenstein and McCabe "look like they were planning a very illegal act, and got caught."
Rosenstein had long been expected to vacate his post after Trump's new attorney general, William Barr, took office.
Barr, whose appointment was confirmed by the Senate last week, welcomed Rosen's appointment, and said in a statement that his proposed deputy had more than three decades of experience in top government roles and in private legal practice.
"His years of outstanding legal and management experience make him an excellent choice to succeed Deputy Attorney General Rod Rosenstein, who has served the Department of Justice over many years with dedication and distinction," Barr said.
People familiar with the matter told Bloomberg that Barr had selected Rosen for the role.
Secretary of Transportation Elaine Chao also praised Rosen, saying in a statement that he had "played a critical role in helping me lead and manage" the Department of Transportation.
A Harvard Law School graduate, Rosen had been a senior partner at the law firm Kirkland & Ellis LLP. In 2003, he left the firm after he was appointed general counsel at the Department of Transportation in the administration of President George W. Bush.
He then served as general counsel at the Office of Management and Budget before leaving in 2009 to resume private practice. He became deputy transportation secretary in May 2017.
Federal records cited by Reuters show that Rosen had donated money to Republican candidates but not to Trump. He gave $7,545 to Republican presidential candidate Mitt Romney in 2012, and $100 to Senator Marco Rubio in 2015, a Trump rival for the GOP presidential nomination.