One night last summer, Jeffrey Tanenhaus did in Manhattan what people in New York do about 35,000 times each day: He unlocked a Citi Bike from a bike-share station. With more than 300 such kiosks sprinkled mostly around Manhattan and Brooklyn, Citi Bike had become New York's newest mode of transportation, and one of its more fashionable, at least until the hoverboard came along.
Tanenhaus had an annual membership, which allowed him to use a Citi Bike for 45 minutes at a time before having to dock it again. He was thrilled because the Citi Bike he had just selected was apparently new. "The spokes sparkled," he would write on his blog. "The bell chime could summon angels."
The ability to call forth seraphim is, in fact, not a known feature of Citi Bikes. In the two years since Mayor Michael Bloomberg had introduced New Yorkers to bike sharing, some had derided the bicycles, sponsored by Citibank and prominently adorned with that institution's logo, as bulky (45 pounds) and slow (three speeds only, to discourage fatal encounters with tourists and yellow cabs). The newer model Tanenhaus found promised to be slightly more fleet and durable than the original issue.
Tanenhaus rode down Second Avenue, stopping when he saw a woman docking a Citi Bike at 20th Street. "Excuse me," he called out to her. "What if I were to tell you that I'm going to ride this bike cross-country tomorrow?"
The woman did not think this was a good idea. "That's gonna cost a fortune," she told Tanenhaus. "And I don't think the bike is going to make it that far."
She was half right. Tanenhaus did have to pay a $1,200 fee for exceeding the 45-minute limit by some 3,600 hours. But the bike did make it to California, suffering nothing worse than a flat tire near Claremore, Oklahoma. Tanenhaus survived the trip intact, though he was punched in the face outside of Tulsa, which oddly enough proved to be his favorite place in the United States, the one where he wants to live, now that he is certain Manhattan will never again be his home. The assailant—37-year-old Franklin Burton, according to police—was arrested after another alleged assault involving a man and a woman that same day, while Tanenhaus continued west, a little bruised but utterly undaunted.
"My doctor said I needed a rest," he posted on Instagram in the wake of the attack. "I told my doctor I needed a root beer freeze at Weber's." And so he had a root beer freeze at Weber's. He had nothing else to do, nowhere else to be.
On a January afternoon, Tanenhaus pedaled the velocipede he had rechristened as Countri Bike onto the pier in Santa Monica, where he was met by a small crowd affiliated with Breeze, that city's new bike sharing program. Also on hand was Frances Anderton, a host for KCRW, a Southern California public radio affiliate.
"He was looking very relaxed for someone who had just spent five months riding up to 40 to 60 miles a day," Anderton reported. She listed a couple of statistics: 3,020 miles, 19 states. She also spoke to an admiring middle school teacher who called the trip "heroic." The teacher gushed, "It's a fantasy, you know, to just take one of those Citi Bikes and keep going. And just keep going."
The Sunburned Terrorist
"I know this guy!" I shouted to my wife over morning coffee. The guy in question was Tanenhaus. There he was, staring out at me from the New York Post, with its usual procession of civilization's most florid discontents. Jeff and I had been classmates at Dartmouth; not quite friends, but we'd pledged the same fraternity (Jews, comedians, a cappella singers) and would have recognized each other on a Manhattan street, scheduling one of those lunch dates that everyone makes and nobody keeps.
I had not kept in touch with him after graduation. Years passed. I did my thing; he did his. I would have guessed that his thing was something corporate that afforded him a Manhattan apartment with a Juliet balcony from which you could see a slice of Central Park. As a matter of fact, he had been living in Brooklyn, in a cluster of bland high-rises utterly bereft of big-city glamour. I had no idea that, after college, he had done a miserable stint in Guam, where he worked as a lifeguard. Or that, when he returned, he became a tour guide on one of those double-decker red buses that every New Yorker wants to firebomb.
The Post article was headlined "Ride On, Man" and showed a photograph of a triumphant Tanenhaus at the border of West Virginia. He had been an event planner bored with his job, so he'd let the lease on his apartment go, put his belongings in a storage unit, attached a small trailer to the Citi Bike he'd chosen and headed West, relying on the kindness of strangers for places to stay. Three weeks into the journey, all seemed to be well, though the Post reported that while riding through Delaware, " he was accused of being a terrorist by a local who was shocked to see him protecting his face from the blazing sun with a handkerchief."
I finished my coffee. It was August, when heat hangs over New York City in a wet gray blanket that obscures the sun. I picked up after our toddler, kissed my wife and went out into another morning. By the time I got to the subway station, I had forgotten all about Jeffrey Tanenhaus. But there he was, some days later, in the Post again after the Tulsa assault. Then his story started appearing elsewhere. We were jealously following his journey, escaping for just a few moments the workaday life that Tanenhaus was escaping for good.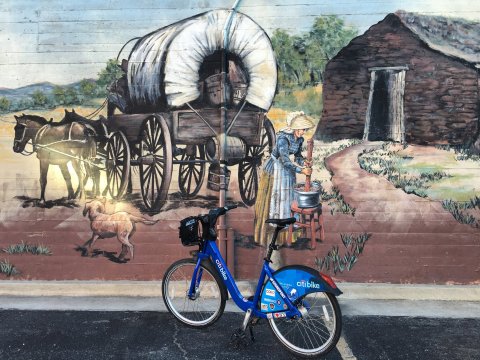 Jobless and Loving It
Pretty much all media coverage of Tanenhaus—in outlets like People, The Guardian and New York, which listed him as one of the magazine's reasons to love the city, which he did not love anymore as much as he loved Tulsa—has treated his ride as something charmingly bizarre, to be admired but not replicated. References to Forrest Gump pervade. These make Tanenhaus seem like a naïf whose endurance exceeds his intelligence: a charming fool best confined to Instagram.
I don't see it quite this way, and while anything that involves leaving your life behind is outlandish, what Tanenhaus did is not as outlandish as, I don't know, using all your savings to open a bacon-tasting room in Austin, Texas. His was a break with the everyday that retained a good deal of everydayness.
When I met him recently in Oakland, California, where he had come to stay with friends before heading back to New York (on an airplane this time), Tanenhaus told me he never thought about buying a fancy road bike or expensive gear of the kind that instantly transforms weekend warriors into Tour de France competitors. Riding the Citi Bike to and from work over the Manhattan Bridge had been the best part of his day, respite from a job that did not stimulate or fulfill. So he took the best part of his day and made it the thing that filled his days. This was not only bold but also immanently reasonable. I mean, did our middle-school teachers not tell us to follow our passions? And is it not the case that middle-school teachers are right about way more stuff than most of us are willing to admit?
Aside from his inauspicious sojourn in Guam, Tanenhaus had traveled plenty around the world (the Middle East, Southeast Asia, South America), but he says his parents were especially terrified when he told them he would be traversing the United States. Aside from the Tulsa ambush, their fears went unrealized. There were a couple of times when cars menaced him on the road, but anyone who has biked down Broadway is immune to such harassment.
Along the way, Tanenhaus relied on the apparently boundless kindness of those he met through WarmShowers.org, an organization that connects cyclists with people willing to put them up for free. On the coast of New Jersey, he had a beach house all to himself. In Blythe, California, he stayed outside a bait-and-tackle shop in a trailer nicknamed "the Marriott."
There is something incredibly middle American about his journey. Though cycling 60 miles a day is strenuous activity, exertion is not the first thing that comes to mind when you take stock of the hamburgers Tanenhaus ate and the microbrews he drank, two pursuits he prodigiously chronicled in his Instagram account.
He even grew to love fried pickles. Here was a son of Jewish New York, who should have known only pickles from a jar of half-sours purchased on the Lower East Side, enjoying a greasy treat of the Midwest. Here was an Ivy Leaguer jobless and loving it. Here he was, plodding west with the tenacity of the early pioneers. Here he was, a true American.
A Brazen Theft
About the time that Tanenhaus was making his way through New Mexico, I was making my way through Ways to the West, a new book by the urban planner Tim Sullivan. Four years ago, Sullivan was living in Oakland when he became fixated on the idea that he had lost contact with the West because in the past several decades he had seen it only from the window of his car. He thus undertook "a car-less road trip through the West," conducted mostly on a bike, with some reliance on public transit. Much like Tanenhaus, he encountered tedium, disorientation and hardship. But he also saw a county he would not have otherwise known.
Sullivan's journey, which lasted three weeks, was in many ways different from Tanenhaus's. The carefully planned trip served the clearly defined purpose of exploring the West's changing infrastructure (light rail in Denver, bike lanes in Boise, etc.). His bike wasn't an Abrams tank either. But there is a fundamental similarity here, a conviction that only in constant motion can we discover the fundamental soul of the land.
William Least Heat-Moon wrote of this in Blue Highways, his classic about exploring the nation's back roads in a Ford Econoline van: "Instead of insight, maybe all a man gets is strength to wander for a while." And there is Jack Kerouac too, preaching in On the Road about how "there was nowhere to go but everywhere." There may be no quality more American than restlessness.
Some say that bicyclists, like vegans, are a humorless bunch. A few advocates adhered to that stereotype in condemning Tanenhaus for what they saw as nothing more than the brazen theft of a Citi Bike. One Pecksniffian blogger thundered that Tanenhaus "should have been met at the California border by the NYPD." Someone else suggested he be charged with grand theft larceny. Citi Bike itself does not appear thrilled with his trip: It has routinely refused to comment on Tanenhaus, including for this article.
Paul Steely White, executive director of Transportation Alternatives, laughs off these criticisms and says Tanenhaus's detractors are "really missing the point."
"I think he's a hero," White says. Take that, urbanist scolds and bike share doctrinaires.
I spoke to Tanenhaus when he returned to New York from California. He had just taped a segment for The Late Show With Stephen Colbert, though he had been bumped by other guests and wasn't sure when the segment would air. The bike that he had ridden across the country was still in his possession. He had paid for it, after all. He could dock it at a Citi Bike station, but then it would be just another two-wheeled workhorse making dull perambulations between Midtown East and Midtown West, its glories subsumed by the daily grind. No, there was too much road behind—and too much ahead. There was still Tulsa.