These Jehovah's Witnesses Have Been Imprisoned in Eritrea for the Past 25 Years Without Trial
This week marked 25 years in prison without charges or trial for three men in Eritrea. The trio—identified as Paulos Eyasu, Isaac Mogos and Negede Teklemariam—have been incarcerated in the East African nation since 1994, after refusing to partake in military service, part of their pacifist beliefs as Jehovah's Witnesses.
Authorities arrested Eyasu, Mogos and Teklemariam on September 17, 1994, but formal charges were never filed and they've never come before the court. In 2017, they were transferred to Mai Serwa prison, where they were allowed visitors for the first time, according to Human Rights Watch.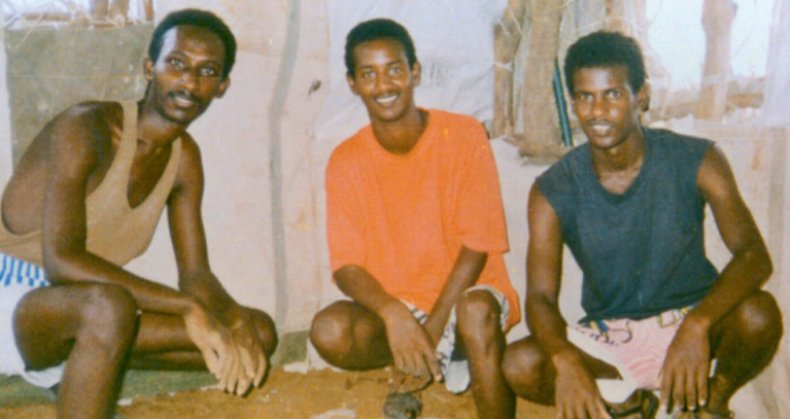 "We feel deeply for Isaac, Negede, and Paulos, who have suffered harsh conditions for more than half their lives for refusing military service," Jehovah's Witnesses spokesperson Gilles Pichaud told Newsweek. "They have never been charged nor given the opportunity to defend themselves in court."
Pichaud added that while the trio have been pressured to deny their faith in return for freedom, "they are not bitter against the authorities."
Soon after Eritrea gained independence in 1993, President Isaias Afwerki began a crackdown on religious groups he felt opposed to the state. Jehovah's Witnesses are required to remain politically neutral as part of their faith, abstaining from voting, running for office and partaking in military service. The Afwerki government revoked the citizenship of the country's Witnesses, citing their refusal to vote in the 1993 independence referendum, as well as their objection to conscription. As a result, Witnesses are not allowed to hold government identity cards or business licenses, or to complete high school. In addition, they cannot apply to travel abroad.
Prior to independence, Eritrea allowed conscientious objectors to join an alternative civilian service group to fulfill their obligation.The Eritrean constitution, ratified in 1997, officially grants citizens the right to freedom of religion, but it has limitations.
In March 2002, the country passed a referendum requiring all religious groups outside of the four largest —the Eritrean Orthodox Tewahedo Church, the Eritrean Catholic Church, the Evangelical Lutheran Church of Eritrea and Sunni Islam—to obtain yearly registrations.
In practice, human rights activists claim, the other faiths present in the country are not allowed to register, stripping them of their protections under the law: Last week, seven religious schools were seized by the government, including ones run by Protestant, Muslim and Catholic groups.
Eritrea has been designated a "country of particular concern" by the State Department since 2004 because of its religious freedom abuses. In 2013, Amnesty International researcher Claire Beston called Eritrea "one of the most repressive, secretive and inaccessible countries in the world."
There are currently 52 Jehovah's Witnesses being held without trial in Eritrea, according to the Jehovah's Witnesses' Office of Public Information. Four others died in prison and three died after release, reportedly as a result of their treatment.
"The courage of these three men, along with the other 39 men and 10 women, imprisoned in Eritrea for refusing to compromise their faith have been an inspiration to Jehovah's Witnesses all around the world," Pichaud told Newsweek, adding that the church has requested a meeting with President Afwerki.
"[We] hope our desire to find a solution will be considered," he said.
Update: This article has been updated to reflect a clarification from Jehovah's Witnesses spokesperson Gilles Pichaud in his statement.