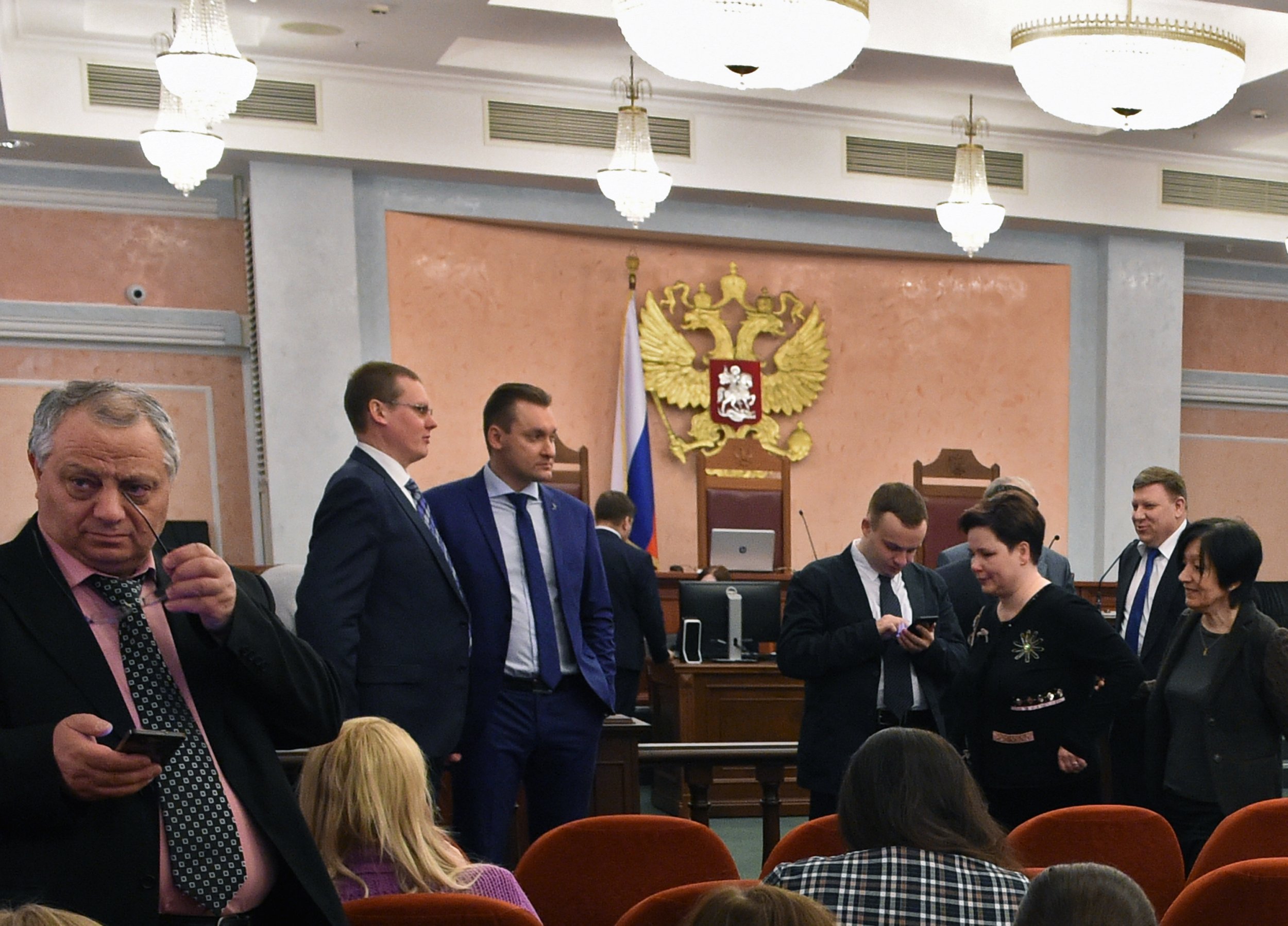 Updated | Russia's Supreme Court on Monday rejected an appeal launched by Jehovah's Witnesses against the group's ban in the country. The decision was made following a single-day hearing in Moscow in which the court swiftly rejected all the defense motions put forward by representatives of the Jehovah's Witnesses, including a request to have a religious studies scholar.
Related: Jehovah's Witnesses in Kazakhstan fear repeat of Russia ban after 'scary' crackdown
In April, the Supreme Court ruled in favor of the justice ministry which, a month earlier, had declared Jehovah's Witnesses an extremist organization, liquidating 395 of its local chapters as well as its headquarters in St. Petersburg. Monday's ruling means that the Christian denomination must turn over all its properties, known as Kingdom Halls, to the Russian government.
Following the decision, the group's Russia spokesman, Yaroslav Sivulskiy, reportedly told gathered journalists in the packed courtroom that "religious freedom in Russia is over. It's a very sad situation for our country. As you could see today, there were no real facts of any extremism on part of Jehovah's Witnesses. It's all about bad literature and intolerance. Now anyone who studies the Bible can be jailed."
The international spokesman for Jehovah's Witnesses, David A. Semonian, added that the verdict did not come as a surprise.
"While we were prepared for a negative ruling, it is still very disappointing," he said in a statement. "It is very concerning that despite overwhelming evidence to the contrary, powerful elements within Russia continue to frame our organization as extremist. We can only hope a fair evaluation of the facts will eventually prevail and our right to worship in Russia will be legally restored."
The appeal was evaluated by three judges, as opposed to the single judge who ruled on the initial case. However, the Jehovah's Witnesses, which has 175,000 members in Russia and had operated there since 1991, had little hope of success.
A survey from the independent polling agency Levada, released last week, indicated that 79 percent of Russians supported the ban, though more than half of the respondents admitted they knew nothing about the case. The ban also had the powerful support of the Russian Orthodox Church, which enjoys a close relationship with President Vladimir Putin and counts more than 70 percent of the country's population as followers.
The original decision can only now formally go into effect, though a Jehovah's Witnesses spokesman in Russia told Newsweek in May that "most" of the group's local chapters had already received documents from the tax department notifying them that they had lost their leases.
That is far from the only negative consequence the group has faced since the April verdict declaring that its texts violate an anti-extremism law, effectively placing it in the same category as groups like the Islamic State (ISIS). Police have regularly disrupted group meetings both at the Kingdom Halls and in private homes. In one instance, a Danish citizen was arrested during a meeting at home and faces up to 10 years in prison.
The verdict also has had a chilling impact across society. There have been numerous reports of harassment and violence committed against Jehovah's Witnesses, including arson attacks. A report from the group released last week stated that instances of harassment and violence against its followers skyrocketed by 650 percent between March and April. In all, it found that there had been 128 cases of mistreatment, including some against children in schools.
The ban has been widely condemned internationally, including by the United States and the European Union. In its 2017 report, the U.S. Commission on International Religious Freedom elevated Russia to its highest tier of violators of religious freedom.
Following Monday's rejection of the appeal, the Jehovah's Witnesses are expected to appeal to the European Court of Human Rights. Yet even if the group is successful, Russia has no requirement to accept the verdict.
"Regardless of what negative consequences this decision brings," Semonian said, "Jehovah's Witnesses will continue to act within the law to secure their rights and support their fellow worshippers in Russia who must bear the burden of injustice."
This artcile has been updated to include further comments by a Jehovah's Witnesses spokesman.