Jehovah's Witnesses in Russia Have House Burned Down, Worship Halls Liquidated While Preparing Ban Appeal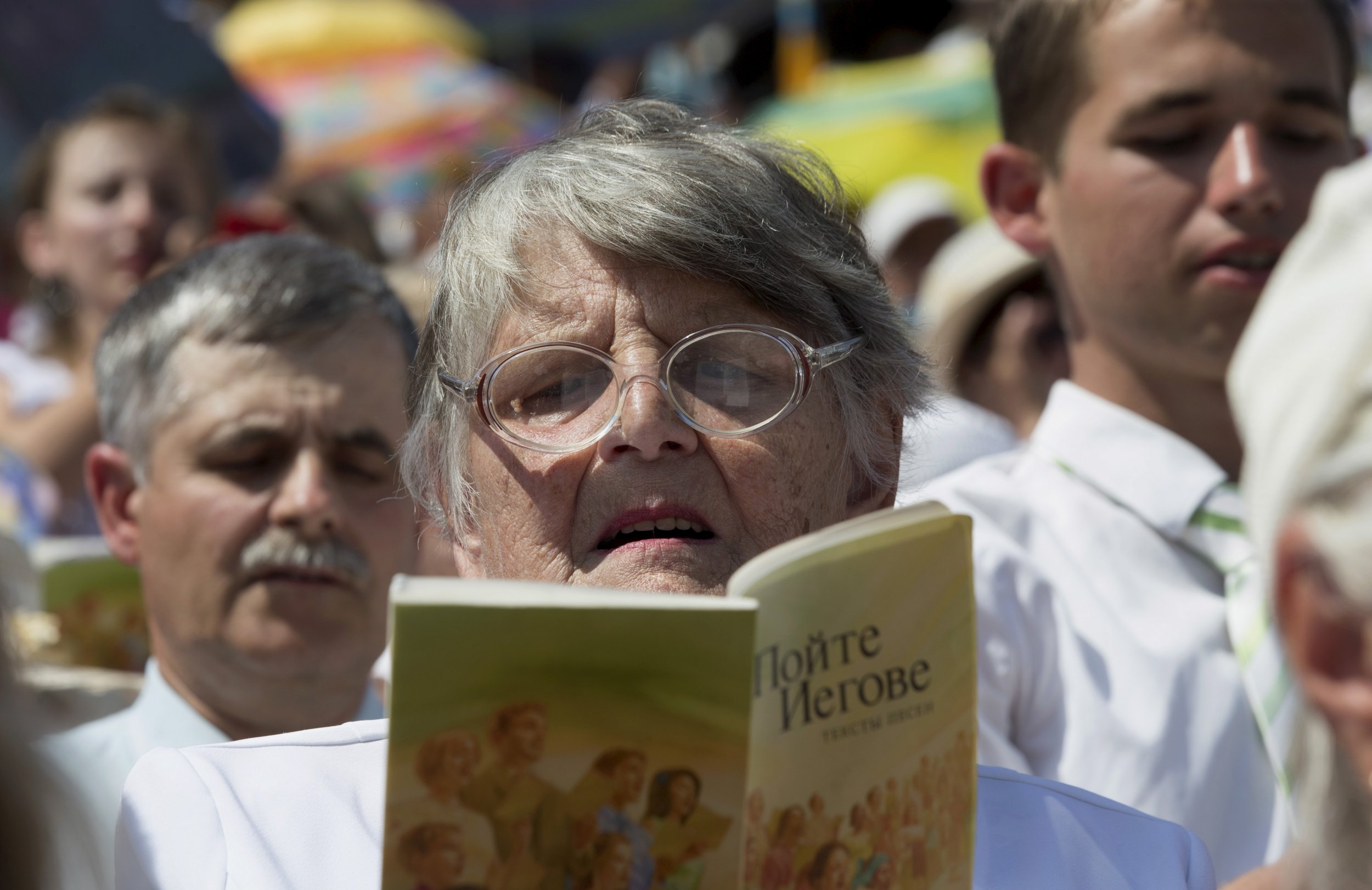 In the weeks since Russia's Supreme Court upheld a ban on all its activities in the country, Jehovah's Witnesses have been subjected to a wave of violence and intimidation with no protection from the police, the group has claimed. At the same time, even though the order was not legally due to take effect until after an appeal is heard, the group says it has received documentation that its ownership of many of its 395 local chapters, including its St. Petersburg headquarters, has been stricken from legal documents.
Related: Russia's Jehovah's Witnesses Ban Backed By Flourishing Satanic Church in Moscow
Russia's Supreme Court last month upheld a decision from the country's justice ministry that the group violated an anti-extremism law, putting it in the same category as terrorist groups such as al-Qaeda. The decision has been widely condemned, including by the U.S. State Department and the European Union.
The Christian denomination, which comprises 175,000 members in Russia, is still finalizing its appeal but the court's decision is already having a chilling impact.
In the most alarming incident, the home and garage of two Jehovah's Witnesses on the outskirts of Moscow were burned down by an arsonist who, according to the spokesman for Jehovah's Witnesses in Russia, Yarolsav Sivulskiy, professed hatred for their faith. But, although the perpetrator was quickly apprehended, he faced no charges after agreeing to a simple financial settlement with the victims.
A similar pattern has followed across the country. Graffiti has been etched on Jehovah's Witnesses' homes and assembly halls, while windows have been smashed. But, even in the case of an incident at the group's headquarters where there was surveillance footage of the perpetrator, the response from police, Sivulskiy claimed, is always the same.
"Usually what we observe is that the police are very reluctant to do any investigation and usually the investigation goes nowhere," he told Newsweek Wednesday. "Sometimes they come and try to pretend that they are working but usually there is no result, no consequences for the people who did this. They don't do anything to protect Jehovah's Witnesses."
The Jehovah's Witnesses targeted in the arson attack have, according to a media report, since decided to leave Russia. They are not alone in doing so.
"I have heard some friends have already left," Sivulskiy said. "They're afraid for their children. The quantity of cases will increase I think."
Already, Jehovah's Witnesses have been forced to stop holding meetings at their kingdom halls, having had their bank accounts frozen and been subjected to intimidation by police. Calling the prospect of continuing regular services "dangerous," Sivulskiy said that some believers are instead holding meetings in small groups at their home.
Other consequences of the decision have similarly taken hold. Jehovah's Witnesses' beliefs prohibit them from serving in the military, something which the Russian government has previously accommodated by providing them alternative civilian service. However, now deemed members of an extremist group rather than a religious one, the authorities, according to Sivulskiy, have given young male Jehovah's Witnesses two choices: "go to the military or to prison."
One aspect of the decision that was not supposed to be enforced before an appeal was heard is the liquidation of its assets. Yet Sivulskiy said that the St. Petersburg headquarters and "most" of the group's local chapters had received documents from the tax department notifying them that they have been deleted from the lease.
The group has until May 20 to file its appeal, which it says it will be doing on the basis that evidence of cases against local chapters being "fabricated" by law enforcement agencies was deemed not admissible by the Supreme Court. But, Sivulskiy admits, there is "no big hope" that an appeal will be successful unless "the political wind will change somehow."
In the meantime, there is a deep sense of unease about what the future holds.
"Jehovah's Witnesses, in general, feel very uncomfortable now," Sivulskiy said. "They're waiting for the final decision but if the final decision is against us it's unpredictable what will happen after that."