Jehovah's Witnesses in Russia Interrogated by Masked Police With Machine Guns 1 Year After Ban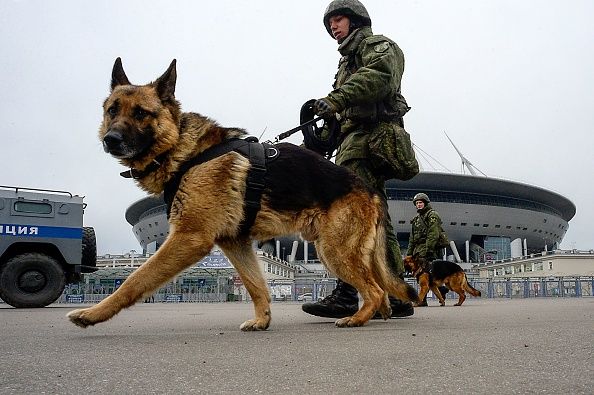 Wearing balaclavas and carrying machine guns, police in four Russian cities have raided the homes of Jehovah's Witnesses over the past two weeks and brought members of the religious group in for questioning, sources connected to the group told Newsweek.
In Russia, where the Orthodox Christian Church has deep ties to the highest levels of the Kremlin, the government has labeled Jehovah's witnesses an "extremist" sect. The ruling was made exactly one year ago, in April 2017, and came into force just a few months later when Russia's Supreme Court dismissed an appeal. The group's administrative center in St. Petersburg, Russia was consequently dissolved, and Jehovah's witnesses were forced to begin worshiping in secret in their homes after almost 400 local chapters shuttered.
Meanwhile, many say they have faced systematic harassment by security forces. Since January, members of the group say they have had their homes raided on at least seven separate occasions, four of which took place in April.
"It's a new wave of persecution. We don't know what's happening," Yaroslav Sivulsky, a Jehovah's Witness from Russia who is now living in exile in Latvia, told Newsweek Thursday. "If they wanted to they could put any number of Jehovah's Witnesses in prison because they know the Jehovah's Witnesses are worshipping at home and they can find them easily."
There are around eight million Christians worldwide who self-identify as Jehovah's Witnesses, an estimated 175,000 of whom live in Russia. Members of the group, which was founded and remains headquartered in the United States, are often seen knocking on doors and standing in the streets, looking for opportunities to speak with bystanders about their faith. But only a handful of countries, including China, Vietnam, and Russia have banned the group outright.
All of those countries were included on a recent list of places of particular concern in the U.S. Commission on International Religious Freedom's annual report for 2018. It is the second year in a row that Russia has been included on the list.
"The [Russian] government continued to target 'nontraditional' religious minorities, including Jehovah's Witnesses and Scientologists, with fines, detentions, and criminal charges under the pretext of combating extremism," the report read. "Most notably, the Jehovah's Witnesses were banned outright, as was their translation of the Bible, and their followers persecuted nationwide."
The report's findings are in line with what many Jehovah's Witnesses in Russia describe.
"On April 20, law-enforcement officers searched the homes of several of Jehovah's Witnesses, including three former members of the local religious organization in Ivanovo. Igor Morozov was taken to the police station. Mr. Morozov was later released, but is not allowed to leave Ivanovo," Jarrod Lopes, a representative of the Jehovah's Witnesses world headquarters, told Newsweek about one of the latest events in Russia.
"On April 19 in Vladivostok, Russia, police raided a religious service attended by Valentin Osadchuk and three elderly women. All four were taken to the police station and interrogated. Valentin remains in custody and has been charged under Article 282.1 of the Criminal Code, 'organizing the activity of an extremist organization.' Mr. Osadchuk is being kept in pretrial detention until June 20, 2018," Lopes added.
These events follow on the heels of similar events in the Russian cities of Polyarny, Ufa, Oryol, Belgorod, and Kemerovo, he noted. Russia also brought extremism charges against a 46-year-old Danish Jehovah's witness named Dennis Christensen. He was held in pre-trial detention for 11 months, and on April 3 a judge in Oryol quickly adjourned his preliminary hearing after he asked for more time to review the materials of his case. He could be jailed for 10 years if found guilty.
"The Russian authorities' ruthless persecution of Jehovah's Witness adherents has been picking up steam," Rachel Denber, deputy Europe and Central Asia director at Human Rights Watch, said in a statement. "Dropping the case against Christensen would be a good first step toward ending the raids and other criminal cases against people who are merely practicing their faith."