Jehovah's Witnesses in South Korea Are Still Imprisoned for Refusing to Participate in Military Service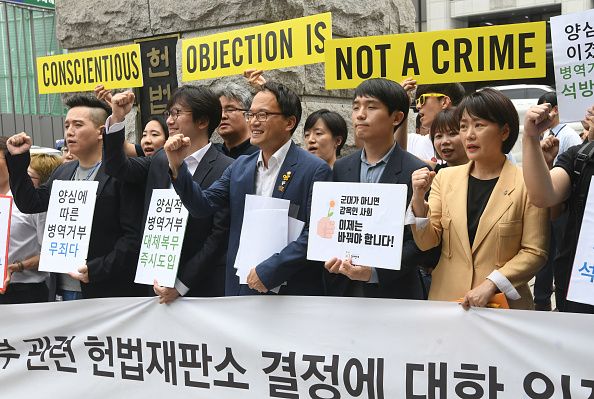 Human rights groups are calling on South Korea's government to stop imprisoning conscientious objectors who refuse to participate in military service, including numerous Jehovah's Witnesses who have served time over the years.
South Korea's Constitutional Court ruled Thursday that a section of the country's Military Service Act is unconstitutional because it obligates conscientious objectors to participate in military service. Human rights advocates said this ruling could be the first step toward creating alternatives for Jehovah's Witnesses and other groups that object to participating in the military. Representatives of the Jehovah's Witnesses said that over 19,300 of the group's members have served sentences since the end of the Korean War in 1953, serving more than 36,700 years behind bars overall.
"For many, it has been a lifetime wait. Over the past 65 years, young Witnesses have courageously held to their peaceful stand of conscience. We are grateful that the Constitutional Court has now acknowledged the fundamental human right to conscientiously object to participating in war," David Semonian, international spokesman for Jehovah's Witnesses at their world headquarters in New York, told Newsweek.
Jehovah's Witnesses oppose all forms of military service, even the types of service that do not require direct combat. Representatives of the Jehovah's Witnesses said that around 2,014 young men were imprisoned in South Korea in 2018.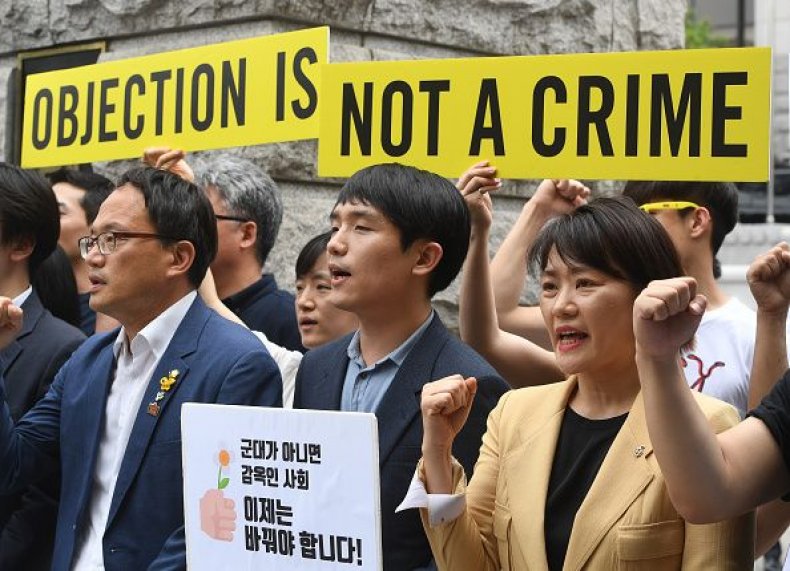 The court's recent ruling means that the South Korean government must create an alternative to military service for conscientious objectors by the end of 2019. Human rights groups are also urging Seoul to clear the criminal records of individuals who have been sent to prison for refusing to participate in military service.
"In this ruling, the Constitutional Court has sent a clear message that conscientious objection to military service is a human right. The government must heed the court's judgment and introduce an appropriate alternative civilian service so in future young men are not punished for their conscientious objection," said Hiroka Shoji, an East Asia researcher at Amnesty International.
"More than two hundred young men remain behind bars and thousands more men have criminal records because of their conscientious objection. It is bitterly disappointing that the court fails to address the legacy of imprisoning those that refused military service on grounds of conscience," Shoji continued. "Conscientious objection is not a crime and we urge the government to go further. All conscientious objectors should have their criminal records erased and those young men."
Young men between ages 18 and 35 are required to enlist in South Korea's military for at least two years. This policy is a response to the tense relationship between North and South Korea, which are still technically at war despite a diplomatic thawing in recent months.
The U.S. conducts joint military exercises each year with South Korea, in large part to ensure that the conscripts are well trained. President Donald Trump recently canceled the military exercises, while Washington pursues a diplomatic solution to North Korea's nuclear weapons program.
Jehovah's Witnesses in South Korea Are Still Imprisoned for Refusing to Participate in Military Service | World