Jelly Belly Golden Tickets: How to Enter Treasure Hunt to Win Candy Factory
The owner of a candy-making factory launches a hunt for golden tickets with the ultimate prize of the winner touring their factory. It might sound familiar and you'd be forgiven for thinking this is the plot for Willy Wonka and his Chocolate Factory.
But this is actually about real-life "Candyman" David Klein. The founder of The Jelly Belly jelly beans and Tricky Treasures has arranged for gold tickets to be hidden across the world for people to find ahead of his retirement.
In the U.S., gold style tickets in the form of necklaces have been put in places Klein and his partner come across with an interesting story. According to a news release issued by Tricky Treausres, plans are to have multiple treasure hunts for tickets in each state. Anyone wishing to join these hunts can sign up on TheGoldTicket.com.
Each treasure hunt is valued at $5,000 and cost is only $49.99 to enter a hunt. Each treasure hunt has a strict limit of 1,000 participants so applicants should sign up to avoid disappointment.
Entrants into the treasure hunts also have the chance to search for the "ultimate treasure"—a trip to one of Klein's candy factories and an all-expenses paid trip and dedication to a candy-making university. This final hunt will take place after every state has participated in their local ones.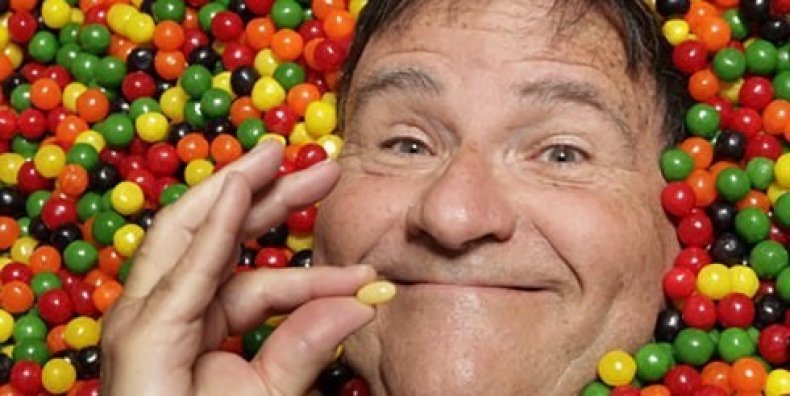 "With The Gold Ticket treasure hunt, our goal is to get people out and about with their families," said Klein in a news release. "Grandma and Grandpa can even join with the kids and grandkids. Take videos of your treasure hunt experiences for possible inclusion in our upcoming series."
Americans might recognize Klein from his appearance on the cover of People Magazine. The Jelly Belly founder was pictured in his iconic bathtub of jelly beans. He has also launched a documentary, Candyman The David Klein Story, where people can see the journey the founder has taken from inventing the Jelly Belly jelly beans and then Tricky Treasure.
According to the Jelly Belly website, the candy was launched in the summer of 1976. Two of the most popular flavors are Very Cherry and Buttered Popcorn—Very Cherry was most popular for two decades until 1998 when the latter flavor took over the hearts of Americans. In 2003, Very Cherry retook its place at top bean by 8 million beans.
The Blueberry flavor was created especially for the presidential inauguration of Ronald Reagan in 1981. The story, which is posted on the website, explains that the company were asked to ship over three and a half tonnes of red (Very Cherry), white (Cream Soda) and blue beans to Washington, D.C. However, at the time there was no blue jelly bean and so the company created Blueberry. To this day, it remains popular according to the company.