Jemele Hill's New 'Unbothered' Podcast on Spotify Aims to Broaden Perspectives: 'People Can Learn to Respectfully Disagree'
Jemele Hill knows firsthand the experience of being berated by social media trolls and naggers. The renowned journalist has even felt the wrath of President Donald Trump, in addition to his red-hatted followers, in response to her criticism of the political and racial climate in America.
In fact, just about every time the former ESPN anchor says anything on social media—whether she's addressing the mistreatment or injustice faced by African Americans, commenting on sports highlights or discussing Game of Thrones—someone, somewhere is outraged, thus leading to the barrage of aggressive Twitter fingers firing shots off at her.
All the while, Hill continues to do her job of informing the masses on the latest developments in American culture—regardless of if they'll accept the facts or not. The Detroit native remains unflappably confident dishing uot flaming hot takes and informed opinions on platforms like Twitter, The Atlantic (where she serves as a staff writer) and now, her latest front, Spotify podcast Jemele Hill is Unbothered.
Releasing on Monday, Hill's new podcast is essentially the journalist's Twitter 2.0—nearly a complete hour of her personal (and sometimes unpopular) takes on today's leading cultural and societal topics. With the help of featured guests and co-hosts Michael Arceneaux and Cole Wiley, the podcast will deliver differing perspectives on the most crucial issues and moments most affecting the U.S. through in-depth discussion and even some fun debating.
Newsweek recently spoke with Hill about her latest endeavor and her hopes for folks to learn the art of agreeing to disagree.
Check out Newsweek's interview with Hill below.
This interview has been condensed and edited for length and clarity.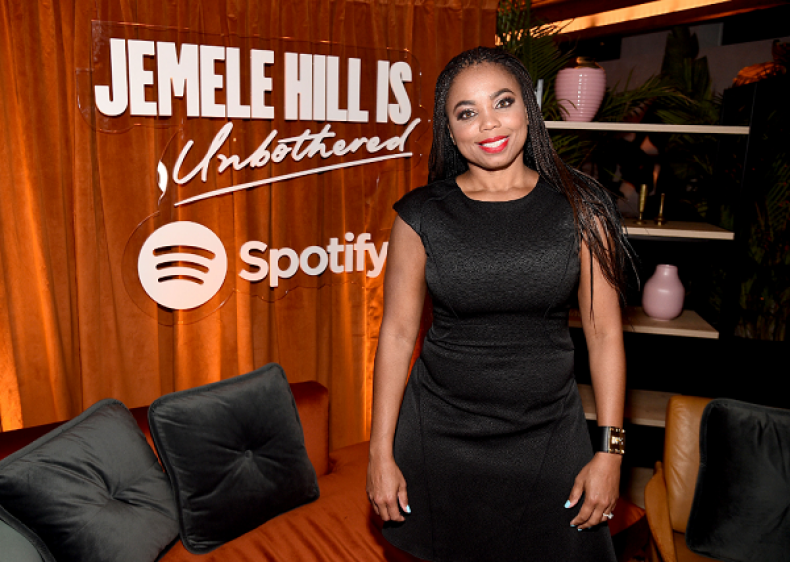 Why was a podcast the perfect medium for you to extend your platform?
I wanted to be very selective about how I use my voice going forward. The one thing I love about a podcast is that it's a very intimate experience with the audience, and they're gonna get an opportunity to know me, both personally and professionally, also my co-hosts and the newsmakers that we have on. Given the Spotify platform and the breadth of it, having the reach to a very diverse audience was important to me. I know a lot of people thought I would return to sports in some way. I included some capacity of what I do at The Atlantic [on the podcast], but when it came to the broadcasting arm of what I wanted to do, I wanted that to have a much different and wider reach.
So the podcast won't focus predominantly on sports?
It's gonna be conversational for one, but we'll cover stories in news, sports, politics, entertainment, pop culture, what people are talking about now as well as things we feel like they should be talking about or things that we personally observe. So I'm gonna connect with the audience in a different way than people are used to.
So listeners will get more opinionated takes on the podcast, similar to your Twitter?
Yea that's probably the best way to describe it— Twitter Jemele but 45 minutes, 45 to 60 minutes of it.
What can you tell me about the guests?
I can't spill everybody yet because there are some people we definitely locked in, but some people we're still working on. But I mean, so far with who I know is confirmed, it's an impressive list.
What was the determining factor for the guests you wanted to have?
Well, number one, people I wanted to talk to. Don't mistake that for meaning people I agree with or people who I think think like me. But people I was genuinely curious about, who they were or who they are, what makes them tick, you know, what their life is like. It was always from a point of curiosity, and I also wanted to talk to people who really experienced life in some unique ways, because I'm still in the mode of trying to learn from people. I think what's a really key part of being a journalist is you have to be a better listener than a talker.
What do you hope people will learn from listening to the show?
I hope people will learn new things about their favorite people. I hope people will learn how to broaden their perspective, and I hope that we all can learn from each other, because this kinda ties into the vibe of this country is right now. I hope people can learn to respectfully disagree.
You are the queen of quality hot takes on social media, but it feels like we're entering an era where everyone has a hot take but not everyone can willingly accept others' opinions.
I'm all for hot takes, but what we've gotten away from is hot-informed-takes. More than anything, it feels like we're in a period of regression, because there seems to be such a distance from information. It's a very weird dichotomy. Where we have more access to information than ever, we're also willing to be more ignorant than ever. It's something that just baffles me as a journalist—that in the face of facts, we still bend it to the way we feel about something. We have to learn that our emotions are not facts. And so, while we can feel emotional about our subject, if we are doing it in the absence of facts then it's just kind of willful ignorance. There's a huge sort of movement in this country to where we are beginning to look at education as practicing elitism, which I find to be crazy. So we want to be dumber? I don't really understand, and it's the most disappointing. People are proud that they don't read or they don't make to the end of an article. That's nothing to be proud of. You should want to figure out how things work and why they are the way they are.
Have you always been outspoken?
I've [always been] more strategic with how I speak out. I do think there's something to be said for speaking out when it matters most, as opposed to when you do it all the time. People can kind of see you as white noise, right? It's kind of like the people we know in our everyday lives. We have friends that complain all the time, and when they do have a legitimate complaint, you tend to overlook it because they do it all the time. When they're really mad about something, you can't even tell the difference. So I always wanted people to know that when I spoke out, it was really about something I was really willing to go to hard for. I don't speak out about everything. There's a lot of fish I let swim by, and that's kinda how I was growing up. I was not the most talkative person in class but when I chose to be, then it was going to be something really meaningful.
What was your reaction to President Donald Trump's tweet blaming you for ESPN's ratings?
I kinda laughed, because it was surprising to me that somebody in his position would be remotely bothered by anything that I said or would care about what a SportsCenter anchor had to say. I just took it as a badge of honor. They say his tweets will be entered into the congressional record and may one day appear in the presidential library. So if that tweet goes into the presidential library, I'm gonna have a deep belly laugh about that, 'cause that's just insanity.
Would you ever have a one-on-one with Donald Trump?
No. You know I get asked that question a lot. It's not about us being literally opposite on everything, but when I have a conversation with people I disagree with, there needs to be a certain amount of respect there—and not just one-sided respect—and also open-mindedness to kind of come 10 percent closer to the other side. Because even with somebody that I disagree with, I still try to understand their viewpoint. How did they arrive at this conclusion? What shaped this viewpoint? I think it's important in understanding and learning. I don't know him personally, but he very much comes off as the type of person who is only waiting for you to stop talking so they can talk. They're not actually listening. It's hard for me to have a conversation with anybody who is disingenuous about where that conversation takes us.
Was this career trajectory inevitable?
No, it wasn't. You know, early on in my career, I think I—like a lot of young people—had that five-year plan where I could tell you where my career was gonna go the next five years. But in my super-grown life now, probably the last three or four jobs I've taken have been complete curveballs. I had to make a lot of decisions on the fly.
What's your advice for young people who aspire to follow in your career footsteps?
I would just say focus on controlling what you can control. You can't control how other people perceive you. You can't control the opportunities you get if they're decided by somebody else, but what you can control is being professional, being prepared and just being ready when that moment strikes. Understand that these things take time. It took me 21 years to get here. Nothing is built overnight and if you want to have a really good foundation, you got to go brick by brick.
If you could describe the podcast in three words what would they be?
Well, I think the title best describes it: Jemele Hill is Unbothered. That is the title of the podcast and that kind of represents the station in life I'm in now. Unbothered doesn't mean you don't care about things. Unbothered means you've reached the point where you know you are comfortable in your own skin, and it doesn't bother you if other people don't accept your opinion or your viewpoint. It doesn't stop you from telling whatever your truth is. When people are kinda outraged or whatever emotion they're going through, when you're bothered about something, that's stuff doesn't even really mess with you anymore. Right now in my life, this is the most comfortable I've been at being me ever. I think the name of the podcast really reflects that.