White House Press Secretary Jen Psaki has been clarifying some remarks made by President Joe Biden during his marathon press conference on Wednesday.
Psaki issued clarifications to Biden's comments on a potential Russian invasion of Ukraine and the legitimacy of the 2022 U.S. midterm elections during her first-ever appearance on Fox News' America's Newsroom Thursday morning.
"I've talked to the president a lot about this, and he absolutely is not predicting that the 2022 elections would be illegitimate," Psaki told co-hosts Bill Hemmer and Dana Perino.
Biden declined on two occasions to say outright that the November elections would be fair and legitimate if Congress doesn't pass voting rights reform.
"It all depends on whether or not we're able to make the case to the American people that some of this is being set up to try to alter the outcome of the election," the president told reporters from the East Room of the White House.
Psaki explained to Fox News that the point Biden was making was that former President Donald Trump asked several states to overturn the outcome of the 2020 election.
"Obviously if there is an effort to do that, we've got to fight against that," Psaki said. "That's what our commitment is to doing. But he was not making a prediction. He has confidence in the American people and we're going to do everything we can to protect people's rights."
Just prior to her appearance on Fox News, Psaki posted several tweets clarifying Biden's remarks on the upcoming elections.
The White House already corrected Biden on his statements on Russia and Ukraine during the press event. Biden said Russian President Vladimir Putin will be hit with severe consequences if Russia invades Ukraine. However, the American president said the response from the U.S. and NATO would depend on exactly what actions Russia takes.
"It's one thing if it's a minor incursion, and then we end up having a fight about what to do and not do, et cetera," Biden told reporters. "But if they actually do what they're capable of doing with the force amassed on the border, it is going to be a disaster for Russia."
The comment, seemingly suggesting a smaller penalty for a "minor incursion," drew pushback from Ukrainian officials as well as Republicans.
The White House quickly issued a statement Wednesday night clarifying Biden's comments, stating: "President Biden has been clear with the Russian President: If any Russian military forces move across the Ukrainian border, that's a renewed invasion, and it will be met with a swift, severe, and united response from the United States and our Allies."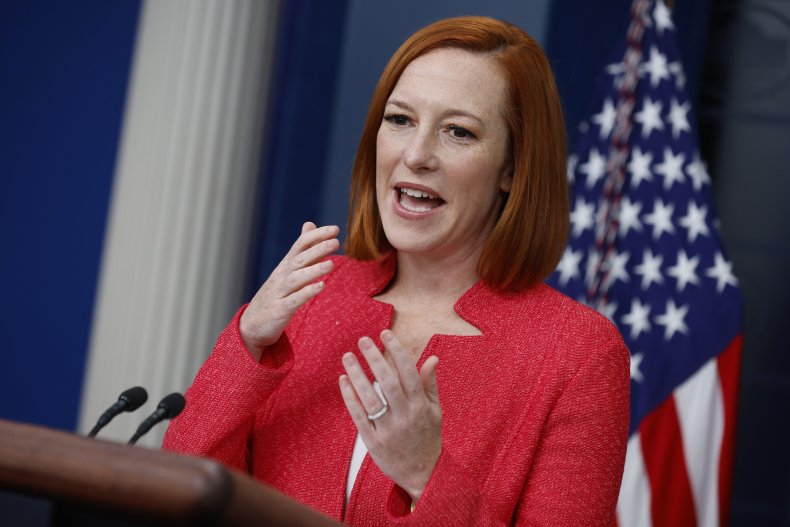 Psaki reiterated that statement during her appearance on Fox News.
"There's a range of tactics that Russians use, whether it's the little green men as they're called or it's cyberattacks, and we will be prepared to respond to that as well," she said. "We're prepared for a range of tactics they may use but if they move their military into Ukraine, we will be responding."
Psaki said the national security team has been in touch with Ukraine since Biden's remarks were made.
Biden's press conference on Wednesday was his first in months. The president fielded questions from members of the press for nearly two hours on Wednesday evening, touting what his administration sees as major victories in his first year in office while admitting some key agenda items like Build Back Better and voting rights have stalled in Congress.
"It's been a year of challenges, but it's also been a year of enormous progress," Biden said.