Jen Psaki Says NBC's Kelly O'Donnell Asks 'All the Time' About Biden's Health
White House press secretary Jen Psaki called out NBC News' Kelly O'Donnell as someone who asks about President Joe Biden's health "all the time."
Psaki made the comment after Brian Karem, Playboy's White House correspondent, asked when the president will undergo a physical exam at the end of a press briefing on Thursday.
"Hey Jen, will he take a physical anytime soon and report it to the American public?" Karem asked as Psaki was leaving the podium. "He will," Psaki replied.
Karem pressed for a timeline, asking: "How soon—do we know?"
"I don't have an update for you, but will soon," Psaki answered.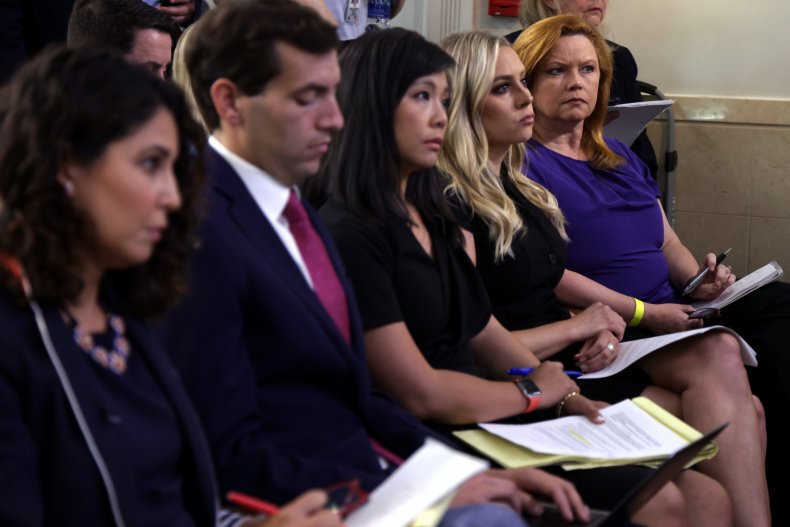 Karem continued pressing, asking if Biden would undergo a physical before the end of the year. Psaki then singled out O'Donnell as someone who asks about the matter regularly.
"I promise you. Kelly asks about this all the time. She's keeping us on our toes," Psaki said before leaving the briefing room.
O'Donnell brought up Biden's health at a briefing in September, although reporters can also ask questions in other settings.
"Many of us were in the East Room watching the president," O'Donnell said at that briefing. "We've seen him on many occasions where he has a repeated cough. What is the situation with that cough? And is that a concern?"
That question prompted a follow-up from another reporter, who asked about the timing of Biden's first physical since taking office.
"I know this is an understandable question," Psaki replied. "I don't have an update. He will get one soon. And when he does, we will make sure you all are aware of it and get the information."
Psaki told reporters in May that the White House would be "transparent" with information after the president undergoes his next physical exam, although she did not confirm then whether one had been scheduled.
"Certainly, when he has his next medical appointment, we will be transparent about that and provide that information to all of you," she said.
Thursday's briefing was at least the second time in a week that Karem has asked about the president's health as Psaki was preparing to exit the briefing room.
"Jen, we saw him coughing and sniffling earlier," he asked on October 8. "Is his health okay?" Karem added that the aim of the question was to stave off "wild speculation."
Psaki said Biden was "doing great." She added: "He's got some allergies."
Hours after that encounter, Karem followed up with the president himself. As Biden was walking along the South Lawn to show some children the interior of Marine One, Karem shouted questions about allergies.
"How's your allergies, Mr. President? How are your allergies, Mr. President?" Karem reportedly asked.
The White House and NBC News have been contacted for comment.