Jen Psaki Says Olympic Rules Should Be Revisited After Sha'carri Richardson Left Off Relay
In the wake of sprinter Sha'Carri Richardson's suspension, White House Press Secretary Jen Psaki says the rules around doping for Olympic athletes should be revisited.
"It's sad to see this be the end—it's not the end, I should say. It's maybe the beginning of her story. We know the rules are where they are. Maybe we should take another look at them," Psaki told CNN's John Berman on Wednesday. "We certainly have to respect the role of the U.S. Anti-Doping Agency and the U.S. Olympic Committee and the decisions they make, but it is sad."
Her remarks come a day after Richardson's name was left off the roster released by the USA Track and Field (USATF) team on Tuesday, which means the 21-year-old won't be competing in any events in Tokyo this summer.
While the 30-day suspension handed down to Richardson banned her from competing in the 100-meter individual race, fans held out hope that she would still get the chance to run in the women's 4x100-meter scheduled for August 5, which is after her suspension ends.
However, she was not selected for the relay pool.
In a statement made Tuesday, USATF said that while they, too, believe doping rules should be reconsidered, the national governing body for the sport would be required to follow the rules this close to the summer games, which begin July 23.
"First and foremost, we are incredibly sympathetic toward Sha'Carri Richardson's extenuating circumstances and strongly applaud her accountability -- and will offer her our continued support both on and off the track," USATF officials said.
"While USATF fully agrees that the merit of the World Anti-Doping Agency rules related to THC should be reevaluated, it would be detrimental to the integrity of the U.S. Olympic Team Trials for Track & Field if USATF amended its policies following competition, only weeks before the Olympic Games," they added.
Last week, the U.S. Anti-Doping Agency (USADA) banned Richardson from competing for a month after she tested positive for THC, a chemical found in marijuana.
She has cited the stress of her biological mother's death for her use of marijuana. The drug is legal for recreational use in Oregon, where she was at the time of use, as well as 17 other states and Washington, D.C.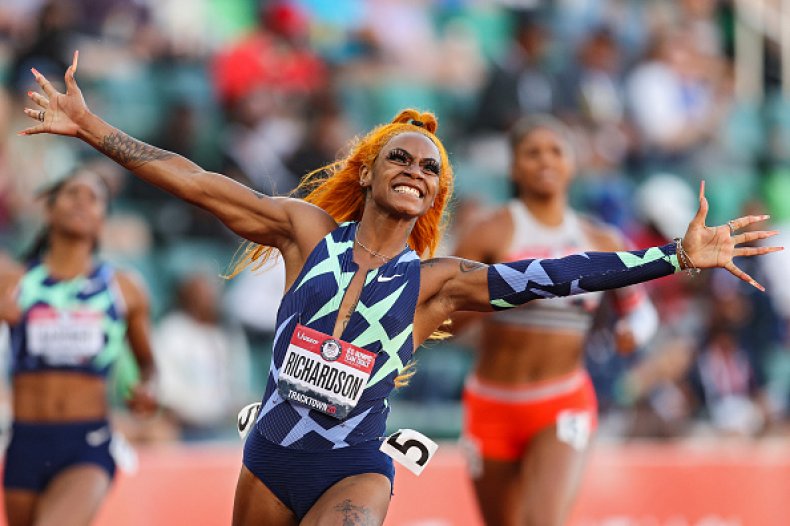 The suspension was met with immense backlash, with many ridiculing that marijuana is seen by the agency as a performance-enhancing drug. Prominent figures from both sides of the aisle, including Donald Trump Jr. and Representative Alexandria Ocasio-Cortez, have condemned the USADA's decision.
Richardson was expected to take home gold, especially after she ran a new personal best in April and became the sixth fastest woman of all time.
"It does stink, John. I don't think there's a better definition of it," Psaki told Berman about Richardson being left off the relay roster. "She is someone—as an Olympic-obsessed person myself, I know the president watches closely—who is inspiring. She had lost her mother. She had gone through a tragedy and she is also the fastest woman in the world."
"It is sad and we do wish her luck and look forward to seeing her running as the fastest woman in the world for years to come," Psaki added.
In an appearance on NBC's "Today" Show, Richardson said this wouldn't be the end of her Olympic dreams.
"This is just one game," she said. "I'm 21, I'm very young... I have plenty of games left in me to compete in and I have plenty of talent that backs me up, because everything I do comes from me naturally."
While international regulators loosened restrictions on marijuana use shortly after the 2012 Olympics, agencies continue to test for and punish the use in some circumstances, citing that drugs could post health risks to athletes or violate the "spirit of the sport."
The six-member relay pool will consist of Javianne Oliver, Teahna Daniels, Jenna Prandini, Gabby Thomas, English Gardener and Aleisa Hobbs.
Newsweek reached out to USADA for comment but did not hear back before publication.