Jen Psaki Shoots Down Jim Jordan Attack on Biden Administration Over Gas Prices
White House Press Secretary Jen Psaki shot down Ohio Rep. Jim Jordan's latest attack on the Biden administration's handling of the economy.
Several congressional Republicans have used rising gas prices to criticize President Joe Biden and his administration's energy agenda. On Monday morning, Jordan blamed high fuel prices on the Democratic leader, tweeting, "Average gas price: June 2020: $2.21 June 2021: $3.07. President Biden's economy!"
Psaki rebuffed Jordan's allegation and defended Biden's pandemic economic recovery policies in a response shared two hours later.
"You forgot to mention that gas prices are the same now as they were in June 2018. Or that this time last year unemployment was 11.1%—today it's 5.8%," she tweeted. "@POTUS agrees families shouldn't pay more at the pump—that's why he's opposed to GOP proposals to raise the gas tax."
In April 2020, as domestic and international travel plummeted in the early stages of the coronavirus pandemic, the U.S. Energy Information Administration reported that gas prices dropped to a four-year low at roughly $1.87 a gallon on average. Fuel prices began to recover last May as people resumed travel in the summer months.
The economy continued to recover through the last eight months under former President Donald Trump, with travel ramping up following a speedy rollout of the coronavirus vaccine. Gas prices spiked to roughly $3.12 a gallon on average by May 31, 2021 because a key pipeline was shut down after a cyberattack on the Colonial Pipeline.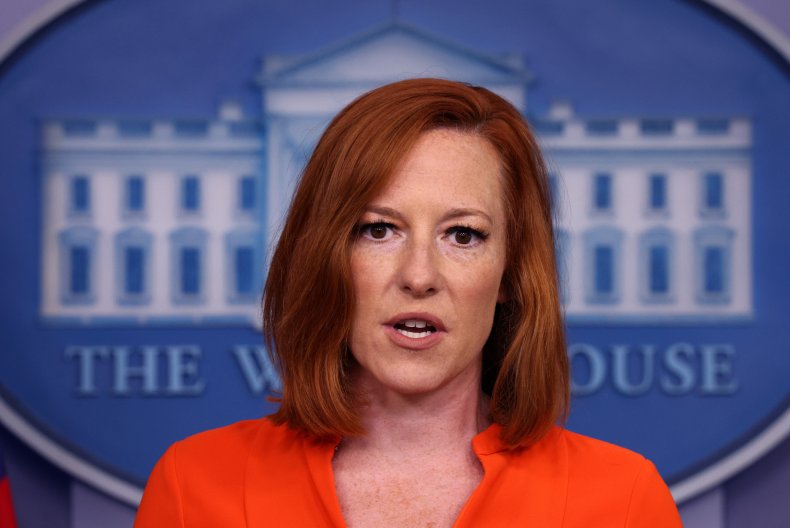 In recent months, congressional Republicans have blamed Biden for higher gas costs.
"Gas prices are the highest since 2014—just as summer starts. The recent hack of the Colonial Pipeline exposed the flaws of Biden's approach to our country's energy policies. On day one he signed an executive order cancelling the Keystone XL Pipeline," House Minority Leader Kevin McCarthy said in a May blog post.
Last month, Wyoming Rep. Liz Cheney tweeted, "From cancelling the Keystone Pipeline to banning new oil & gas leasing on federal lands, Biden's energy policies are having devastating consequences. We've already seen a glimpse of this devastation with prices skyrocketing & gas shortages hitting communities across the country."
An AP fact check concluded that Biden's policies on the Keystone XL pipeline, which carries crude oil from Canada to Texas through the Midwest, did not cause an increase in gas prices—though it could have a long-term impact on the supply of crude oil.
A PolitiFact fact check linked the rise in gas prices to the vaccine rollout, which has encouraged driving and air travel following a year of economic decline caused by the pandemic.
Newsweek reached out to Jordan's office for comment. This story will be updated with any response.