Jenelle Evans Denies David Eason Abuse, Says 'I am Completely Fine' in YouTube 'Confessional'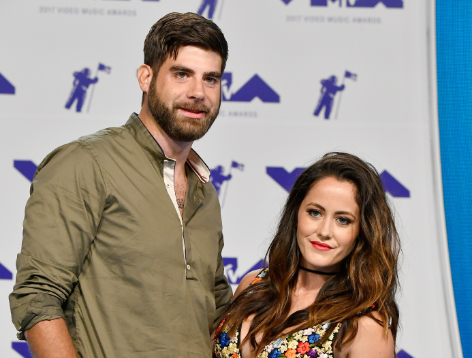 Jenelle Evans wants her fans to know that she is "completely fine." The Teen Mom 2 star shared a new video on her YouTube page titled, "Confessional: Domestic Violence," on Thursday.
Evans responded to abuse rumors after allegedly being assaulted by her husband David Eason on October 13. "I've been wanting to get some things off my chest lately because obviously, my name can't stay out of the news," Evans said. "I'm reporting from my closet right now because I'm trying to hide from the kids while I make this video. I just want to let you guys know that I am completely fine."
Evans said she spent the last week away from social media because she was "disconnecting from all the hate, everything that's in the news right now."
Audio of Evans's 911 call was released nearly a week after the altercation on October 19. The reality star called for an ambulance, which was later canceled, after she said she was attacked by her husband outside of their home, commonly referred to as "The Land" on the MTV reality show. A tearful Evans told the emergency operator Eason had "pinned" her down on the ground in their yard so hard that she heard her "collarbone crack."
Teen Mom fans long suspected Eason of being abusive toward Evans and their children. Evans continued to address their concerns in her YouTube confessional and denied being in an abusive relationship. "I know everyone's concerned about me, and I know everyone wants to know, 'Is she ok? How are the kids? Blah, blah, blah,'" she said.
She continued: "Everything's fine. You know, I've been in so many domestic violence situations in the past that I would not put up with it now. So I don't know why you guys would think that I would continue to stay in this relationship if I was being abused."
Evans said she was in "two or three relationships that were domestic violence," but she always managed to keep her oldest son Jace away from it. Jace is Evans's child from her former relationship with ex Andrew Lewis. She has a second son, Kaiser, from a previous relationship and shares her youngest child, daughter Ensley, with Eason, whom she married more than a year ago. Eason also has two children from past relationships.
The 26-year-old said she had previously tried to open up to fans about her past abuse well before Eason entered the picture. "Every time I tell you guys about it or every time I open up, you guys are like, 'No she's lying. She's such a f***ing liar,'" Evans said.
"Well, that's not the case at all. I was always telling you the truth about everything that happened with every one of my relationships, and if you don't believe me, I don't know what to f***ing tell you, I really don't," she said. "It's at the point now where I've been an open book since day one. I've always been an open book to every single one of my fans and my haters. Whether you guys hate it, whether you guys like it, I'm just like f*** it, I'm just going to air it anyway."
Evans said she was feeling "so much better" since taking a break from social media. "My mental health is way more important than people bringing me down like this and making me depressed," she said.
"Every time I told you guys that I was in a domestic violence situation you would not believe me, and now I'm saying that I'm not, now I 'am' and you guys are trying to tell me something different. I'm just sick of hearing it, just stop. Just stop," she continued.
The reality star ended her message to fans and said they would see her and Eason's altercation on the next season of Teen Mom 2. "You'll see all this f***ing drama unfold," she said.