David Eason and Jenelle Evans Update: 'Teen Mom 2' Stars Reunite After Alleged Assault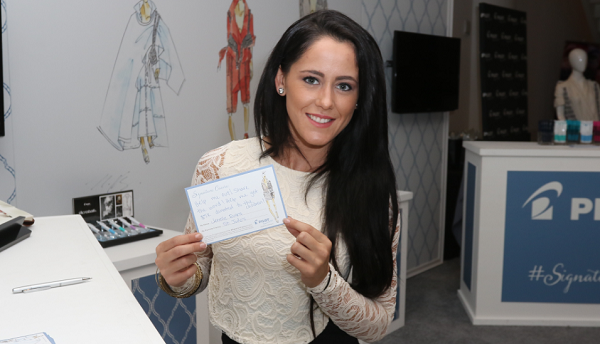 Jenelle Evans and David Eason enjoyed a family-filled weekend in the days following the release of the Teen Mom 2 star's hysterical 911 phone call in which she accused her husband of assaulting her.
While Evans kept a low profile on social media over the weekend, Eason shared photographs of the couple and their children spending some quality time together at a pumpkin patch in North Carolina on Sunday. "Hot pumpkin spicey [sic]! #fall #pumpkin #family," the reality star captioned an Instagram slideshow, including one photo of Evans smiling wide.
The family even reunited with Evans' mother, Barbara Evans, the day before at their son's soccer game on Saturday. Eason shared a snapshot of Evans smiling while sitting next to her mother. "We are all so proud of Jace, he is a magnificent soccer player!" Eason captioned the photos. "I'm also very proud of Jenelle and Barb for working together and getting along so well!"
The mother-daughter duo is known for their rather volatile relationship often depicted on the MTV reality series.
Both Eason, 30, and Jenelle Evans, 26, claimed they were in a good place despite getting into a physical altercation on October 13. "We have never been happier, thanks for asking!" Eason wrote on a separate Instagram post on Saturday.
Jenelle Evans blamed the assault on a "drunk and dramatic misunderstanding" while speaking to E! News on Friday. She added the couple was "totally fine" and said they were taking time away from social media to "focus on ourselves and our family."
Audio of Jenelle Evan's call with a 911 operator was released on Friday. During the call, Evans sobbed while revealing her husband of one-year attacked her in a drunken rage. "He pinned me down on the ground in the yard and I think I heard my f**king collarbone crack and I can't move my arms," she cried.
Jenelle Evans was taken to the hospital via private car after canceling the ambulance. Columbus County police confirmed officers arrived at the couple's home, referred to as "The Land," following reports of an assault. No arrest was made.