Jenelle Evans's Husband, David Eason, Under Investigation After Allegedly Towing a Truck Illegally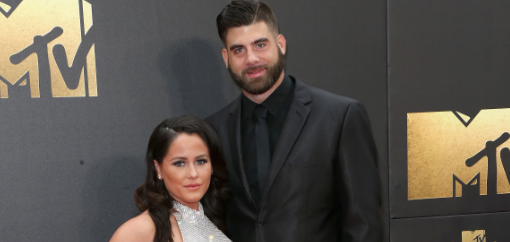 Jenelle Evans's husband may be in trouble with the law. David Eason is reportedly under investigation after he illegally towed a truck from its parking spot, according to Us Weekly. Eason apparently self-towed a white truck with his own truck because it was blocking him from accessing his boat.
The Teen Mom 2 star shared video footage of the incident on YouTube on Wednesday. "Learn the right way to deal [with] a$$holes who think it's cool to block you in a parking space," Eason wrote in the video caption. "Good thing my trailer has a folded tongue that allowed me to get my truck out so I can tow him out of the way, in order to move my boat."
Although Evans wasn't depicted in the video, she can be heard laughing in the background before providing some commentary on Eason's actions. "If you're going to park this close and there's no money in the meter…" she said. "Pulled that mother**ker out of the way."
It's likely the couple were out and about in celebration of Evans's birthday. The reality star turned 27 on Wednesday.
Not long after the video appeared online, Teen Mom 2 fans reported it to authorities in Wilmington, North Carolina. Police responded on social media, telling viewers the department was "investigating this incident."
After people continued to urge authorities to take the tow-truck incident seriously, warning of Evans and Eason's long list of "illegal" activities, police tweeted: "We completely understand your concern and appreciate you sharing it with us! The past incidents have occurred outside of our jurisdiction, but we will continue to thoroughly investigate when it is within our city limits."
The couple made headlines after Evans' husband allegedly attacked her in October. Audio of the reality star's phone call to a 911 operator was released by TMZ, in which Evans claimed Eason "pinned" her down on the ground in their backyard. "I think I heard my collarbone crack," she said, adding that Eason had been drinking before the attack.
"I think that he got violent because he's been drinking," she said.
The emergency ambulance was ultimately canceled and Evans was taken to the hospital by a private vehicle instead. Authorities arrived at the couples's North Carolina home in response to the incident, however, no arrests were made. Evans did not press charges.
Jenelle Evans's Husband, David Eason, Under Investigation After Allegedly Towing a Truck Illegally | Culture