Jenna Fischer vs. John Krasinski: Here's Who Won 'The Office's' Biggest Hockey Rivalry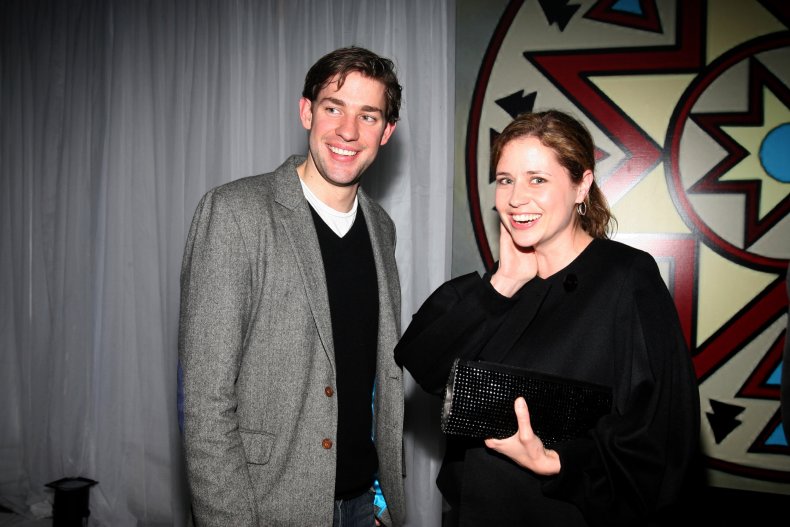 The Stanley Cup Finals came to a close on Wednesday night, and along with it, the end of the cheeky hockey feud between The Office co-stars Jenna Fischer and John Krasinski. The pair, who played the ultra-beloved couple Pam and Jim on the NBC show, were in the heat of a hockey rivalry on Twitter starting in mid-May. Their exchanges, however, are likely over considering one of their teams finally won.
Jenna Fischer, who was raised in Missouri, is a vocal Saint Louis Blues fan. She posted a video in support of her team on May 7, which could be considered the start in her exchange with Krasinski. He only responded to her passionate hope for a Blues victory in a fan post that pitted the two against each other. Krasinski, you see, is a Boston Bruins fan.
The Blue and Bruins faced each other in all seven possible Stanley Cup games, and the Blues came out victorious on Wednesday. The final score was 4-1. Before the game, Krasinski sent a video to Fischer on Twitter, in which he attempted to cool down their hockey rivalry. In it, he said let the best team win, and send warm wishes to Fischer. Fans of The Office were in for a treat when a friend brought Krasinksi a beer. It turns out, he was at game seven with David Denman, who played Roy on The Office. Roy was engaged to Pam before she eventually married Jim.
Fisher quickly responded to the video of her past television boyfriends. "Ha. Ha. Ha. Well played. Just be careful he doesn't leave you at the game," she said of Denman. In the video, Krasinski had also told Fischer if she could be at the game, she'd have a seat with him.
This isn't the first time the pair have feuded over a sports rivalry. Fischer explained she and Krasinski would have similar exchanges during their time on The Office, though it typically revolved around baseball. "This feud has been going on for a long time between us, because when we were shooting the show, the Red Sox and the Cardinals were in the world series," she explained in a video conversation with NBC. "Phyllis and I—Phyllis is from St. Louis—would be in my trailer cheering for the Cardinals, and he had BJ [Novak] and Steve Carrell in his trailer cheering for the Red Sox. And they swept us in four. And it is my turn!"
On Wednesday, Fischer played into the feud and shared a photoshopped image of Pam and Jim in which both are wearing their team's sweaters.
A series of memes surfaced as well, with notes from The Office. Some fans of the show were quick to comment on the sighting of Jim and Roy in the same place.