Does the Keto Diet Really Work? Jenna Jameson Calls 'Bulls**t' on Naysayers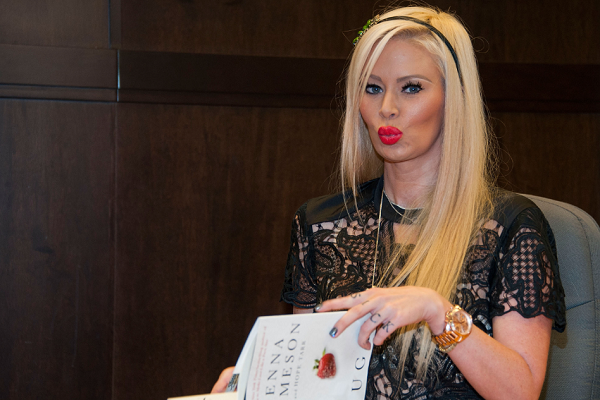 Jenna Jameson defended the keto diet by sharing a photo of her weight loss transformation on Tuesday. The former adult film star shared side-by-side photos of herself, including one image shortly after giving birth to her youngest daughter Betal Lu and a more current picture, to encourage dieters to follow their gut while practicing keto.
"Let's talk intuition. I have found that people get scared into overthinking keto. That if they intake too much protein, or don't have the correct macros they will fail. I call bullshit," the 44-year-old wrote. "Trust your intuition and your body. Stop buying foods labeled keto and MAKE your own foods! Buy whole foods. Eat until satiated and implement intermittent fasting. YOU WILL LOSE. Not only will you lose, your skin will be tighter and brighter, your mind I'll [sic] fire on all cylinders."
Jameson noted that she was "not pushing a product," but rather using her newfound dedication towards personal health to motivate others. "I'm only pushing my way of thinking and my healthy lifestyle. I love you," she wrote, adding the hashtags, "#ketotransformation #keto #ketodiet."
Jameson has long praised the keto diet for helping her gain control over her weight and health since giving birth to her daughter back in 2017. The high-fat diet, which allows small consumption of carbs and moderate protein intake, is followed by a number of celebrities including Kourtney Kardashian, Halle Berry, Vanessa Hudgens, Tim Tebow, Vinny Guadagnino, Tamra Judge and several others.
Renowned fitness trainer Jillian Michaels recently slammed the popular diet, claiming it could cause harm to the body's overall health, during an interview with Women's Health magazine. "I don't understand. Like, why would anybody think this is a good idea," Michaels said, noting that the keto diet ignores the fact that "your cells, your macromolecules, are literally made up of protein, fat, carbohydrates, nucleic acids."