Jenna Jameson Says Mystery Illness Has Made Her Short-Term Memory 'Trash'
Jenna Jameson has revealed that her mystery illness—which has left her temporarily unable to walk—is also affecting her short-term memory.
The former adult film star, 48, was initially misdiagnosed with rare autoimmune disorder Guillain-Barré syndrome back in January as muscle atrophy in her legs left her reliant on a wheelchair, which she continues to use.
Taking to Instagram on Tuesday, the model, who is currently based in Hawaii, revealed that as doctors continue to probe the source of her long-running illness she has been undergoing treatment to help improve her memory.
"I am doing a lot of physical therapy, getting back up on my feet," she said in a health update shared with her social media followers. "As you can see, I am in a wheelchair still, but I have a lot of movement. I don't even use my arms to truck around, I just kind of use my legs, just to keep my legs working."
"I have an MRI tomorrow to check what's going on down there," she said in reference to her legs. "The MRI should give us an insight into if I have nerve compression."
After taking a break to speak with a therapist who deals with "memory, like cognitive issues," she explained: "Since all of this went down, I have like lapses in my memory. My short-term memory is trash. It's just trash.
"My long-term is great, like I remember everything from my childhood. Can I remember only short-term stuff and forget the long-term? Because seriously it would probably be good for me."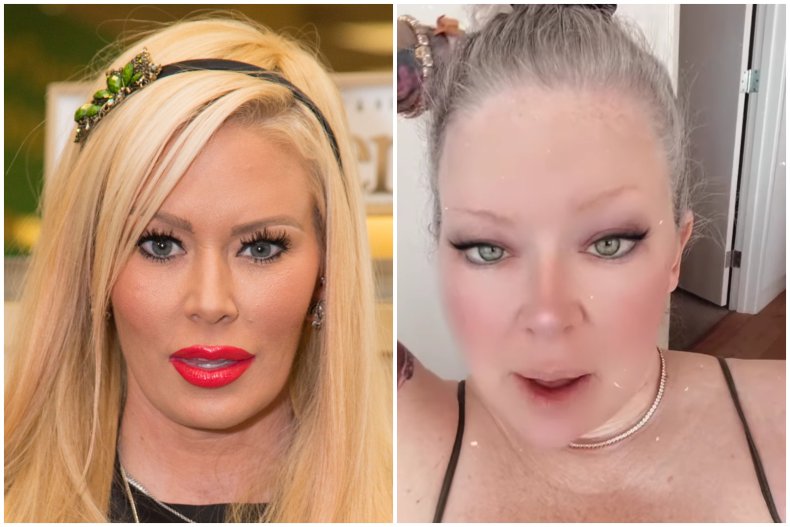 She then went on to explain that medical professionals have informed her that her memory may have been negatively impacted by the stress of her illness. Jameson added her own theory that a lack of sleep may also be at the root of the issue.
"They seem to think that it [could] more be tied into stress," she said. "They think that it is a stress issue and less of a cognitive issue. So the brain is working, which is a good thing. That's my best asset—I mean, some people might argue, but whatever.
"So things are going good, I feel good today. I really feel like a lot of it is tied into sleep as of right now, because seriously I sleep like garbage. It's just not cute, not sleeping well. Other than that I'm okay."
Turning the spotlight on her fans for their continued support throughout her health struggles, Jameson added: "I wanted to thank you guys for sending me so many messages and kind of keeping my brain moving.
"Because sometimes when you're not feeling well and you're in these kinds of situations you kind of get bogged down and start getting in your head and stuff like that... I just feel like I've cultivated so many great friendships here."
Last week, Jameson revealed that a vitamin deficiency could possibly be the cause of her illness, as she shared that she was taking supplements to combat her "very low" thiamine levels.
She said in an Instagram post: "One thing that's happening is that I have very low thiamine levels, which can affect a lot of different things in the body, including walking.
"I think that my lack of thiamine in my body is definitely not helping... So I am taking a lot of vitamin B1 and doing a lot of physical therapy and hoping for the best. So keep me in your prayers."
Thiamine, which is found naturally in a number of foods and can be taken as a supplement, plays a vital role in energy metabolism and in the growth, development, and function of cells, according to the National Institutes of Health.
The early stages of a thiamine deficiency can cause "weight loss and anorexia, confusion, short-term memory loss, and other mental signs and symptoms; muscle weakness; and cardiovascular symptoms (such as an enlarged heart)," per the government agency.
Jameson's partner, Lior Bitton, said on Instagram back in January that the model had been "throwing up for a couple weeks," which led to her initial hospitalization. She underwent a CT scan before doctors sent her home, according to Bitton.
"Then she came back home and she couldn't carry herself," Bitton said. "Her muscles in her legs were very weak. So she wasn't able to walk to the bathroom.
"She was falling on the way back or to the bathroom. I would have to pick her up and carry her to bed. And then within two days it got really not so good. Her legs started to not hold her—she wasn't able to walk."
In March, Jameson admitted that she was finding her health woes "very mentally challenging," telling her followers: "I am slowly but surely building back strength. I am walking around with a walker.
"My legs have lost a lot of muscle, so I'm busy trying to build it back. This has been not only physically taxing, but I think more than that just... very mentally challenging. I'm used to hard challenges."