Jenna Jameson has revealed that she has left hospital, after weeks of treatment for a mystery illness that left her unable to walk.
The former adult film star said in January that doctors had diagnosed her with Guillain-Barré syndrome. However, her partner, Lior Bitton, later said this was a misdiagnosis and Jameson did not have the rare autoimmune disorder.
On Wednesday, the 47-year-old posted an Instagram story praising the nurses who had taken care of her at the hospital in Hawaii, adding that she was on her way home.
"My nurses here at the hospital are such fantastic people," she wrote. "I'm leaving a piece of my heart behind with them now that I'm on my way home."
In a social media post on February 13, Jameson said she was "doing well" and "should be home really soon."
Earlier this month, she said doctors were still looking into the cause of her condition as she remained bedridden.
"They're still searching for answers of what's going on," she said. "I am still unable to walk. I have movement, I just can't bear weight. Hopefully we'll have answers soon."
Bitton, with whom Jameson has 4-year-old daughter Batel Lu, had been sharing updates on her Instagram account.
Describing how the illness had affected her, he said in a January post: "Her legs have become very thin—they're thinning down, so they've become super skinny."
He also shared that Jameson had been "throwing up for a couple weeks," prompting her initial hospital admission. According to Bitton, Jameson underwent a CT scan, after which she was sent home by doctors.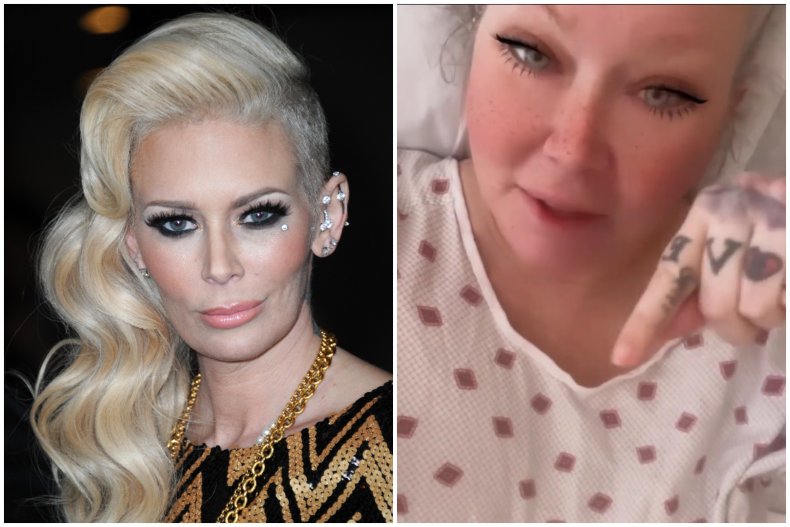 "Then she came back home and she couldn't carry herself," Bitton said. "Her muscles in her legs were very weak. So she wasn't able to walk to the bathroom.
"She was falling on the way back or to the bathroom. I would have to pick her up and carry her to bed. And then within two days it got really not so good. Her legs started to not hold her—she wasn't able to walk."
After Jameson shared her Guillain-Barré diagnosis in January, some of her followers asked whether her illness had been brought on by a COVID vaccine. Guillain-Barré syndrome has been reported as a "very rare" possible side effect of the Johnson & Johnson COVID shot.
"I did NOT get the jab or any jab," Jameson wrote in a since-deleted Instagram post. "This is NOT a reaction to the jab. Thank you for your concern."
The Centers for Disease Control and Prevention says the COVID-19 vaccines are "safe and effective." It advises people to "get either Pfizer-BioNTech or Moderna (mRNA COVID-19 vaccines). The mRNA vaccines are preferred over Johnson & Johnson's Janssen COVID-19 vaccine in most circumstances."
The CDC describes Guillain-Barré as a "rare, autoimmune disorder in which a person's own immune system damages the nerves, causing muscle weakness and sometimes paralysis."
Symptoms can last anywhere from weeks to several years. Although those diagnosed with the potentially fatal condition often make full recoveries, many are left with permanent nerve damage.