Jenna Jameson Reveals Vitamin Deficiency Possible Cause of Health Struggles
Jenna Jameson has revealed that a vitamin deficiency could possibly be the cause of her long-running mystery illness as her recovery continues.
The former adult film star, 47, had been misdiagnosed with rare autoimmune disorder Guillain-Barré syndrome back in January as muscle atrophy in her legs left her unable to walk unaided. She continues to rely on a wheelchair.
Taking to her Instagram Story on Thursday, Jameson said that she she is now taking supplements after discovering that she has "very low" thiamine levels.
"I am still alive," she said in a video shot from her bed. "We're still kind of looking for answers. One thing that's happening is that I have very low thiamine levels, which can affect a lot of different things in the body, including walking. Go figure.
"I think that my lack of thiamine in my body is definitely not helping... So I am taking a lot of vitamin B1 and doing a lot of physical therapy and hoping for the best. So keep me in your prayers."
She later returned to the social media platform to thank her fans for sharing their medical knowledge with her as she continues to work through her medical issues.
"I also wanted to take a second and thank you for all of your support," she said. "I've gotten a lot of great messages about my health.
"It's so amazing to me how so many people that aren't doctors can be so incredibly knowledgeable when it comes to people's health... I just think it's so cool.
"I got messages before I even thought of it being my thiamine levels. Like, I had people going, 'Have you checked your thiamine levels?'"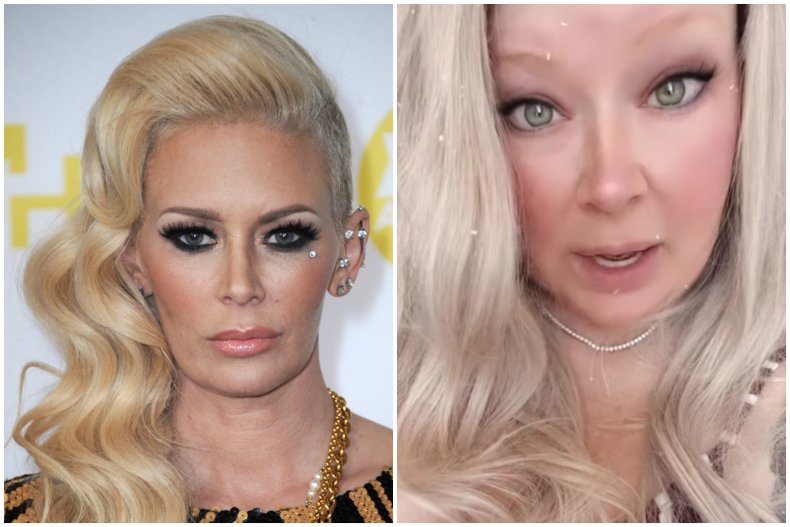 Thiamine, which is found naturally in a number of foods and can be taken as a supplement, plays a vital role in energy metabolism and in the growth, development, and function of cells, according to the National Institutes of Health.
The early stages of a thiamine deficiency can cause "weight loss and anorexia, confusion, short-term memory loss, and other mental signs and symptoms; muscle weakness; and cardiovascular symptoms (such as an enlarged heart)," per the government agency.
"The most common effect of [thiamine] deficiency is beriberi, which is characterized mainly by peripheral neuropathy and wasting.
"People with this condition have impaired sensory, motor, and reflex functions. In rare cases, beriberi causes congestive heart failure that leads to edema in the lower limbs and, occasionally, death."
Jameson's partner, Lior Bitton, said on Instagram back in January that the star had been "throwing up for a couple weeks," which led to her initial hospitalization. According to Bitton, she underwent a CT scan before doctors sent her home.
"Then she came back home and she couldn't carry herself," Bitton said. "Her muscles in her legs were very weak. So she wasn't able to walk to the bathroom.
"She was falling on the way back or to the bathroom. I would have to pick her up and carry her to bed. And then within two days it got really not so good. Her legs started to not hold her—she wasn't able to walk."
In March, Jameson admitted that she was finding her health woes "very mentally challenging," telling her followers: "I am slowly but surely building back strength. I am walking around with a walker.
"My legs have lost a lot of muscle, so I'm busy trying to build it back. This has been not only physically taxing, but I think more than that just... very mentally challenging. I'm used to hard challenges."
In a follow-up video post, Jameson showed that despite her inability to walk unaided, she could lift and move her legs.
"I'm not paralyzed," she said. "I am just dealing with extreme muscle weakness, some issues with my left [femoral] nerve... It's messy, it's not fun, but I like a good challenge, so there's that."
On Thursday, Jameson revealed that she is looking forward to marking her 48th birthday on Saturday, as well as her five-year-old daughter, Batel Lu, joining her at home in Hawaii after spending much of her time in Los Angeles.
After revealing that her daughter would be home on Friday, Jameson added: "She's five now. It's so crazy, oh my gosh.
"She's been in L.A. with her father [Bitton], which it's been good and bad, her being there, because of course I'm able to like really focus on my health, which is the most important thing right now.
"I just miss her so much. It's seriously like someone's ripped my heart out. But she's coming home tomorrow and my birthday is on the 9th."