Jenna Jameson Reveals Weight Loss on Instagram: 'I Was Worried I Couldn't Lose the Weight Sober'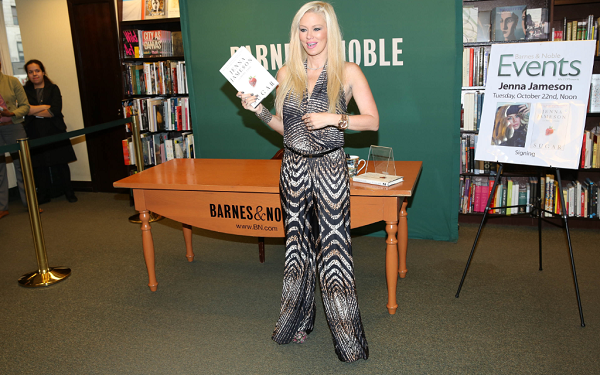 More than a year after giving birth to her third child, Jenna Jameson shared her dramatic weight loss with fans on Instagram. The 44-year-old posted a photo of herself before and after welcoming her daughter, Batel Lu Bitton. and opened up on some of the mental struggles she faced while trying to shed the baby weight.
"Let's talk about the mental aspect of losing weight and getting healthy. I'm going to be honest with you, when I was heavy I hated leaving the house. I felt judged. I felt eyes on me everywhere. I could hear others internal monologue saying 'damn, Jenna Jameson let herself go' ugh. All of us do this, we worry so very much how we are perceived," she wrote on Monday.
The former adult film star said there was a bigger underlining reason why losing weight post-delivery was such an internal battle. "But beyond that shallow thinking, there was a deeper shame. I was disappointed in myself. I was worried I couldn't lose the weight sober. I'm being real with you," she continued. "When I was in my addiction it was easy to stay thin. Sobriety and being overweight was new to me."
Through healthy eating and exercise, Jameson managed to knock the weight off despite her fears. "I kept telling myself if I could beat addiction and stay sober, I can easily lose the weight... and I did. The healthy way," she wrote.
Jameson added: "And as of today I can say my mental game is STRONG. I feel I can do anything, I conquered abuse, addiction, PTSD and depression. Thank you for listening and please tell me your stories below, I read every comment."
The Sugar author previously revealed she lost 57 pounds a few months after Bitton was born thanks to the Keto diet, a high-fat diet that only allows for small consumption of carbs and moderate protein.
Jameson's past drug use first made headlines after her ex-boyfriend Tito Ortiz alleged she was addicted to OxyContin during a press conference in 2010. A few years later Jameson appeared on Good Day New York completely unhinged, slurring and stumbling as if she was under the influence, sparking speculation she was suffering from a drug addiction despite her efforts to deny the rumors.
Jameson made her battle with addiction public in 2015 and started documenting her journey to sobriety on her YouTube channel.