Roger Mathews Wishes Jenni 'JWoww' Farley a 'Happy Anniversary' Despite Divorce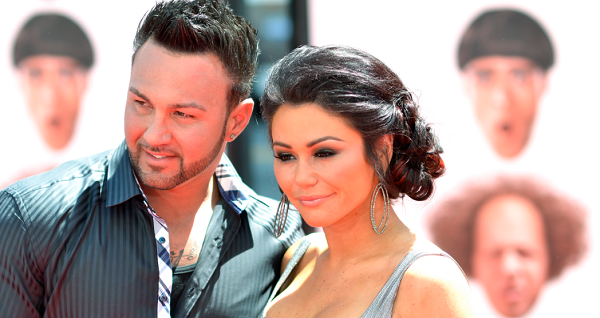 Despite filing for divorce nearly a month ago, Jenni "JWoww" Farley's estranged husband Roger Mathews still celebrated the couple's anniversary on Thursday. Mathew's dedicated a heartfelt Instagram post to his wife of three years and shared a photo from their wedding day.
"This happened 3 years ago today. 8 years together total. 3006 days together," Mathews wrote alongside the photo of he and Farley holding hands while he carried the couple's daughter. "Not one of them was a flawless day. Not one of them I would change. Happy Anniversary Babe @jwoww."
In addition to the photo, Roger's shared the link to the couple's wedding video on YouTube. The nearly 20-minute long spot offers an inside look on the pair's special day, including glimpses of Farley's dress being designed, behind the scenes of the bridal party photo shoot and the moment the Jersey Shore alum makes the walk down the aisle. "Wedding video in my bio cause I'm a corny traditionalist," Mathews continued.
The sweet anniversary messages came shortly after Farley and Mathews announced their separation. Farley filed for divorce from her husband in a New Jersey court in September and listed "irreconcilable differences" as the reason behind their split. The reality star also noted their relationship had been on the rocks for at least six months.
Mathews took responsibility for their failed marriage. "My wife filed for divorce, it's true…I don't blame her. There's no cheating or any dumb s**t or any juicy details. She just grew tired of the repetitive pattern that we fell into," Mathews said in a video shared with fans on social media on September 27.
Again, I am not going to get into detail but it was a repetitive pattern and not a good one," he continued.
Although their relationship obviously wasn't on the best terms, Mathews vowed to change his behavior and said he was "not done fighting" for their marriage. "I am going to win my wife back," he said.
"I'm going to win her affection back, I am going to win her love back. I have no intentions on being a single dad," he continued, adding that the couple was seeking counseling for their problems. "It ain't over 'till the fat lady sings."
Mathews appears to be sticking to his word. In honor of their anniversary, Mathews took Farley out on a romantic date, which included an intimate dinner and a horse-drawn carriage ride. He shared photos of the couple enjoying their special evening with fans on Instagram on October 13. "Rome wasn't built in a day," he wrote.