Jennifer Aniston and David Schwimmer on Their Romantic Chemistry at the 'Friends' Reunion
As if Friends fans weren't already delighted with the return of the cast members for Friends: The Reunion, reports suggest Ross and Rachel may have finally gotten together in real life too.
A source alleged to Closer magazine that Jennifer Aniston and David Schwimmer are now dating after initially reuniting and reminiscing during the recent television special on HBO Max.
Fans were shocked and thrilled to hear about the behind-the-scenes tension the two shared during the early days of Friends, and now it seems their romance has been lifted from the screen.
What Did Jennifer Aniston and David Schwimmer Say About Their Romantic Tension?
During Friends: The Reunion, or "The One Where They Get Back Together" Schwimmer and Aniston came clean about their real-life chemistry that helped influence their performance of the Ross and Rachel saga.
After being asked by host James Corden if the six core cast members had ever had any romantic relationships off screen, the focus was put on Schwimmer by Aniston. He said: "The first season, we, I had a major crush on Jen."
"And it was reciprocated," Aniston interjected.
Schwimmer continued, "At some point we were both crushing hard on each other but it was like two ships passing because one of us was always in a relationship, and we never crossed that boundary, we respected that."
Aniston also revealed that the romantic tension wasn't unspoken between the pair at the time. She told Corden and the watching audience how she and Schwimmer had discussed a pivotal moment for Ross and Rachel, and related it to their own situation.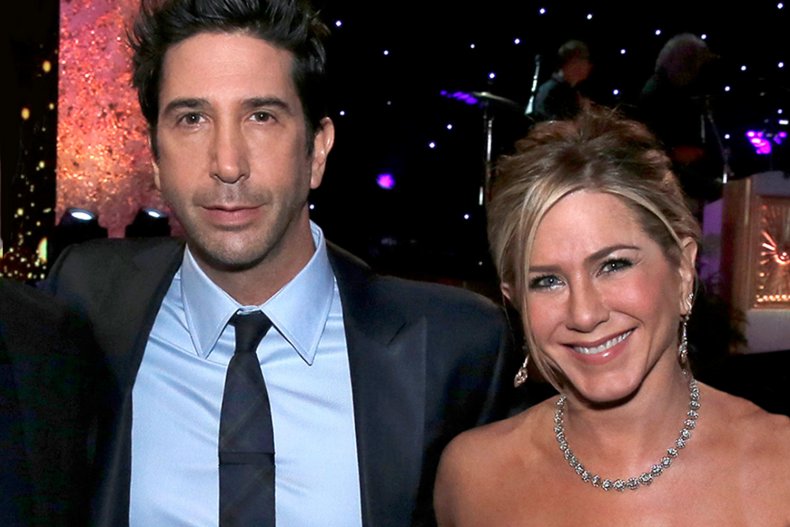 She said: "I remember saying one time to David 'it's gonna be such a bummer if the first time you and I actually kiss is gonna be on national television—sure enough, the first time we kissed was in that coffee shop. So we just channeled all of our love and adoration for each other into Ross and Rachel."
Speaking of that coffee shop scene, Schwimmer and Aniston took part in a table read for the reunion, recounting that famous first kiss between Ross and Rachel. During the heated recreation in the show, Aniston and Schwimmer shared a longing look with each other and ended the scene by reaching across the table and clasping hands.
In another moment on Friends: The Reunion, cutting to a scene with just the six actors sitting on the set, Schwimmer recalled how they used to cuddle up in between scenes. "I thought back on the very first year or two, you know when we'd have breaks from rehearsal, there were moments where we would cuddle on the couch.
Aniston recalled too, "Well we would spoon and fall asleep."
"And I'm thinking, how did not everyone know we were crushing each other?" Schwimmer said.
Their feelings weren't as hidden as they thought though as both Matthew Perry and Courteney Cox said they both knew what was going on.
Jennifer Aniston and David Schwimmer's Dating History
Both actors find themselves single after a long, and often quite publicized dating history.
Aniston in particular has been the focus of many tabloid pages that have detailed her relationships and breakups with Brad Pitt, Gerard Butler, Tate Donovan, Justin Theroux, John Mayer and others.
Schwimmer's love life has been less in the public eye but he did reportedly date Natalie Imbruglia in the late 90s. He later married British artist Zoe Buckman in 2010, and their daughter and only child was born in 2011. The couple separated in 2017.
Reports now suggest that Aniston and Schwimmer, former co-stars and television icons, have now reunited after many years apart.
According to Closer's source, after the reunion, it became clear that reminiscing over the past had stirred up feelings for both of them and that chemistry they'd always had to bury was still there.
They said: "They began texting immediately after filming and, just last month, David flew from his home in New York to see Jen in LA."
Neither Schwimmer nor Aniston have yet to publicly address these rumors.