Meet the New Puppy Who 'Stole' Jennifer Aniston's Heart
Jennifer Aniston's animal family just got a little bigger.
The award-winning actor recently adopted a new four-legged friend, a puppy named Lord Chesterfield, whom she revealed on her Instagram on Friday.
"Hi! I'd like to introduce to you the newest member of our family....this is (a very tired) Lord Chesterfield," Aniston wrote, alongside an adorable video of the pup fast asleep with a bone in his mouth.
She added: "He stole my heart immediately. A HUGE thank you to @wagmorpets for the incredible work you do. Grateful you take such great care of these rescues and find them their forever homes."
Lord Chesterfield joins the household with Aniston's fellow doggos, including a Schnauzer mix named Clyde, and Sophie, a white-and-black Pitbull. Both of those pooches occasionally make appearances on Aniston's social media. Aniston was also a guardian to a white German Shephard named Dolly— a pet she shared with ex-husband Justin Theroux. However, that dog died in July 2019.
Aniston has long talked about adding another dog to her brood following the passing of Dolly. In a December 2019 interview with People magazine, The Morning Show star said she was "coming so close" to adopting another animal. Only adding to her desire for another pet was the fact that Ellen DeGeneres had been sending her photos of sweet animals who were in desperate need of a new home.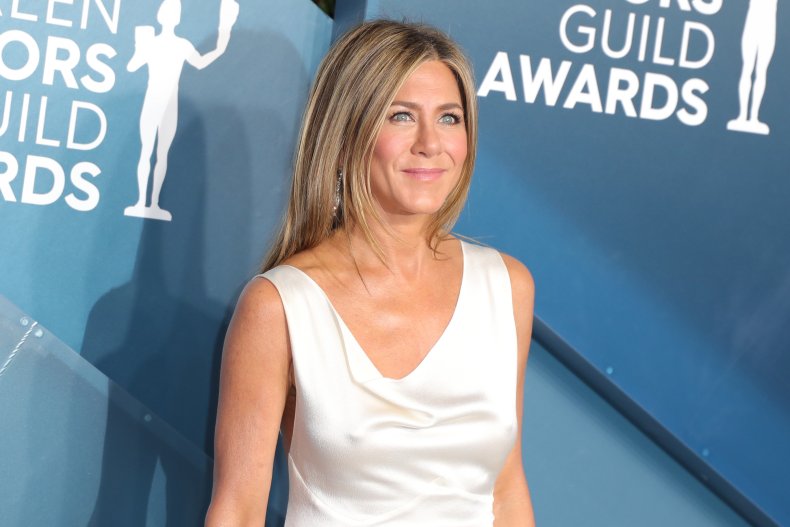 "My friend Ellen DeGeneres, as you know, loves nothing more than to bombard me with extremely heartbreaking photographs of animals that need homes. And by the way, if I could have a llama, a pig, an alpaca, sheep, goats, I would," Aniston said at the time.
The only thing that caused Aniston to hold off on getting a new dog then was her concerns over how Clyde and Sophie would react to a new puppy in the house. "I have to be sensitive to Clyde and Sophie," she said, adding, "Because it's all about whether they are going to be happy."
Aniston joins the millions of Americans who have adopted shelter and rescue dogs in 2020. In fact, the adoption and purchasing of pets have increased significantly across the U.S. in light of the coronavirus pandemic. In Los Angeles, where Aniston lives, the Society for the Prevention of Cruelty to Animals Los Angeles reported dog adoptions were double their usual rate, according to an August Washington Post report, with animal adoptions occurring between 10 and 13 times a day at the height of the pandemic. In some cases, shelters had to create waiting lists because there was such a shortage of animals available.
Meanwhile, in cities like New York, where many people opted to foster animals, about 25 percent of residents who gave temporary shelter to foster animals decided to keep them permanently, according to the Animal Care Centers of NYC. Typically, only 10 percent of animal parents end up keeping foster pets for the long haul.