Jennifer Aniston Racks Up 7.5 Million Followers on Instagram 24 Hours After Creating an Account
It should come to no surprise that Jennifer Aniston racked up millions of followers shortly after sharing her first Instagram post on Tuesday. Within 24 hours, the 50-year-old gained more than 7.5 million followers.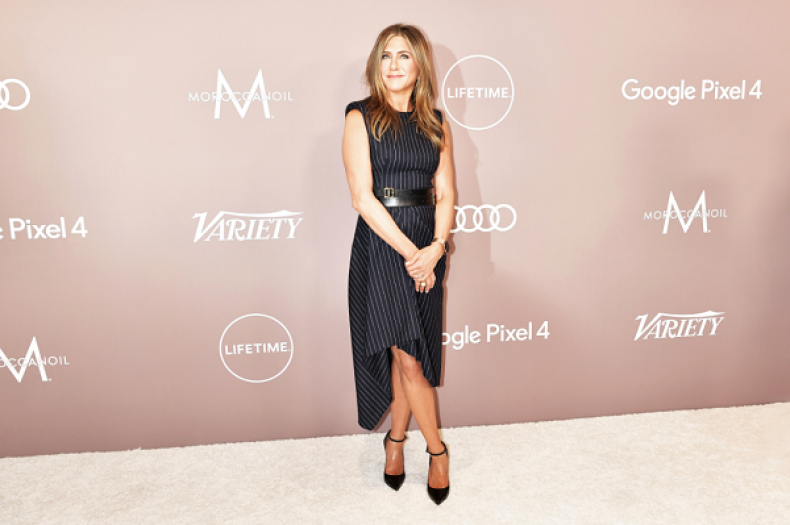 Her first photo left social media in a tizzy—not only because it was her long-awaited debut on the app, but also because it revealed the actor's latest reunion with her Friends co-stars.
"And now we're Instagram FRIENDS too. HI INSTAGRAM," Aniston captioned the selfie that included castmates Lisa Kudrow, Courteney Cox, Matt LeBlanc, David Schwimmer and Matthew Perry.
The photo, which received more than 9.5 million likes, was flooded with warm welcoming messages from fans in the comments section—a number of whom hoped the photo with her old show pals signified an actual Friends reunion on TV. Aniston previously told Ellen DeGeneres she'd be willing to reappear on a revival series, and Cox has also said she'd be interested in reviving the show.
For those that missed her announcement, Anniston made her presence known over on LeBlanc's Instagram page shortly after joining the social media network by posting a comment on a photo on the Man With a Plan star's page.
LeBlanc posted a group photo of the Friends cast on the 25-year anniversary of the NBC series in September, and while all the other cast members' Instagram handles were tagged in the photo, Aniston's name was added with a hashtag since she didn't have an account at the time. "You don't have to # me anymore," she wrote.
Aniston's introduction on the app quite literally broke the internet. She gained more than 116,000 followers nearly an hour after launching her account, resulting in the page temporarily crashing and causing dozens of hopeful new followers to receive the message: "Sorry, this page isn't available." Many of them took to Twitter to air their grievances.
"This is crazy. Everyone is following Jennifer Aniston at the same time, so my Instagram cancels my follow as soon as I tap that button. I can follow any other account, but that one. Wow, I didn't think an Instagram account could crash," one user wrote on Monday.
Another wrote: "No joke, the highlight of my day was seeing Jennifer Aniston's first post on Instagram. Could not stop thinking about it all day. Oh, and yes, Instagram did crash when I tried to follow her. #noshame."
It wasn't long before Instagram had the account back up and running, leading millions of more fans to pound the follow button for Aniston.