Jennifer Aniston's Ex Adam Duritz Had 'No Idea' Who She Was When They First Met
Rocker Adam Duritz has revealed that he had "no idea" who Jennifer Aniston was when he first met her in the 1990s—despite the actress enjoying immense fame thanks to her role in Friends.
The Counting Crows frontman, 56, enjoyed a short-lived romance with Aniston, 52, in the mid-90s, as the actress solidified her position in bona fide household name territory through her portrayal of Rachel Green in the classic NBC sitcom.
And in VICE TV's new Dark Side of the '90s special, Duritz revealed that he first crossed paths with Aniston as they partied at West Hollywood hot spot, The Viper Room, a venue he admitted to visiting "night in and night out."
"I met Jennifer Aniston there," he said, per Entertainment Tonight. "A bunch of my friends lied to me and told me she had a crush on me. Those same friends lied to her and told her I had a crush on her."
However, her celebrity status eluded Duritz, as he was busy with his own career at the time. "I honestly had no idea who she was," said the musician. "I had been on the road during all of Friends. I had never seen it, I don't think."
Duritz went on to describe the beloved actress as "really nice, really funny, really pretty," adding: "And also, she liked me."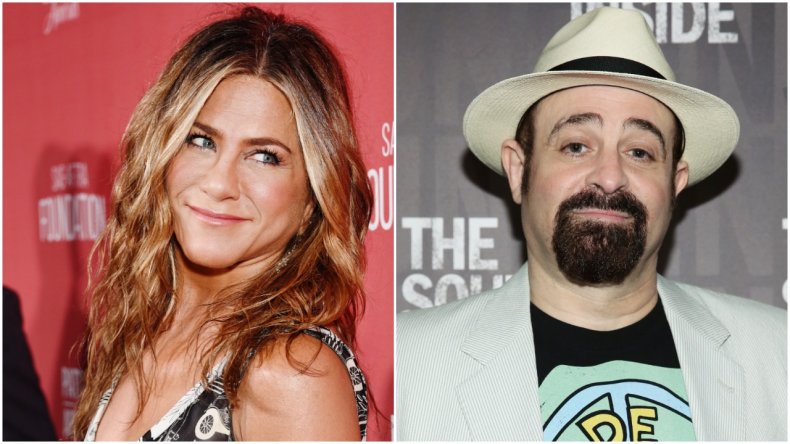 He would later go on to romance Aniston's close pal and Friends co-star Courteney Cox in 1997, after the pair met on the set of his "A Long December" music video the year before.
Neither of the Friends stars have spoken publicly about their romantic experiences with Duritz, who also dated actress Emmy Rossum.
In a 2014 interview with Men's Health, Duritz briefly touched on his romances with the actresses, admitting that he struggled with the tabloid coverage it attracted.
"I don't like that it became the only thing they wrote, but that's their problem," he said. "It wasn't great for me, it wasn't great for my band. But it's nothing I did.
"I'm not gonna link people's idiocy to my choices, because those were perfectly reasonable choices. They were nice girls and I went out with them and that was that."
Aniston would go on to date Tate Donovan, who played one of her love interests in Friends, before embarking on a romance with Brad Pitt, with whom she exchanged nuptials in 2000. The stars announced their split in 2005.
The actress started dating Justin Theroux in 2011, after the pair co-starred in the 2012 film Wanderlust. They tied the knot in 2015, and announced in February 2018 that they had split at the end of 2017, per The Associated Press.
Cox married actor David Arquette in 1999, with the couple announcing a trial separation in 2010, which led to their 2013 divorce. She is now in a long-term relationship with Snow Patrol musician Johnny McDaid.