'The L Word' Stands For 'Love,' Jennifer Beals Says of Showtime Series' 'Generation Q' Return
When The L Word first premiered on Showtime in 2004 it was a groundbreaking moment for the LGBTQ community.
The series was the first of its kind, chronicling the complex lives and loves of a troupe of women who proudly identified as lesbians during a time in society when such characters would barely make the cut in a script, let alone appear in a long-running series that revolved around them.
The L Word broke the mold for LGBTQ representation, especially for women, by artistically bring their many successes and setbacks, romances and heartbreaks, challenges and victories to life on the small screen.
Now the series aims to carry the torch even further with a new era of The L Word.
The series' sequel, Generation Q, is set to premiere on Showtime on Sunday with a new season full of storylines and characters who further push the needle for LGBTQ issues. A few fan favorites will also return, including the formidable Bette Porter and her closest gal pals, Shane McCutcheon and Alice Pieszecki.
Although much has changed over the last 10 years for the original characters—there are some aspects of Bette and her crew that remain the same. Actor Jennifer Beals, who's played Bette since the very beginning, spoke about the challenges her character will face on this new generation of the show as Bette gears up for a life change that will take her out of the gallery and into the political arena. Not to mention, she's got a teenage daughter to raise.
See Newsweek's full interview with Beals below. The L Word: Generation Q premieres on Showtime on Sunday at 8 p.m. ET.
This interview was condensed for purposes of editing and length.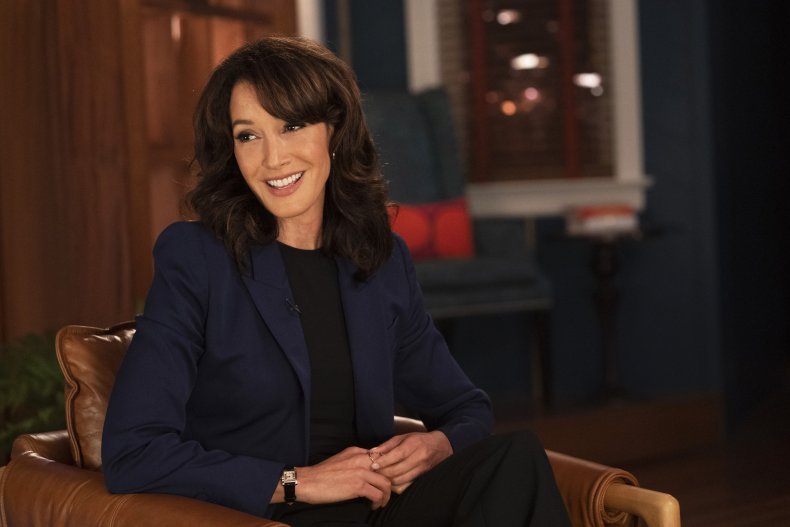 How did it feel to return back to the character of Bette Porter?
It was really interesting. It was interesting to try to figure out how this person may have changed over the last 10 years and what things remained the same. There were moments when we began that felt truly surreal. It wasn't until I got my power suit and my cufflinks on when I really locked in.
Had you kept in touch with most of the cast since the show originally ended?
Yes, we all kept in touch. As a matter of a fact, years and years ago we thought that it would be room to bring the show back because we knew people were still discussing the show online even though it wasn't on air. When we went off the air, social media was just really kind of gearing up. Twitter had just come into the culture, so it wasn't really that much of a factor when we were on the air.
The show was so groundbreaking for LGBTQ representation when it first debuted. In what ways will the show break the mold in today's climate when people are much more aware and vocal about who they are?
There's so much more to talk about now. The world is definitely different now. Even the lexicon of how we talk about gender and sexuality is so expanded now. How people define themselves is very different than when we went off the air. The very fact that this generation refuses to be defined by other people—that they insist on defining themselves—is a very revolutionary idea and practice. It's really exciting to be part of that conversation and having this new generation of characters represent those ideas and tell those stories.
How has the show changed to fit 2019?
The show is much more inclusive. We have more trans characters on the show played by trans actors, which is incredibly important. I think the conversation has expanded to the queer community. It will in nature be imperfect, but there will be a conversation, which is crucial for any kind of development.
What challenges will Bette be facing now in this new generation of the show?
A myriad for sure. She's running for office for Mayor of Los Angeles. She's single and parenting a teenager. She's often times making the same mistakes that she's made for all eternity, and she's coming to grips with a really tumultuous time from the last 10 years. We come to her when she's trying to make a difference in her community. She's trying to be a good parent and wrestling with her own demons.
Balancing her career and relationships weren't really her biggest strong suits back in the day. I can imagine throwing a teenager into the mix makes things even more complicated for her.
It does. It's a really wonderful challenge. One of the things that I've always loved about Bette is that she's completely unapologetic about her and her agency but she's extremely vulnerable at the same time. So to be in a situation where she is parenting a teenager and is so often completely out of control—because the daughter is now exercising her own will and her own agency—is really interesting to watch. It was really fun to play.
Did you pull from any instances of your own life or your surroundings when you started preparing to jump back into the role?
Certainly, I'm observing the world around me and observing how we're changing as a culture and observing how divisive the culture is in all matter of ways and observing how systems need to change. The paradigm has to change completely whether it's the lexicon of talking about gender and sexuality or its how we think about the climate crisis, how we think about our relationship to the Earth. So you understand that you're in a moment of history that is like being in the center of a tornado and it's like where are we gonna land and who do we wanna be? I think Bette is very aware of that and that drives her desire to take on this leadership role in Los Angeles. As for the preparation, that's just humanity and observing humanity, which—as an actor—I've done for the past however many decades now.
How are you hoping people will respond to the return of the show and the new characters and plotlines?
I think that we've learned in the past that the show will resonate with some people and that it won't resonate with other people, perhaps. But hopefully, what I wish for personally, is that it gives visibility to a community. Not only to further their agency but also because we know visibility helps open our collective imagination to not only what is but what could be, and in doing so we're showing how we're more alike than we're different. We know that one group security depends on the negation of another group, we as a society can't develop with any kind of integrity. So we have to bridge this gap of perceived otherness in order to survive.
If there's one takeaway from this first season back, what is it?
That 'L' stands for love. All of these stories highlight how we are so much more alike than different in our desire to love and to be loved. And nobody's love is more valuable than someone else's love.
You've been busy with other projects in the meantime. You wrote a book?
I actually didn't write the book. I conceived the book and then I—along with my producing partner Tom Jacobson—sold that concept to a publisher and together we found two authors and they wrote the novel, The Hive. We have since been approached to turn the novel into a television series, which might be really interesting.
What drew you to an ambassadorship with Goodwill?
I'm a Goodwill ambassador for the C40 Cities organization, and it happened after I went to an event in Paris and learned so much there from that organization, which is a network of mayors from around the world who are committed to upholding the Paris Agreement. They get together and share information to try to reach those goals as quickly as possible. I was invited by Mayor Anne Hidalgo of Paris to become a Goodwill Ambassador, and one of the things that had been identified that I'm most interested in helping with is providing education for younger activist so that this younger generation can be as educated as possible regarding the climate crisis in an appropriate way. I've introduced C40 to KCP Law in Toronto, which is also a C40 city. They have a Citizen Kids series of books and hopefully, I'll be partnering and offering a series of children's books that might help with the education piece regarding the climate crisis.
What are your thoughts on the way younger people like Greta Thurnberg and others have raised awareness over climate change?
It's incredibly inspiring to me. They are the moral center of the conversation and for me, I believe they deserve a place at the table when it comes to decision making. That's what I'd like to see eventually. Not only as a moral clarion but as really part of a contributor to the decision-making process. And they can't do it alone. We can't just rely on their energy and their will. It will take all hands on deck in order to change everything as quickly as these things need to change. That includes cities, that includes corporations and all of us who can participate in some way. It doesn't mean that we have to be perfect in every moment, but that we endeavor to take responsibility for our actions. To start the conversation in whatever workplace we have on how things can be shifted and addressed.
Describe the first new season of The L Word with three words.
Inclusive. Friendship. Sexy.