In an interview on Ellen, actress Jennifer Garner revealed a brilliant plan to convince her daughter to go on walks with her during quarantine.
Garner told host Ellen Degeneres that in order to persuade one of her daughters to take walks, she had to bring the cat.
"One of my kids was not into going for walks, and we just had to get out of the house, and I said, 'What can we do? We have to just commit to going for walks,' and she said, 'I want to take the cat.' So, we ordered a cat stroller," she said.
When Degeneres asked if Garner's cat enjoyed the stroller, the actress said that the feline was "titillated" to get out of the house. "It's a little bit like, 'Why am I in here?' But, I think it's happy to go out and about," she said. "It's very titillated by the whole adventure. I mean, look, it's into it," she added, as a picture of the cat in the stroller was displayed.
Garner said that comedian Jerry Seinfeld's wife, Jessica Seinfeld, who frequently posts pictures of her cats on Instagram, was to blame. "I want Jessica Seinfeld to know that I blame her, because she is like a cat lady, and all of a sudden, now, I have a cat and a cat stroller, and it has a leash," she said.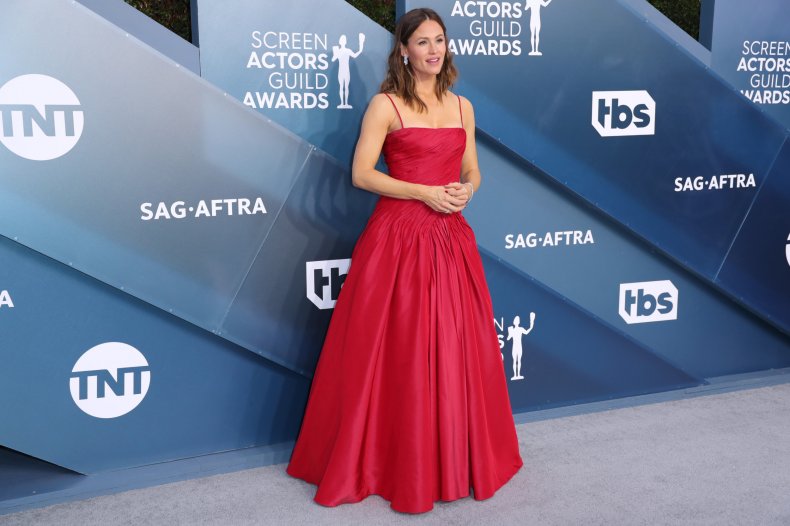 While cat strollers may not exactly be common, Degeneres related to Garner, because she has also taken her pet out for walks in a stroller—albeit for different reasons. "This is a clever idea. I've had a stroller for my older dog, who has arthritis, and you look like a crazy person walking a dog in a stroller," Degeneres said.
Garner's publicist did not respond to Newsweek's emailed request for comment in time for publication.
Besides taking her cat on adventures in a stroller, Garner also spoke about other ways she's been staying occupied during the coronavirus pandemic, including cleaning the house every Sunday. She also talked about chickens that she owns, and whether she can move them when getting eggs. "What a time to have chickens ... We have eggs out the wazoo. We give eggs to neighbors," Garner said. "I look at them on the nest, and I kind of say, 'How you doing? Like can I move you?' You don't want to move them at the wrong time."
Later in the interview, Garner participated in a new game called "Door Dash," to raise money for Save the Children. In total, she raised $10,000 for the charity.