Jennifer Garner Reveals Two of Her Children Are Vaccinated As They Return to School
Jennifer Garner has revealed that two of her three children have been vaccinated against COVID-19 as they return to the classroom.
The actress—who has daughters Violet, 15, and Seraphina, 12, and son Samuel, 9, with ex-husband Ben Affleck—posted on Instagram on Wednesday about the end of the summer vacation.
The 13 Going on 30 star wrote: "The school year starts in dribs and drabs, but today's the real deal for my family—we are back.
"3/3 masked, 2/3 vaxxed (soon, please, 11 and under), every one eager, tentative, bold, vulnerable and—as far as I can tell—smiling under the 3-ply."
She added: "Thank you teachers, thank you administrators, thank you school staff—for being on the receiving end of a year and a half of feelings (kids' and parents')—big and loud, quiet and deep.
"Thank you science for getting us this far and this much closer to health and freedom.
"Thank you for moms in your corner and gallows humor and the sun that rises, no matter what. And please, God, hold us in the palm of your hands."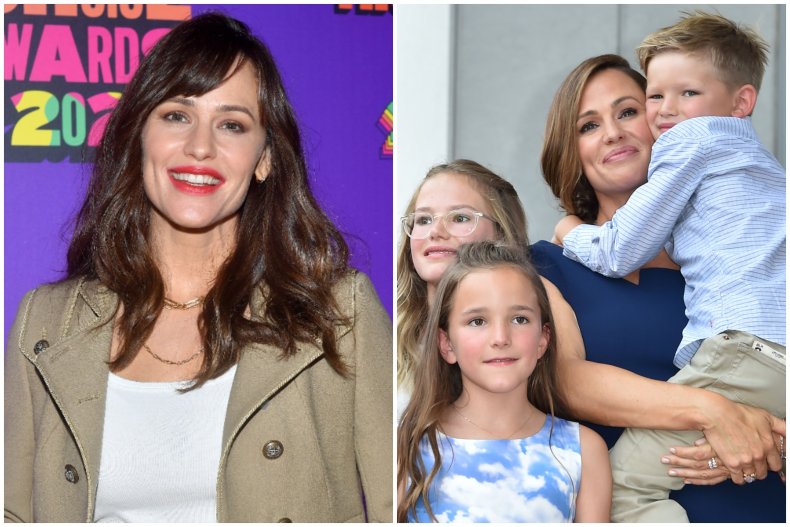 In May, Garner made a trip to her home state of West Virginia with the first lady Jill Biden and spoke about vaccinating her two older children.
"We are so thrilled to be getting back to normal," Garner said at a clinic at Charleston's Capital High School, per The Independent. "It's so exciting. I kind of can't believe that I'm standing here without a mask on, looking at maskless faces.
"And we owe that to President Biden, and we owe that in large part to [West Virginia Governor Jim Justice]. President Biden said he would get us vaccinated and, boy, did he mean it."
Tackling the subject of vaccine hesitancy, the actress revealed her plans for her own children during her address to the crowd.
"I am thrilled to be vaccinating two of my three kids on Tuesday," she said. "I don't even know if they know it yet, but they know it now. It's happening. I cannot wait. It couldn't happen any sooner. I wish they were here right now."
"The most important thing we can do is get this virus behind us," she also said, per People. "And in order to do that, we have to get anyone with vaccine hesitancy into these chairs."
The U.S. Centers for Disease Control and Prevention "recommends everyone 12 years and older should get a COVID-19 vaccination to help protect against COVID-19."
It also advises that "children between the ages of 2 and 12 should wear a mask in public spaces and around people they don't live with."